High Speed Of Play Training - 2 Ball Routine Practice
Email sent: Feb 18, 2021 3:30am
2 Ball Routine - One-Two, Pass in Behind + Cut Back After Overlap Run ‌ ‌ ‌ ‌ ‌ ‌ ‌ ‌ ‌ ‌ ‌ ‌ ‌ ‌ ‌ ‌ ‌ ‌ ‌ ‌ ‌ ‌ ‌ ‌ ‌ ‌ ‌ ‌ ‌ ‌ ‌ ‌ ‌ ‌ ‌ ‌ ‌ ‌ ‌ ‌ ‌ ‌ ‌ ‌ ‌ ‌ ‌ ‌ ‌ ‌ ‌ ‌ ‌ ‌ ‌ ‌ ‌ ‌ ‌ ‌ ‌ ‌ ‌ ‌ ‌ ‌ ‌ ‌ ‌ ‌ ‌ ‌ ‌ ‌ ‌ ‌ ‌ ‌ ‌ ‌ ‌ ‌ ‌ ‌ ‌ ‌ ‌ ‌ ‌ ‌ ‌ ‌ ‌ ‌ ‌ ‌ ‌ ‌ ‌ ‌ ‌ ‌ ‌ ‌ ‌ ‌ ‌ ‌ ‌ ‌ ‌ ‌ ‌ ‌ ‌ ‌ ‌ ‌ ‌ ‌ ‌ ‌ ‌ ‌ ‌ ‌ ‌ ‌ ‌ ‌ ‌ ‌ ‌ ‌ ‌ ‌ ‌ ‌ ‌ ‌ ‌ ‌ ‌ ‌ ‌ ‌ ‌ ‌ ‌ ‌ ‌ ‌ ‌ ‌ ‌ ‌ ‌ ‌ ‌ ‌ ‌ ‌ ‌ ‌ ‌ ‌ ‌ ‌ ‌ ‌ ‌ ‌ ‌ ‌ ‌ ‌ ‌ ‌ ‌ ‌ ‌ ‌ ‌ ‌ ‌ ‌ ‌ ‌ ‌ ‌ ‌ ‌ ‌ ‌ ‌ ‌ ‌ ‌ ‌ ‌ ‌ ‌ ‌ ‌ ‌ ‌ ‌ ‌ ‌ ‌ ‌ ‌ ‌ ‌ ‌ ‌ ‌ ‌ ‌ ‌ ‌ ‌ ‌ ‌ ‌ ‌ ‌ ‌ ‌ ‌ ‌ ‌ ‌ ‌ ‌ ‌ ‌ ‌ ‌ ‌ ‌ ‌ ‌ ‌ ‌ ‌ ‌ ‌ ‌ ‌
| | |
| --- | --- |
| High Speed Of Play Training - 2 Ball Routine Practice | Web Version |
         
Football Coaching Specialists Since 2001
| | |
| --- | --- |
| | EU book orders now shipping from our new EU centre |
René Meulensteen & Man Utd

Methods of Success
High Speed Of Play Training

- 2 Ball Routine Practice

eBook Version Also Available

Learn, practice and apply René's exact Manchester United training sessions, enabling your team to reproduce Sir Alex Ferguson's team's fantastic attacking style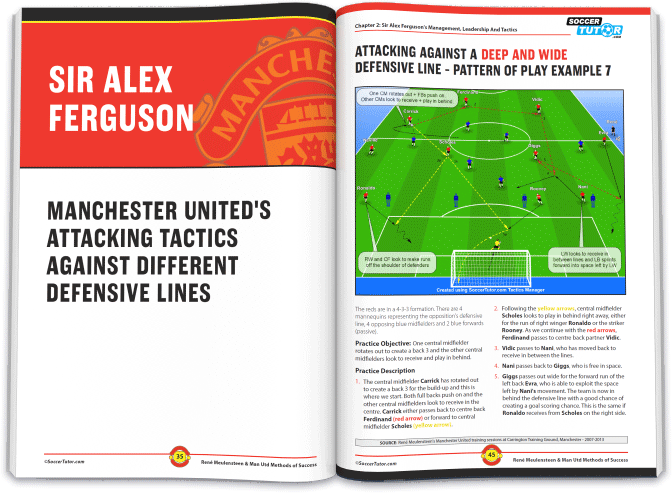 260 Pages
FULL COLOUR Print
94 Practices
U14-Pro Level




eBook Version Also Available



Sir Alex Ferguson's Management, Leadership and Tactics:
Sir Alex Ferguson's Management: Expectation, Discipline and Motivation
Sir Alex Ferguson: Leadership
Sir Alex Ferguson: Video Analysis and Game Plans Against Different Opponents
Manchester United's Training Principles and Philosophy of Play:
Sir Alex Ferguson: Philosophy of Play
Sir Alex Ferguson: Attacking Principles
Manchester United Training: The Secrets Behind Creating Winners
René Meulensteen: Key Points for Every Training Session
Manchester United's Attacking Tactics Examples:
Attacking Against a High and Narrow Defensive Line - Pattern of Play
Attacking Against a Deep and Narrow Defensive Line - Pattern of Play
Attacking Against a Middle and Wide Defensive Line - Pattern of Play
Manchester United's High Speed Of Play Training - Waves Of Attacks:
2-Ball Routine (Variation 3): One-Two, Pass in Behind + Cut Back After Overlap Run
3 or 4-Ball Routine (2 Defenders): Combination Through Middle, Cross + 5v4 Attack
Attacking Wave Game: 3-Ball Attacking Waves Overload Game
"Fergie Time" - How Manchester United Trained To Score Late Goals
Phase 1: Wingers are Positioned Inside and the Full Backs Push Up High
Phase 2: Extra Forward, FB Supports Winger + Opposite Winger Attacks Back Post
Phase 3: Flooding the Final Third and Box with Many Bodies to try and Force a Goal
René Meulensteen's Development Model And Training Philosophy
Analysis of Tactics, Style of Play, and Player Development
Applying Analysis and Development Model into Training
The 4 Key Qualities Needed to Produce World Class Players
René Meulensteen's Specific Technical Training (1v1s And Finishing)
Aims and Objectives for Specific Technical Training Sessions with First Team Players
Skill Development: Dominating 1v1s in Different Positions on the Pitch
Technical Finishing Training with Manchester United First Team Players
René Meulensteen's Man Utd Training Session & Practice Examples:
BUILD-UP PLAY: Build-up Play Against 3 Forwards with the Central Midfielder "Rotating Out" (9v7)
POSSESSION: Possession Specific Conditioned Game (7v7, 8v8, 9v9 or 10v10 + GKs)
SWITCHING PLAY: 8v8 (+4) Conditioned Switching Play Game with Limited Touches
PLAYING THROUGH THE LINES: Playing Through the Midfield Line in a 3-Zone 8v4 Possession Game
ATTACKING OVERLOADS: End to End 4v4 (+3) Three-Zone Possession Game (Warm-up)
CROSSES AND BOX RUNS: Crosses and Box Runs in a Dynamic Zonal Game
ATTACKING COMBINATION PLAY: Functional Attacking Combination 3-Ball Routine (Pass, Move, Cross and Finish)
FINISHING: 8v8 (+2) Speed Finishing and Blocking Game + GKs
DEFENSIVE SHAPE, PRESSING AND RECOVERY: Defensive Shape and Recovery in a Dynamic 10v10 Transition Game
TRANSITION FROM DEFENCE TO ATTACK: 7v7 (+1) in a Conditioned Wave Transition Game with GKs
René Meulensteen

René Meulensteen is a UEFA Pro Licence holder with extensive experience of working with some of the world's best players at the highest level.

René spent 12 years at Manchester United and was Sir Alex Ferguson's First Team Coach during the most successful years in the club's history (2007-2013). During this period, he was responsible for all of the first team training sessions.

CAREER HONOURS:

UEFA Champions League Winner (2008)
English Premier League Winner (2008, 2009, 2011, 2013)
UEFA Champions League Runner-up (2009, 2011)
UEFA World Club Cup Winner (2008)
English League Cup Winner (2009, 2010)
Arab Cup Winner (1999)
H.H. Apparent Cup (Qatar) Winner (2000)
Emir Cup (Qatar) Winner (2001)

PREVIOUS & CURRENT COACHING ROLES:

Australia National Team Assistant Manager (2018 - Present)
Kerala Blasters (India) Mgr. (2017/18)
Maccabi Haifa (Israel) Mgr. (2016/17)
Philadelphia Union (USA) Technical Consultant (2014 - 2015)
Fulham FC (England) Manager (2013 - 2014)
Manchester United First Team Coach (2007 - 2013)
Manchester United First Team Technical Coach (2007 - 2008)
Manchester United Reserve Team Coach (2005 - 2006)
Manchester United Skills Development Coach (2001-2006)
Al Sadd (Qatar) Manager (2000-2001)
Al Etehad (Qatar) Manager (1999 - 2000)
Qatar Assistant National Team Coach, Qatar FA Development Coach, and Qatar U-17 Coach (1993-2001)
René Meulensteen & Man Utd Methods of Success (2007-2013) - René's Coaching Philosophy and Training Sessions (94 Practices), Sir Alex Ferguson's Management, Culture, Principles and Tactics

Learn, practice and apply René's exact Manchester United training sessions, enabling your team to reproduce Sir Alex Ferguson's team's fantastic attacking style

Level U14-Pro  |  94 Practices


Paperback FULL COLOUR
eBook: PC, Mac, iPhone, iPad, Android, Kindle Fire
Paperback + eBook: Best Value
Best Wishes,

Coach George
Director of Coaching
SoccerTutor.com
SoccerTutor.com, 109 George Lane, London E18 1AN, UK



[email protected]


UK:

+44 (0)208 1234 007


US:

+1 305 767 4443





This email was sent to: -
To stop receiving free Practices & Sessions + Discounts & Coupon Codes: Unsubscribe
Shop without the noise.
Get our free newsletter of hand-picked sales you need to hear about from the web's best brands.