Love your skin and protect your summer glow...
Email sent: Jul 22, 2021 8:01am
What to look for and what to stay away from to best look after your skin... ‌ ‌ ‌ ‌ ‌ ‌ ‌ ‌ ‌ ‌ ‌ ‌ ‌ ‌ ‌ ‌ ‌ ‌ ‌ ‌ ‌ ‌ ‌ ‌ ‌ ‌ ‌ ‌ ‌ ‌ ‌ ‌ ‌ ‌ ‌ ‌ ‌ ‌ ‌ ‌ ‌ ‌ ‌ ‌ ‌ ‌ ‌ ‌ ‌ ‌ ‌ ‌ ‌ ‌ ‌ ‌ ‌ ‌ ‌ ‌ ‌ ‌ ‌ ‌ ‌ ‌ ‌ ‌ ‌ ‌ ‌ ‌ ‌ ‌ ‌ ‌ ‌ ‌ ‌ ‌ ‌ ‌ ‌ ‌ ‌ ‌ ‌ ‌ ‌ ‌ ‌ ‌ ‌ ‌ ‌ ‌ ‌ ‌ ‌ ‌ ‌ ‌ ‌ ‌ ‌ ‌ ‌ ‌ ‌ ‌ ‌ ‌ ‌ ‌ ‌ ‌ ‌ ‌ ‌ ‌ ‌ ‌ ‌ ‌ ‌ ‌ ‌ ‌ ‌ ‌ ‌ ‌ ‌ ‌ ‌ ‌ ‌ ‌ ‌ ‌ ‌ ‌ ‌ ‌ ‌ ‌ ‌ ‌ ‌ ‌ ‌ ‌ ‌ ‌ ‌ ‌ ‌ ‌ ‌ ‌ ‌ ‌ ‌ ‌ ‌ ‌ ‌ ‌ ‌ ‌ ‌ ‌ ‌ ‌ ‌ ‌ ‌ ‌ ‌ ‌ ‌ ‌ ‌ ‌ ‌ ‌ ‌ ‌ ‌ ‌ ‌ ‌ ‌ ‌ ‌ ‌ ‌ ‌ ‌ ‌ ‌ ‌ ‌ ‌ ‌ ‌ ‌ ‌ ‌ ‌ ‌ ‌ ‌ ‌ ‌ ‌ ‌ ‌ ‌ ‌ ‌ ‌ ‌ ‌ ‌ ‌ ‌ ‌ ‌ ‌ ‌ ‌ ‌ ‌ ‌ ‌ ‌ ‌ ‌ ‌ ‌ ‌ ‌ ‌ ‌ ‌ ‌ ‌ ‌ ‌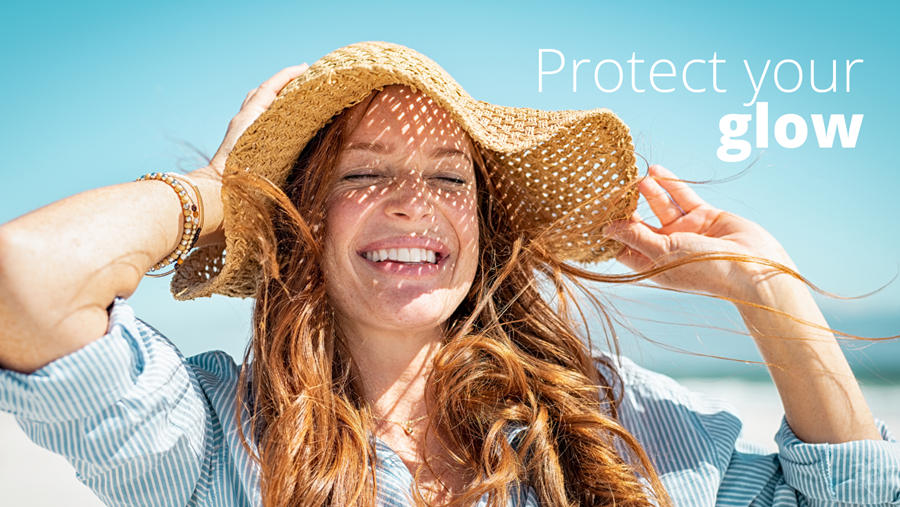 Hello -,
Basking in glorious sunshine, tucking into char-grilled alfresco BBQ's and slurping on summer cocktails sounds like the summer we've all been waiting for. But how do you protect yourself from the onslaught of harmful free radicals associated with this season? Food Scientist and Nutritionist Susie Debice reveals ways to protect your summer glow…
SUNSCREEN - CHECK!
To protect your skin on the outside from the harmful effects of UV rays, use a quality high factor (30+) sunscreen. Choose one that filters out both UVA and UVB rays. UV rays still penetrate your skin on overcast days which is why daily face creams and lotions with SPF are becoming so popular. Always check the ingredients list for chemicals that may do more harm than good. Both oxybenzone and octyl methoxycinnamate become unstable when exposed to UV, generating even more damaging free radicals for your skin to deal with. Mineral sunscreens are far safer than chemical sunscreens and their non-nano zinc oxide that's considered safe and photostable.
VITAMIN C FIGHTS FREE RADICALS
Whereas sunscreens work to give blanket protection against UV damage on the outside, vitamin C sets to work on your skin from the inside, where the damage is taking place. Free radicals generated by UV, stress, alcohol, sugar and charred foods could destroy sections of DNA in your skin cells, changing the health and vitality of your summer skin. Vitamin C protects cells from oxidative stress caused by free radicals giving your summer skin that extra layer of TLC.
NATURALLY GLOWING SKIN 
The oxidative stress caused by escalating levels of free radicals undermines the integrity of the collagen matrix found in the deep dermal layers of your skin. Collagen is an important structural protein that gives your skin strength, flexibility, elasticity and a natural radiant glow. Researchers have discovered that vitamin C acts as a cofactor for enzymes found in specialised skin cells (fibroblasts) that repair and renew collagen, meaning that vitamin C contributes to normal collagen formation for the normal function of skin. Hydrolysed collagen peptides found in Advanced Collagen also help to replenish collagen reserves.
SUPERCHARGE YOUR SKIN WITH LIPOSOMAL VITAMIN C
Vitamin C can't be stored or made by the body so a daily dietary supply is essential. Citrus fruits, purple and red berries, kiwi, green leafy veg, peppers and parsley are some of the richest natural sources of vitamin C. But if you're not achieving your 5-a-day (or more), then it's worth investing in a quality vitamin C supplement. Liposomal vitamin C is THE best in terms of absorption rates and efficacy. Clinical tests show that liposomal Altrient C helps improve skin elasticity and firmness by an impressive 61% when taking 3 sachets daily for 3 months, so well worth taking across July, August and September.
PRIME YOUR IMMUNE SYSTEM
Of course, the other benefit of vitamin C is the key role it plays in supporting normal immune function. By supplementing with liposomal Altrient C across the summer you are not only nourishing your skin, but you're also priming your immune system for the autumn and winter to come as we all continue to navigate our way through the pandemic.
Have a great week,
The Abundance & Health Team
Did you know we have a referral scheme? Spread the word to friends and family and every time a friend opens an Abundance & Health account and makes their first purchase, they will get £2 off their purchase and you'll earn £5 credit!
How does it work? Simply click on the button below, click on "Referral Programme" to copy your own unique referral link and share it with your friends.



To the best of our knowledge, all information and products contained in this email are correct at the time of distribution. However, for the most up-to-date information we recommend you visit www.abundanceandhealth.co.uk
Abundance & Health Limited, ProfitPal, 1 Maritana Gate, Canada Street Waterford, Dublin Ireland.
Other emails from abundanceandhealth.co.uk
Jul 5, 2021

NEW: Neutrient Butterfat Keto, the ultimate keto coffee creamer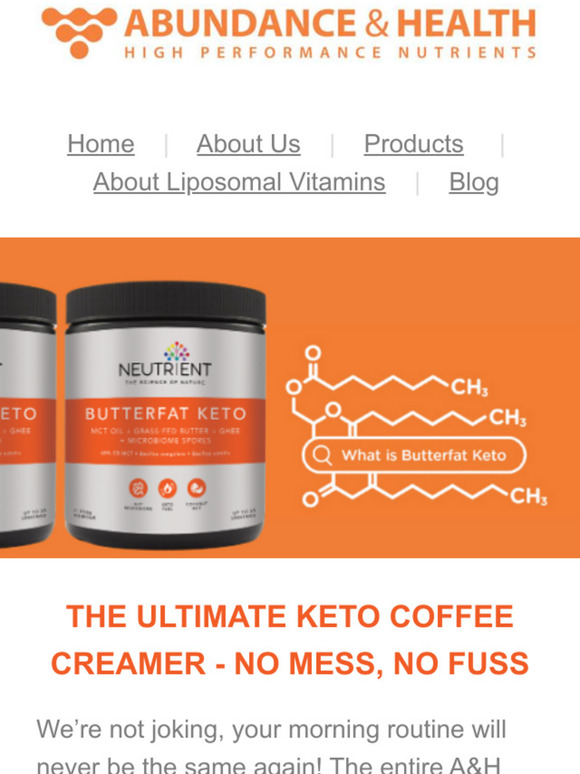 Jul 1, 2021

Discover why liposomal magnesium is THE best sports supplement...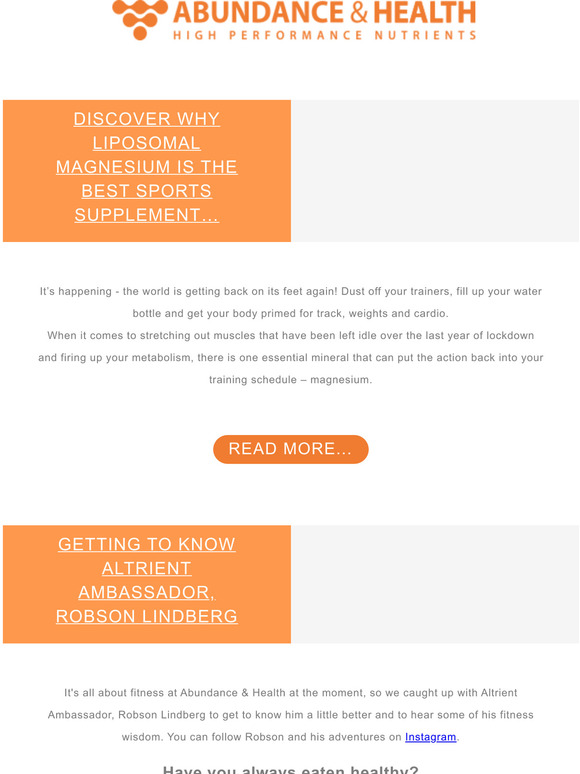 Jul 1, 2021

Weve said it before and well say it again 61% increase in skin elasticity with Altrient C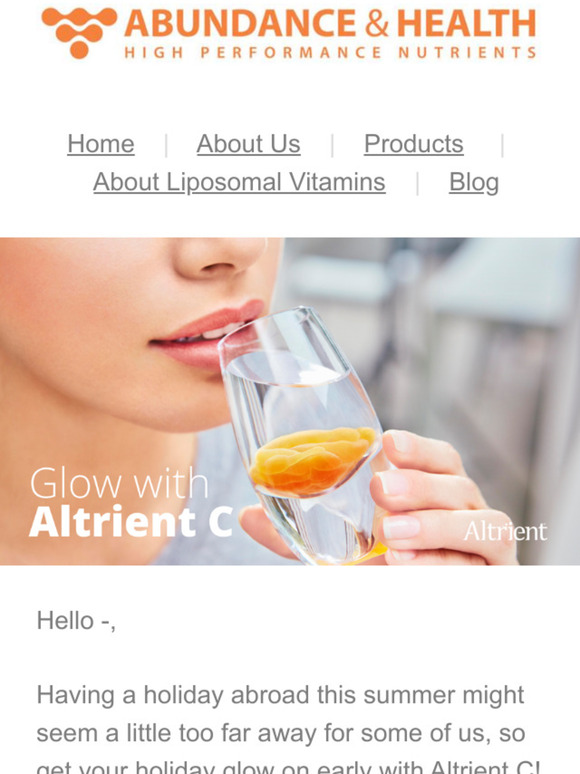 Jun 27, 2021

Celebrating the gut microbiome - Love your gut with these Neutrient recipes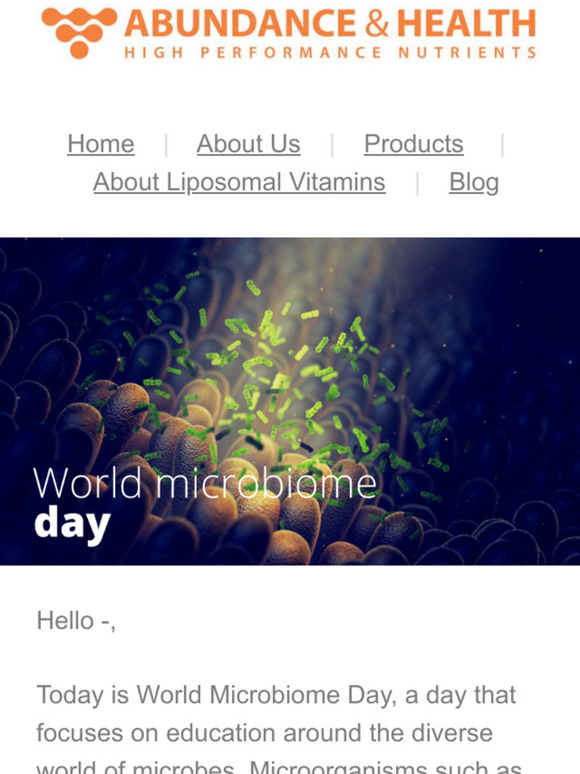 Shop without the noise.
Get our free newsletter of hand-picked sales you need to hear about from the web's best brands.