Your teen needs your help to take the permit test. Hurry and save 50% on drivers ed today!
When you start drivers ed today, you can save a ton and get freedom from driving your teen everywhere. Hurry: drivers ed sale! It's not make-believe: this Halloween, your teen could start earning a permit the smart and easy way with Aceable's California DMV-approved app. When you sign up for drivers ed today, you can save a ton and get your teen on the road to independence! Here's why Aceable is the best choice for your teen Officially approved by the California DMV Skip the hassle of going to and from a classroom with our #1-rated mobile app Everything your teen needs to be a great driver Unlimited FREE practice tests to help your teen ace the permit exam Extra focus on dangers of texting and driving 6 FREE months of roadside assistance from Allstate® Keep your teen safe with access to services like tire changes, jump starts, towing and more Ready to help your teen become a safe and responsible driver? Save on Drivers Ed Now! "This program was awesome. My daughter had a great time with it and laughed the entire time she was doing the program. Good job Aceable." - Cheryl Danner, parent #LicensedWithAceable PRIVACY POLICY TERMS & CONDITIONS GET HELP 610 W 5th St, Suite 603, Austin, TX 78701 © 2018 Aceable, Inc. This email was sent to . Don't want to receive these emails anymore? Unsubscribe Aceable Drivers Ed, 610 W 5th St, Suite 603, Austin, TX 78701
This email was sent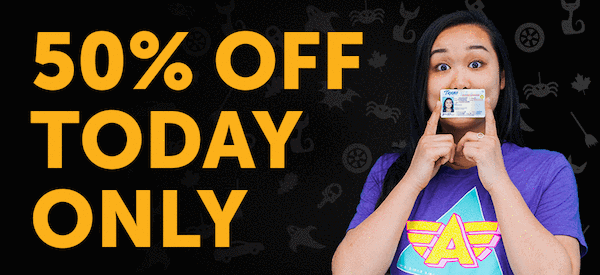 It's not make-believe: this Halloween, your teen could start earning a permit the smart and easy way with Aceable's California DMV-approved app. When you sign up for drivers ed today, you can save a ton and get your teen on the road to independence!
Here's why Aceable is the best choice for your teen
Officially approved by the California DMV
Skip the hassle

of going to and from a classroom with our #1-rated mobile app
Everything your teen needs to be a great driver
Unlimited FREE practice tests to help your teen ace the permit exam

Extra focus on dangers of texting and driving
6 FREE months of roadside assistance from Allstate®
Keep your teen safe

with access to services like tire changes, jump starts, towing and more



Ready to help your teen become a safe and responsible driver?
"This program was awesome. My daughter had a great time with it and laughed the entire time she was doing the program. Good job Aceable."
- Cheryl Danner, parent

610 W 5th St, Suite 603, Austin, TX 78701
This email was sent to -. Don't want to receive these emails anymore?

Unsubscribe
Aceable Drivers Ed, 610 W 5th St, Suite 603, Austin, TX 78701