Tori strips for $2??
This email was sent
​Hi Sweetie,
I'm in a lot of trouble.
Tori just burst into my office and demanded, "How could you sell Dripping Wet Secrets for $2?!?"
After all, Tori is a gorgeous woman who teaches this program.
She takes off her clothes, piece by piece, while teaching you the ways to get your woman unbelievably aroused, and soaking her love juices through her panties.
She's a high-end model… so the idea that you could watch her strip absolutely naked for $2 was a little insulting to her, to say the least!
So… needless to say, I won't be able to keep this $2 price tag much longer.
Click here to get Dripping Wet for $2 before it disappears tomorrow.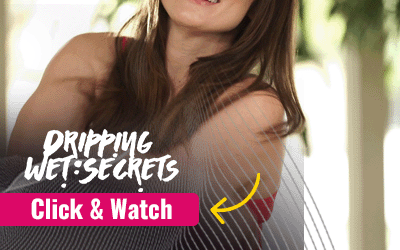 I think I've calmed down Tori for now, but she does have a point.
Normally, Dripping Wet costs $67… which makes total sense.
You get to watch Tori strip naked, watch a sexy couple demonstrate all these arousal secrets… AND get a PDF ebook full of naked pictures of Tori and the couple.
That's why we have a timer on the web page, showing you exactly how much time you have to get Dripping Wet, before it goes right back up to full price. 
Now, if you miss out… that's on you.
I just don't want to think about how your lover could miss out on the amazing orgasms that happen when a woman is so fully lubricated…
Amazing sex really is the best gift you can give your lady.
Click here to get Dripping Wet for $2 before this offer disappears.
Love,
Gabrielle Moore
P.S. – 
Honestly, if all you got for $2 was watching Tori strip… and you learned NOTHING, this still would be more than worth it. 
Heck, I'd probably hand Tori my whole purse just to watch her get naked for me. (Don't tell her that! ;-) )
Click here to enjoy naked Tori when you get Dripping Wet Secrets for just $2
If you wish to stop receiving our emails or change your subscription options, please Manage Your Subscription

IMPORTANT: The "Manage Your Subscription" link does NOT cancel paid memberships. To cancel any paid memberships, please contact us at [email protected]

Insspira Publishing Inc, 1489 Marine Dr. Suite 118, 205, West Vancouver, BC V7T1B8, Canada
Recent emails from "the Sex Starved Couple" By Gabrielle Moore

See more