aperionaudio New Acoustic Guitar! New Sub Review & Dual AMT Back in Stock!
Email sent: Aug 12, 2021 5:01pm
Customer Highlight Verus Concert Towers
 

Our new Dual AMT Super tweeter delivers quick dynamics and an ultra-clear high frequency transient response. The Dual AMT Super Tweeter can be suitably matched with any speaker whose sensitivity is between 87-98 dB.

You might be wondering "What's a speaker company doing making guitars?" Simply put, we love music. Aperion Audio was born in the minds of musical individuals, which has always been the passion behind why we decided to start a company that made amazing sounding speakers at an affordable price. Such is the same with our new musical instrument line, Aperion Music. Most of us here at Aperion are musicians, and with the manufacturing resources available to us, we were able to create a fantastic musical instrument at a great value!

The G41 cutaway acoustic guitar beginner package has everything you need to start your musical journey in style at a great value! Our new G41 Cutaway Acoustic Guitar features a spruce top, African Mohagany sides and back, and Okoume Neck. Includes Padded Gig bag, Strap, Capo, Picks, Tuner, and extra strings!

Subwoofer madness! Shane from SpareChange reviewed two of the Bravus II 12D subs, and says these are one of the best subs in its price range! Given the level of experience he has with subs, this means a lot! Thanks Shane!

Our friend Tharbamar takes a spin with the Peachtree Nova300 Integrated Amp and we are absolutely stunned by the feedback. The review covers a quick sound clip comparison to Tharbamar's reference speaker, the KEF R11. We have always had a passion for fantastic amplifiers, and Peachtree holds up to the challenge! Check out the review!

After 21 years of non-stop engineering development and countless hours toiling in the lab, we are extremely proud to announce our best speaker yet!

Whether you're building a music system that takes you to dreamland or a home theater that rivals the multiplex, the Verus III Grand Tower forms the foundation of performances so immersive that you become part of the show.

Check out our open box and closeout savings. We've got everything from subwoofers and towers, to bookshelves and super tweeters and a variety of other goodies that you can score a great deal on. Deals start at 15% off and only get better from there.

Brace yourself for the huge sound of The Verus III Grand Tower Surround 12D, one of our best pre-configured home theater systems.  It's stunning good looks and true-to-life sound will blow you away, and at a price thousands less than the competition.

Whether you're building a music system that takes you to dreamland or a home theater that rivals the multiplex, the Verus III Grand Tower forms the foundation of performances so immersive that you become part of the show.


What sets the Verus surround sound speaker apart from the crowd? For starters, the Verus Surround features a switchable dipole/bipole design that fills your...

Enhance a warm summer evening outside on your deck alongside friends and family with our new Clearus 6.5" Outdoor/Indoor Speakers. Now you can get the award-winning Aperion sound for your favorite music on your patio, deck or pool area at an affordable price. It really doesn't get much better than that! Enjoying music outside is easy, but until now it's been difficult to get great sound and tight bass in an outdoor setting without spending a fortune. So get the grill fired up and enjoy sound as warm as the summer sun with your Clearus 6.5" Outdoor Speakers.


Our new Clearus Outdoor speaker includes a 70V switcher which allows for easy use within commercial settings or where multiple speakers will be daisy chained together.

Our long time customer John recently upgraded from the Verus Grand towers to the new flagship Verus III Concert V8T Tower speakers. We truly appreciate him sharing these photos of his beautiful home and top notch audio system!




"Salutations! After waiting for 52 years to assemble a TRUE Home Theater without incurring a mortgage to our house, I believe that I am on the very cusp of completion! I have been a loyal customer of Aperion Audio for a very long time slowly and methodically purchasing various speakers to achieve Home Cinematic Bliss. Let's start with the front Towers. A pair of BRAND NEW Aperion Audio Verus III Concert V8T Towers saddled with a pair of Aperion Audio Aluminum Ribbon Super Tweeters, an Aperion Audio Verus III Grand V6C Center channel with its own Aperion Audio Aluminum Ribbon Super Tweeter, a pair of Aperion Audio Verus III Grand V6T Towers also saddled with Aperion Audio Planar-Magnetic Flat Ribbon Super Tweeters for my Surrounds, a pair of Aperion Audio Verus I Grand V6T Towers for my Rear Surrounds and 6 Aperion Audio Clearus 6C Angled 6.5 inch 2-way in-ceiling speakers for Dolby Atmos (A 13.2 Set up). The powerhouse feeding the energy-hungry Fronts is a Monoprice Monolith 7X producing 300 watts per channel @ 4 ohms to the NEW Concert Towers, which are bi-amped, to reveal every nuanced whisper to thunderous explosion with depth, presence, and undeniable authority, with 200 watts per channel to the Center and Side Surrounds @ 6 ohms. A Denon AVR X8500H Flagship steers the show feeding the Rear Surrounds and Atmos speakers 150 watts per channel @ 8 ohms. Entertainment is provided by an OPPO UDP-205 4K Ultra Bluray Player and an LG 78" OLED display. Home Cinema, DEFINED!" - John G.

Our band of reviewers have been rocking Aperion's latest speaker designs since recently receiving the first round of inventory. We know you've been patient, and excited for these products to arrive and the reviews to post, as have we! We're in stock and ready to ship on just about every Verus and Novus speaker. Sit back, grab your favorite drink to sip, and enjoy watching these reviewers get hands on with our newest speakers! Don't forget to pick up a new set up speakers for yourself and enjoy the latest offerings from Aperion!

We're happy to help! Give us a call 503-598-8815

Our mailing address is:

25599 SW 95th Ave., Suite D, Wilsonville, OR 97070

 
 

Thank you for subscribing to receive Aperion Audio news and updates on our website.

AperionAudio | 25599 SW 95th Ave, Suite D | Wilsonville, OR 97070

 
Other emails from Aperion Audio
Sep 20, 2021

aperionaudio 10OFF Coupon through Sept 30th! Review Recaps and more Open Box Savings!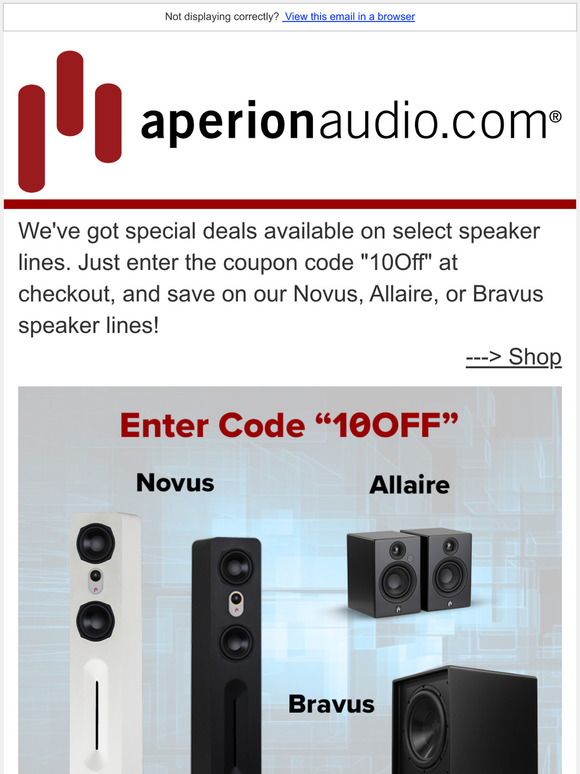 Sep 14, 2021

aperionaudio Novus Giveaway with Ealan Osborne! Peachtree Amps Rock! Open Box Savings...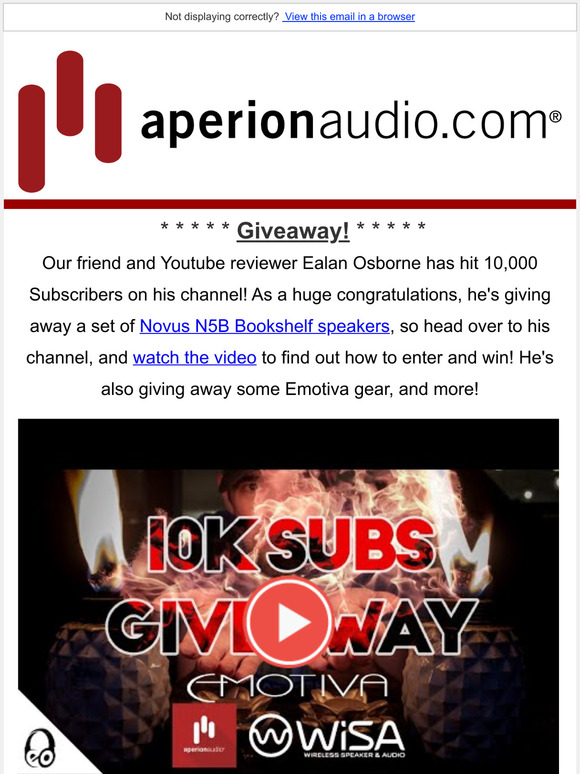 Aug 26, 2021

aperionaudio New Peachtree & Verus Review! Clearus In-wall & Bravus 10D in stock! Open Box Updates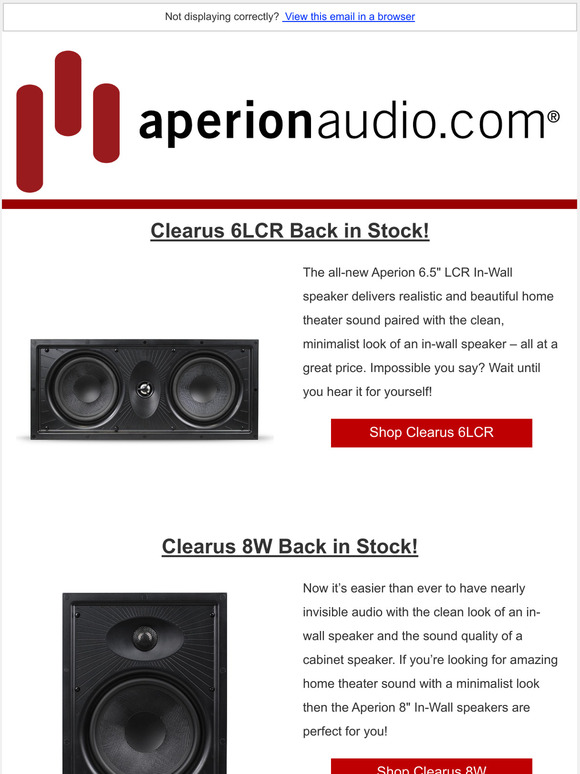 Shop without the noise.
Get our free newsletter of hand-picked sales you need to hear about from the web's best brands.