Audials One 2021 - Find, stream and record music, series and movies in high quality
Email sent: Jul 22, 2021 7:31am


Audials One 2021 is the ultimate streaming recorder!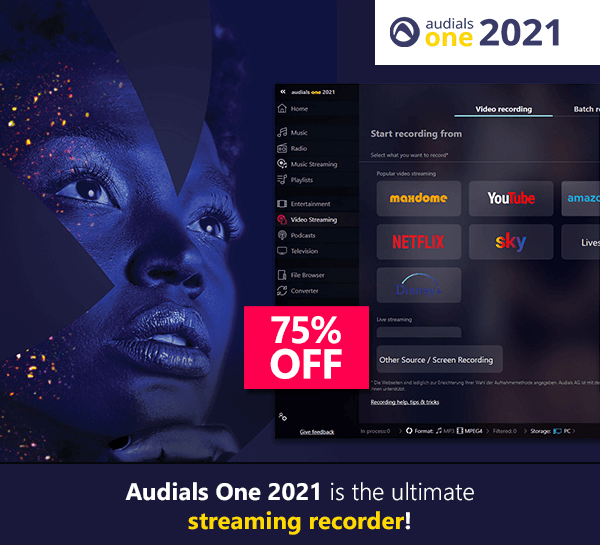 Download-Version | You save

75%


Operating System: Windows® 10, Windows® 8, Windows® 7
Dear Ashampoo customer!

Save your favorite songs from any music streaming service easy, fast, legal, and top quality. Enjoy your music collection on all devices! Create your own movie collection as well! Record movies, TV shows and television from streams. It's automatic, convenient and always in top video quality.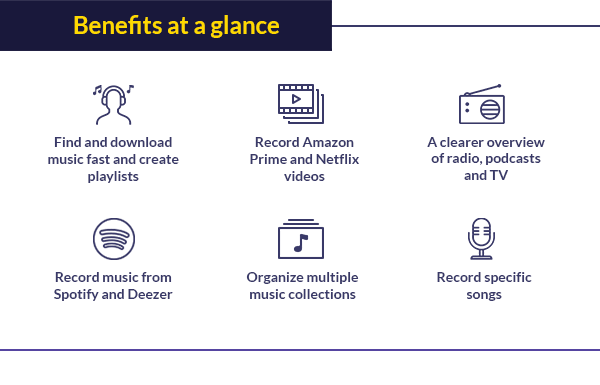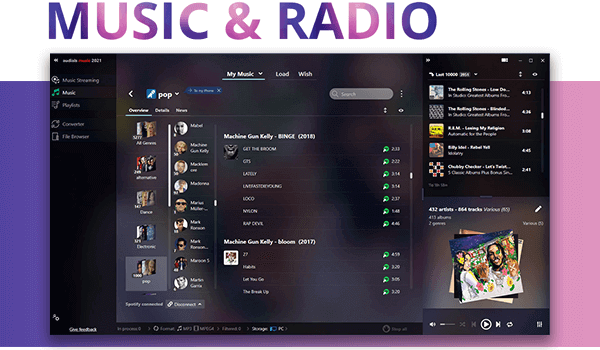 Easy to download
Thanks to the new user interface, downloading music has never been easier. Simply drag and drop your songs, albums or playlists into Audials and have them recorded for you at 30 times the normal speed. Or simply play them using the music streaming service - Audials will save everything. Audials will also always select the ideal settings, but you have the option to change them at any time.
Extreme speed
The download speed is automatically adjusted according to your PC's capacity. Whether you're using the upgraded drag and drop function or you're recording in the background, you'll get your music up to 30 times faster than real-time speed. Audials 2021 downloads music at more than twice the speed compared to its predecessor! You can now download one hour of music in just two minutes. In a process that is now faster than ever, you'll receive music files that have been perfectly trimmed and tagged, and are 100% error-free.
Find and download music fast and create playlists
When looking for songs, Amazon Music is now also available in the search in addition to Spotify, YouTube, Soundcloud, Vimeo and Veoh - this way you will definitely find exactly what you're looking for! Once your music has been located, it'll be downloaded faster than ever before. We've also massively improved the playlists. All it takes is a single click to add all of the songs to your collection. You can then listen to them whenever you want and create playlists until your heart is content, and of course download them later if need be.
A clearer overview of radio, podcasts and TV
Audials 2021 features what is probably the largest integrated index of hundreds of thousands of radio stations, podcasts and television shows. We've also redesigned the layout to provide a clearer overview of all media. The Audials Radio app also features the newly designed user interface.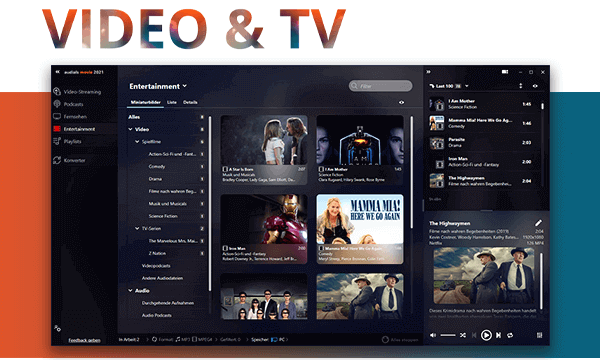 Highspeed recording
You'll now get all your movies and series from popular streaming services at breakneck speed. The trick: Audials prompts your browser to play videos at twice the speed, and then records them with no loss of quality! This is especially handy when it comes to planning recordings: all your videos will automatically be saved to your hard drive, but at double the speed!
Consistently optimal frame rate
You'll now be able to enjoy enhanced video quality thanks to the feature that makes sure that videos are automatically saved at the ideal frame rate! The frame rate of the recording source is automatically detected to ensure that not a single frame is lost. This allows you to achieve unparalleled video recordings without having to worry about a thing!
Improved GPU support
The use of graphic card-based encoding has been optimizing and this now works automatically. This lowers the performance requirements and decreases the likelihood of problems occurring in the video recordings. All of the video profiles indicate whether or not GPU support is available, allowing you to benefit from it with all output formats.
Your new video libary
From now on, the movies & series available in your video library will be displayed as clearly arranged tiles. Thanks to the automatic tagging feature, your video library will always be kept tidy and will be organized into genres and series without you having to do anything.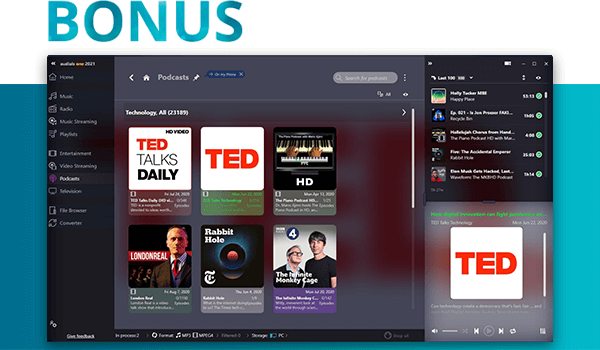 Brand new navigation concept
The new toolbar is designed to make sure that you never have any difficulty navigating Audials, despite the many navigation and customization options. You'll always be able to see exactly where you are in the top left. And in the top right, you can type in what you'd like to watch/listen to and the results will immediately be displayed thanks to the instant search function.
Breathtaking experience
Explore the vibrant new design, which matches our website and is much easier to use. Locating important functions has never been this simple. Immerse yourself into the unique world and explore it bit by bit.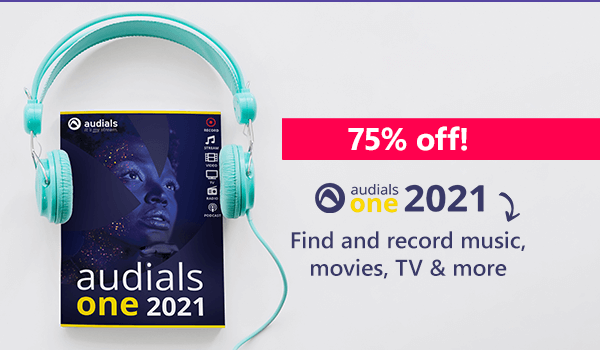 Download-Version | You save

75%


Operating System: Windows® 10, Windows® 8, Windows® 7
Ashampoo by the numbers



Users




20+ million




Downloads




500.000+ per month




World-wide




In over 160 countries




Experience




Over 21 years
Newsletter settings
You're subscribed to this newsletter with the following email address: -.
You can always change your newsletter settings or unsubscribe.
Ashampoo GmbH & Co. KG
//CRASH Building | Schafjückenweg 2 | 26180 Rastede/Germany
CEO: Sebastian Schwarz, Jens Klibingat, Sebastian Strzelecki | The registrar of companies: Ashampoo GmbH & Co. KG, HRA 3618, Handelsregister AG Oldenburg, HILCHNER & BOGENA Beteiligungs GmbH, HRB 4490, Handelsregister AG Oldenburg | Ust.Ident.Nr. DE204940257
Homepage | Support | Contact | Terms of Use | About | //CRASH Building
Other emails from ashampoo US
Shop without the noise.
Get our free newsletter of hand-picked sales you need to hear about from the web's best brands.