A frog as big as a baby? You've got to see this
Email sent: May 5, 2021 3:15am
Plus, have you ever seen a scallop swim or a fish living inside a jelly... well you need to!
Hairy-nosed wombat numbers grow to over 300 in Queensland
Conservationists in Queensland are cautiously celebrating after the population of the northern hairy-nosed wombat surpassed 300.
 
Meet Cornufer guppyi, a gigantic frog of the Solomon Islands.
 
There's more to the humble scallop than you may think.
 

Byron Bay photographer Tim Samuel didn't quite know what he was seeing when he snapped this incredible image of a fish in a very bizarre predicament – seemingly trapped inside a jellyfish.
 
Aus Geo Adventure is on sale now!
This issue is packed with inspirational content, including an amazing activity-packed five days in the Shoalhaven region of the NSW South Coast, a short and sweet bikepacking weekend in the Blue Mountains, an outback epic through the Great Sandy Desert, a trek to the highest peak in Morocco, a monster guide to Canada's amazing Northwest Territories, and loads more. 

Inside, there's also 12 gear tests on the latest kit and expert advice on alpine climbing, outback travel and outdoor fitness. Yep, it's another chock-full issue of inspiration, brilliant writing and awesome photography.

Issue 5, on sale now!
 

Water, earth, smoke and fire interweave on the Shoalhaven Coast of NSW to create the perfect storm of rejuvenation and adventure.
 

Tropical North Queensland is a brilliant road trip destination for the adventurous traveller. Check out three of our favourites!
 

Here's an exciting adventure for nature-lovers and visitors to the central west NSW town of Forbes. The Gum Swamp Wetland is an ephemeral wetland that offers a habitat for numerous native wildlife and vegetation. It's only four kilometres south-west of the centre of Forbes, just off the Newell Highway (entry is via Greens Road) and you will be transported into a birdwatcher's wonderland. 
 

Adventure fitness expert Joe Bonington explains the importance –and the hows and whys – of the correct training needed to ensure you're fit for your next challenge.

The Macpac Olympus could be the one hiking tent for all seasons. Aus Geo Adventure puts it to the test.
Talking Australia: Listen to our podcast
Protecting our giant Earthworms: Beverley van Praagh

Reaching up to 3m in length, the giant Gippsland earthworm may be the world's largest of its kind. Often mistaken for a snake due to its size, this creature can only be found in a few locations in Victoria.

The worms are under serious pressure by agricultural use of their habitat so, for the last 30 years, ecologist Beverley van Praagh and her team at the Giant Earthworm Project have been working closely with the Victorian government and local farmers to find ways to ensure the survival of this fascinating species.
 
This marsupial species was already under threat of extinction when recent and prolonged drought periods in Australia's already hot, dry arid regions placed it under extra pressure.

Arid Recovery in South Australia aims to boost the resilience of bilby populations through breeding and research programs that improve genetic diversity.

This work will help bilbies survive increasingly hot summers by providing targeted food and water at key times and will also study how bilbies recognise and avoid quolls as native predators.

It's hoped that 'quoll-smart' bilbies can eventually be taught to also be 'cat-smart'.
Copyright © 2021 Australian Geographic Holdings Pty Ltd, All rights reserved.
You are receiving this email because you opted in on our website at australiangeographic.com.au.

Our mailing address is:


Want to change how you receive these emails?
You can update your preferences or unsubscribe from this list.



Other emails from Australian Geographic Shop
May 11, 2021

What would you do if you found over 30 snake skins in your roof?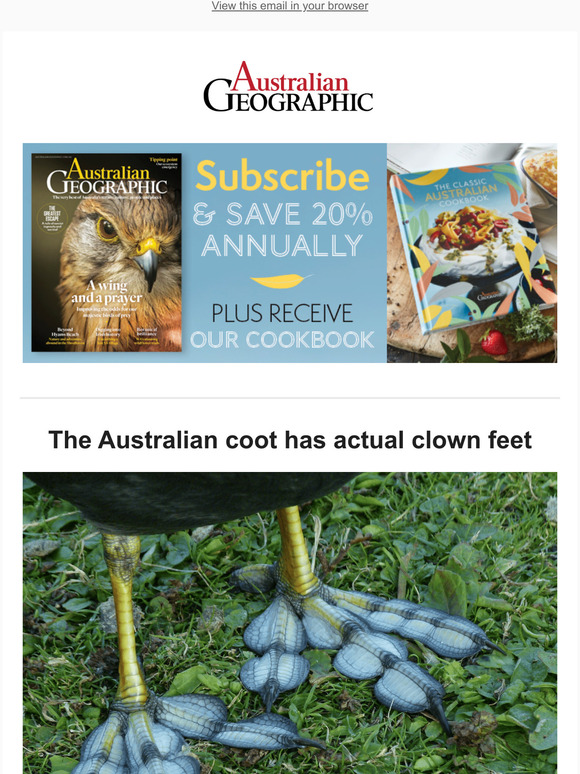 May 10, 2021

TRAVEL: Experience the magic of Australia holiday here this year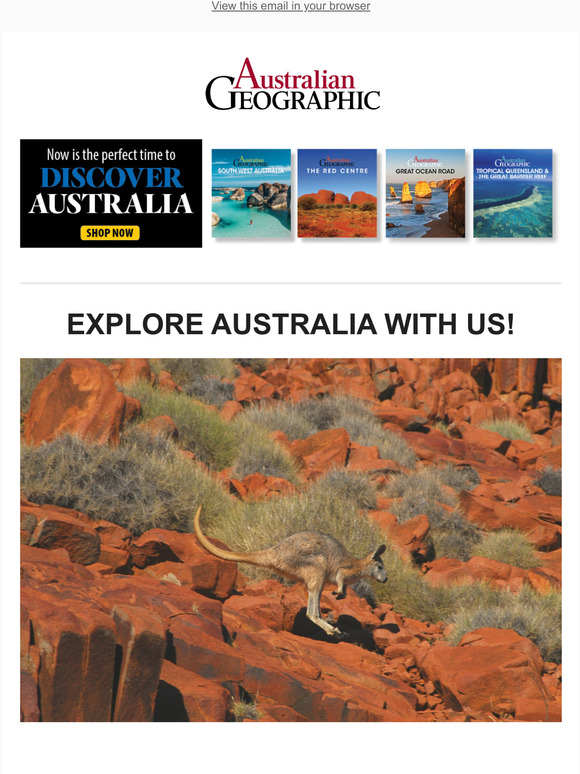 Shop without the noise.
Get our free newsletter of hand-picked sales you need to hear about from the web's best brands.