Recipes to keep you busy straight from our chef, Justin Ciappara.
Email sent: Apr 16, 2020 10:00am
Justin Ciappara, Outlets Head Chef at AX Hotels Qawra, took this opportunity to let his kids know what he does on a daily basis.
#AXCookingfromHome Diaries
There's a bright side to everything - even a pandemic. With Covid-19 forcing most of us to stay inside to protect ourselves and our loved ones, we all had to put our thinking hats on. We were suddenly placed with more time on our hands, and even though most of us always wished for more hours in the day, we were taken by surprise by this scenario.
 
Creatives were given more time to think, business owners now have time to develop their brand, parents were given precious time to spend with their children. That is exactly what Justin Ciappiara, Outlets Head Chef at AX Hotels Qawra, is doing. Justin took this opportunity to let his kids know what he did on a daily basis before this pandemic hit our shores.
Justin shares two of his favourite recipes here that you can also make in the comfort of your own homes.
One of the easiest and most effective ways to cook fish is to wrap it in foil. All the flavours stay inside the wrap and work their way through the fish flesh! When cooking using this method, use simple ingredients and very fresh fish for the best results.
1 Sea bream (awratt) or seabass (spnott) about 600 grams (scaled, filleted and deboned)

5 cherry tomatoes (cut in half)

A small handful of capers (around 8 capers)

A small handful of pitted black olives (around 5 olives)

1 garlic glove (sliced)

Some extra virgin olive oil

Seasoning (roughly mix 3 grams of  salt and 1 gram of black pepper)

Fish stock (either a stock cube in hot water or fresh stock made from head and bones of the fish)

 Fresh mint (around 5 leaves)

1 Lemon

1 Potato
Directions:
 
When buying the fish, ask your fishmonger to gut it, scale it, and fillet it. In our restaurants, we use a whole fish, without the filleting. However, at home, it will be easier to buy it prepared to avoid the mess, and deboned, so you will avoid the tiny bones as well. Once at home, rinse the fish under fresh water and then pat it dry with kitchen paper.
 
Cut a large piece of foil so that you can wrap your fish later. In the centre of the foil, put a layer of greaseproof paper, roughly of the same length as your 2 fillets of fish next to each other. Put some drops of olive oil on the greaseproof paper. Spread the olive oil all around the greaseproof paper (use your fingers or a little brush).
 
Ideally, now's the time to put the foil with the greaseproof paper into a plate with a rim or a bowl, not a flat service. This is to avoid spillage of ingredients.
 
Slice the potatoes (thin slices) and lay the slices onto the greaseproof paper. Drizzle some olive oil over the potato slices. The potato helps to absorb part of the liquid in the bottom during the cooking.
 
Take the 2 fish fillets, arrange them both skin down (will get into why a bit later on) next to each other and put the seasoning.
 
Next, place olives and cherry tomatoes, capers, garlic, a wedge or 2 slices of lemon and mint leaves, and spread them on top. Finally, add a dash of fish stock
 
Close the foil, seal it folding the sides up into a sort of money bag, and twist the top to seal the air trapped inside and put it onto an oven tray. Preheat the oven to 200°C. When the oven is hot, put the tray into the oven and cook the fish for about 7 minutes.
Remember, I told you to put the fillets next to each other - to be sure that it's cooked, open it and with a knife, flake the meat, (if it flakes it's all done),
 
Once the fish is cooked, you could either serve it with the foil or without.
Up to you, you are the chef!
 See told you it's easy, nothing to it!!
Ingredients
6 egg yolks
200 grams castor sugar
500 grams mascarpone cheese
400 grams heavy whipping cream
2 packages Italian Ladyfingers
110 ml cold coffee (ideally espresso but instant coffee will do just fine)
55 ml of coffee flavoured Liquor (optional)
1 tbsp cocoa for dusting
Directions:

Combine egg yolks and sugar in the top of a bain-marie. (A homemade bain-marie can be done with 2 pots of different sizes, the larger one at the bottom filled with enough water so when the smaller one is placed on, the bottom of the small pot is in water).

Reduce heat to low, and cook for about 10 minutes, stirring constantly. This is your sabayon, remove from the heat and whip yolks until thick and lemon coloured.

Add Mascarpone to whipped yolks, beat until combined.

In a separate bowl, whip cream to stiff peaks.

Gently fold the whipped cream in the mascarpone sabayon mixture and set aside.

Mix the cold espresso with the coffee liquor (optional). When I do this at home, I opt out of the alcohol, as my kids do take a slice or two. On another note, during this quarantine, I might put a bit extra, so my kids will sleep an extra hour so I take a little break, but my wife will kill me if I did that!

Dip the ladyfingers into the mixture just long enough to get them wet, do not soak them!

Arrange the ladyfingers in the bottom of a square or rectangle baking dish

Spoon half the mascarpone cream filling over the ladyfingers.

Repeat process with another layer.
Refrigerate for 4 hours or overnight.
Dust with cocoa before serving
Happy Cooking! Remember, stay home and stay safe!
Worlds Apart. Close at Heart.
We might be worlds apart but we're missing you everyday. We cannot wait to have you back with us! Until then, you're close to our hearts.
Place this as your profile picture to show your love towards AX Hotels.

We will be reunited soon!

Click here to do it.
AX Hotels - 7 Different Journeys. One Purpose.
Get in Touch


 
For more information, visit our website and social media channels
to find out more.
Other emails from AX Hotels - Seashells Resort at Suncrest
Jun 10, 2021

Discover Malta, Rediscover what you love about Travel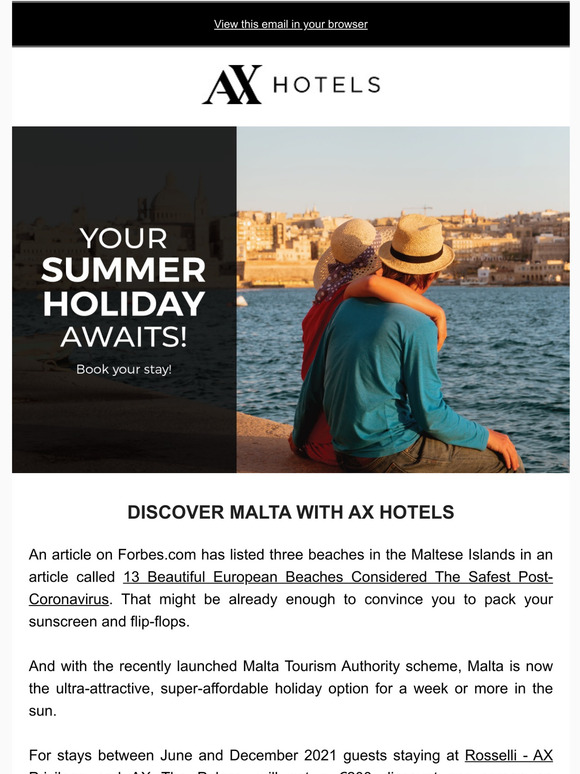 Jan 29, 2021

💕 Make it a magical Valentine's with AX Hotels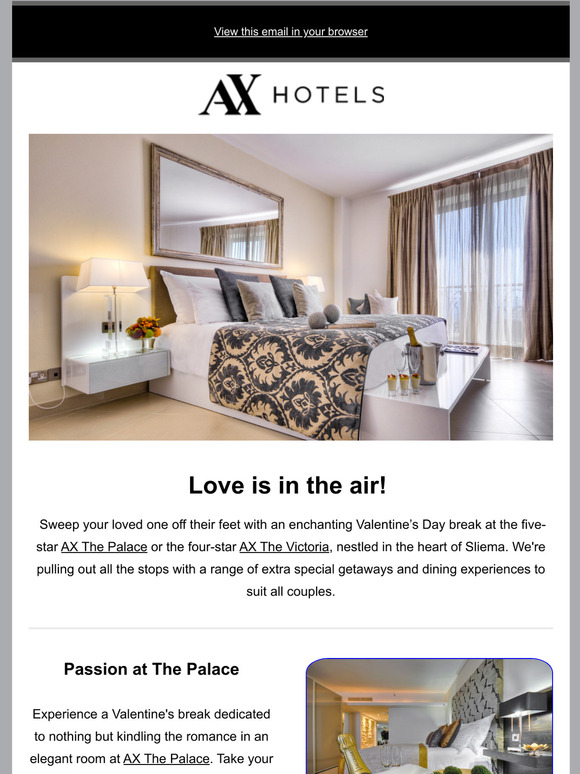 Jan 28, 2021

💖 Celebrate a timeless Valentine's at The Saint John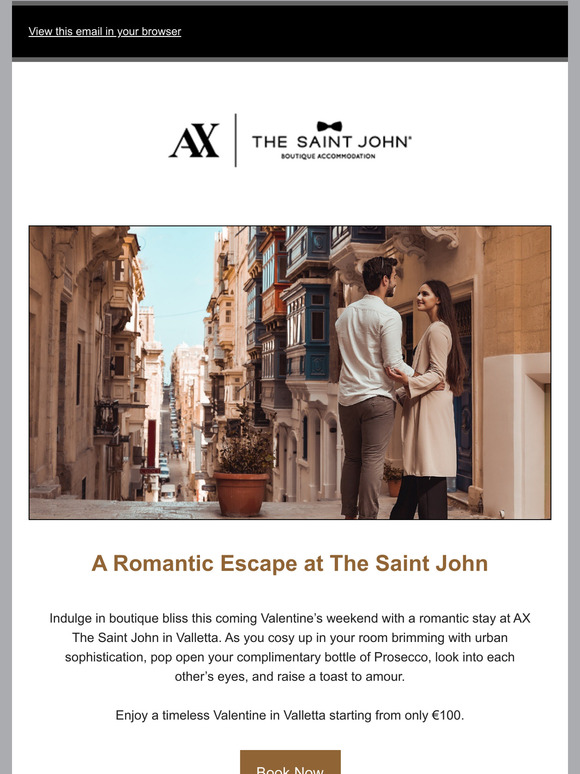 Jan 27, 2021

Make it a magical Valentine's at Rosselli AX Privilege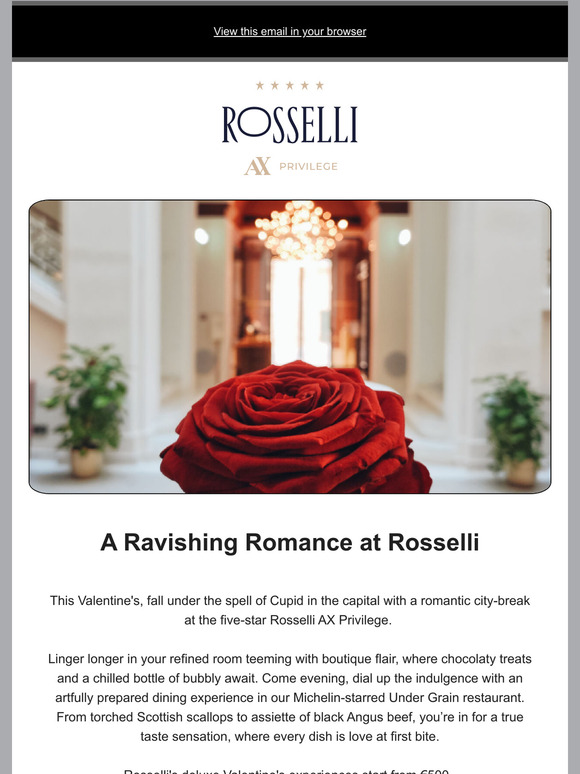 Dec 1, 2020

Tick Tock – the AX Black Friday offer ends soon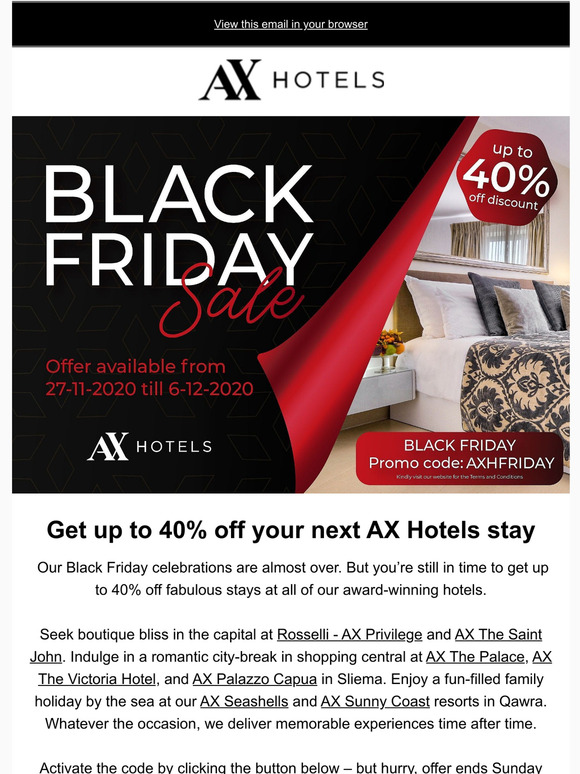 Shop without the noise.
Get our free newsletter of hand-picked sales you need to hear about from the web's best brands.