What's Most Important in Your Life?
Email sent: Apr 23, 2020 11:00am
Andy Tanti, Director of Sales, gives us his insight. 
#AXWorkingfromHome Diaries
Time to Realise What's Most Important In Your Life
We've lost count of the days we have been quarantined. We're missing our families, friends, and loved ones and, even though we know that staying at home is the right thing to do, we miss what used to be considered as our 'normal' lifestyles. However, adapting to this new lifestyle is not an option anymore, it's a must. 

We're accepting that this is the new normal, at least for the time being. Andy Tanti, our Director of Sales for AX Hotels Sliema & Valletta, shares his thoughts about coping with this current lifestyle and the thing he's most looking forward to for the future!
How are you coping with the current situation? How are you getting along with working from home? 
All in all, I'm coping really well! I have all the tools I need to work remotely which is great as I can get more things done. I also have the opportunity to work on particular projects which, under normal circumstances, would have been really difficult to carry out.
What's your tip to working from home to anyone who is struggling to adjust to the new situation?
Get up and prepare yourself as though you are going out on meetings or to the office – this will give you the drive and motivation to get going. Find a corner in your house with fewer distractions to keep you focused… in my case, this is rather difficult as it's not always that easy to keep 4 kids occupied and quiet for at least 5 hours. 

Eventually, dedicate some time to do something which is completely different, perhaps some maintenance work you had been planning for ages and never got round to starting. The really good weather is also giving me the opportunity to do fun activities with the kids, whether playing football or volleyball out in the street, a bit of cycling or simply a short walk. Balance is important, so definitely find time to do a little bit of everything.
Name one thing that you are looking forward to getting back to the most after this pandemic is over
Doing everything I used to do before we got into this mess and less of the things which I previously thought may have been important. I am now realising that they were not at all that important.  
If you could go back to a work-related moment/event from last year, which would you go back to?
Definitely the team building events our HR organised, particularly the AX Christmas staff party. It was an event where everybody could let their hair down, including our Directors. These, and other team-building events, all gave me the opportunity to build bridges with my colleagues and friends whom I spend most of my working day with.

Stay Safe Everyone!
Worlds Apart. Close at Heart.
We might be worlds apart but we're missing you everyday. We cannot wait to have you back with us! Until then, you're close to our hearts.
Place this as your profile picture to show your love towards AX Hotels.

We will be reunited soon!

Click here to do it.
AX Hotels - 7 Different Journeys. One Purpose.
Get in Touch


 
For more information, visit our website and social media channels
to find out more.

Other emails from AX Hotels - Seashells Resort at Suncrest
Jun 10, 2021

Discover Malta, Rediscover what you love about Travel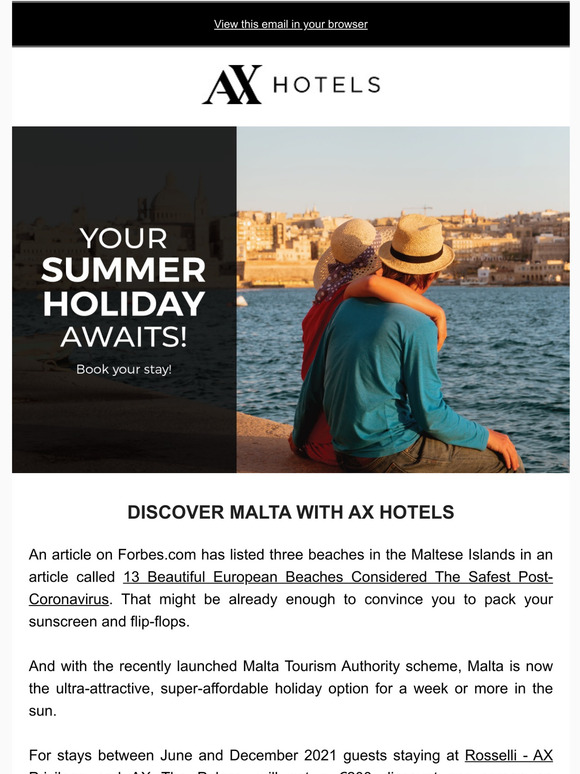 Jan 29, 2021

💕 Make it a magical Valentine's with AX Hotels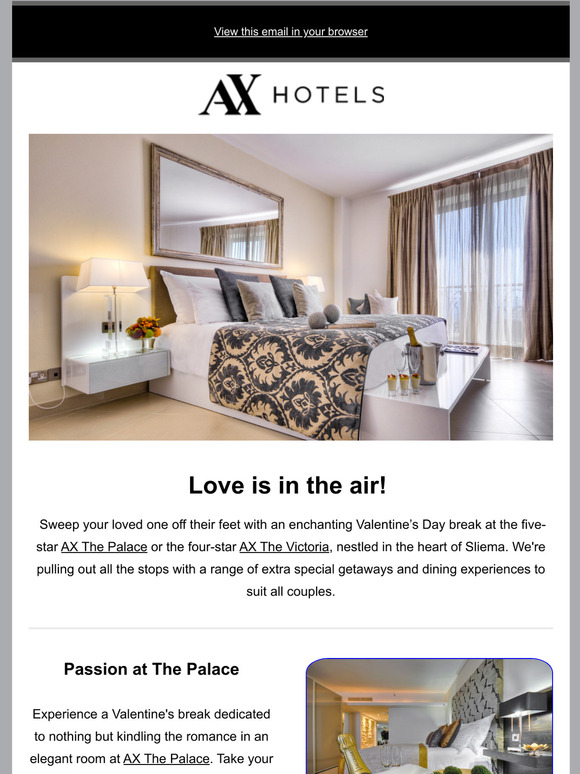 Jan 28, 2021

💖 Celebrate a timeless Valentine's at The Saint John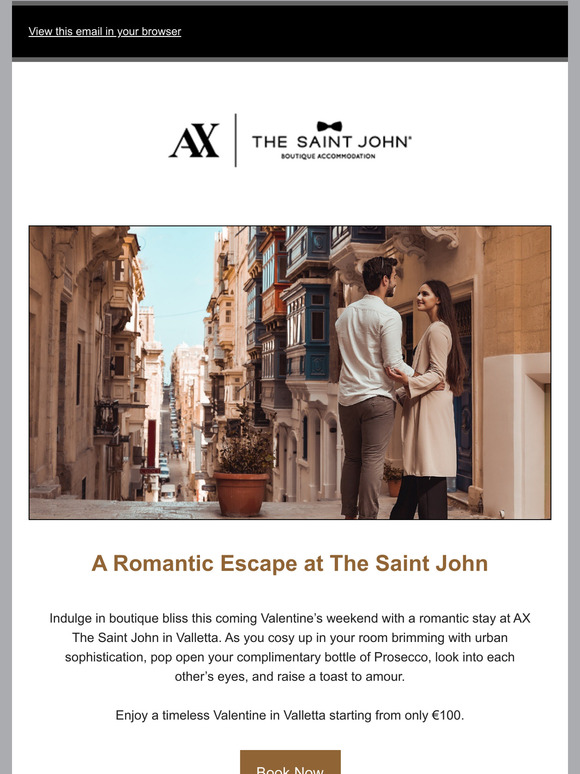 Jan 27, 2021

Make it a magical Valentine's at Rosselli AX Privilege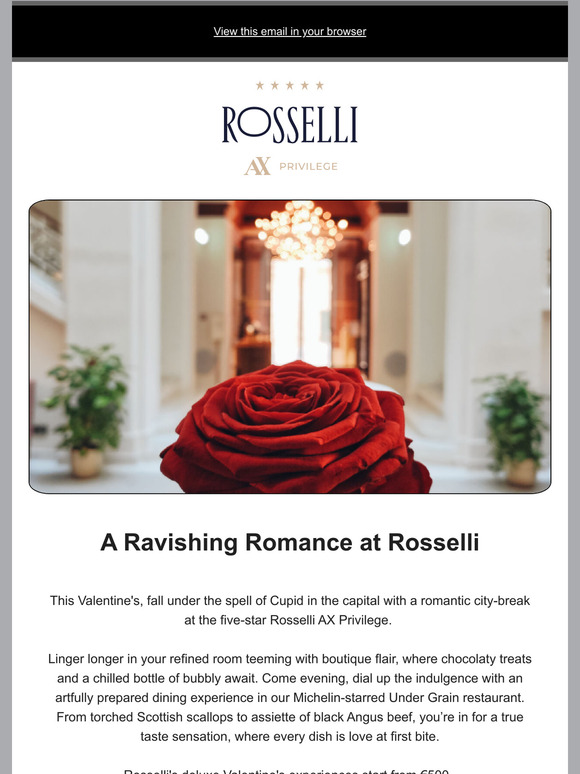 Dec 1, 2020

Tick Tock – the AX Black Friday offer ends soon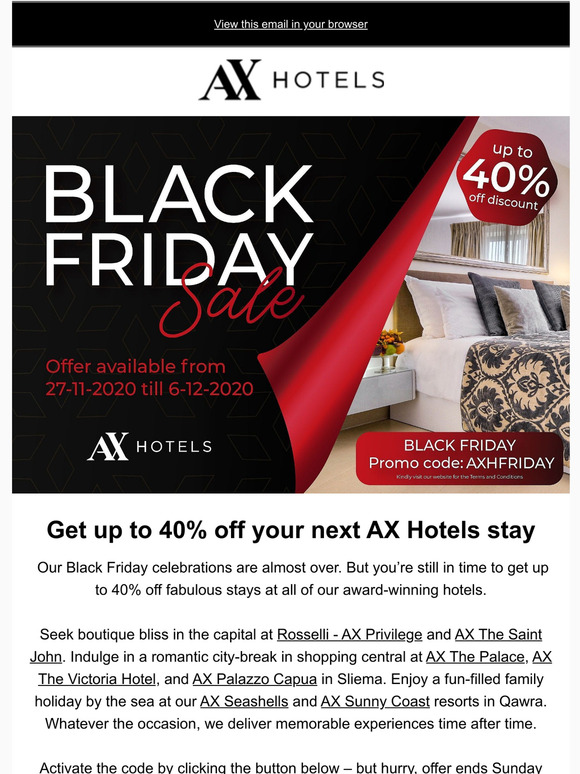 Shop without the noise.
Get our free newsletter of hand-picked sales you need to hear about from the web's best brands.