The High Blood Pressure Hoax
Email sent: Nov 25, 2020 10:33am



Dear -,

If you could see inside your arteries, you'd know why we're sending you this email...

If you're over 30, you've already got plague starting to build up in your arteries. If you're over 40, you not only have plaque... but you can add inflammation to the mix. That smoldering fire can make your arteries stiff like lead pipes.

When you hit 50, even more plaque narrows your artery walls and blood must squeeze through. That's when blood pressure typically ceases to be in the normal range. When you're over 70, you can expect a 75% decline in nitric oxide... the gas molecule that signals your arteries to open. Without it, healthy blood flow is impossible.

But it doesn't have to be this way... please take a moment to read about a life-saving discovery from our friend Virginia Tims-Lawson, founder of Peak Pure & Natural®. She'll tell you about how you can get normal, boring blood pressure naturally... no matter your age.

Sincerely,
The Easy Health Options® Staff
Dear -,

There's a catch when it comes to reducing your blood pressure.

And it's something my Aunt Carol learned the hard way.

At 67 years old, Aunt Carol happily boasted about how she'd beaten her bad blood pressure.

How'd she do it?

With FOUR prescriptions... from her doctor.

Not really a shocker, and not exactly the beating Aunt Carol described. Perhaps you can relate...

That's because blood pressure medications don't "cure" anything... they just delay the inevitable.

And without major changes — when you stop taking them — your blood pressure goes right back up!

Which is why your doctor advises you to never stop taking these drugs.

And if so-called "experts" and pharmaceutical companies have their way, you'll be taking these medications forever...


• "You may need more than one type of prescription medication to keep your blood pressure at a healthy level...

Follow your recommendations carefully, even if it means taking medication everyday for the rest of your life." — The American Heart Association

• "High blood pressure cannot be cured, and if you need to take medications, you will probably need to keep taking them for life." — Blood Pressure UK

• "In most cases, medication is needed for life." — The Patient

That's because they're treating your symptoms...

In fact, its a never-ending cycle of symptoms and drugs... symptoms and drugs... rinse and repeat!

All while Big Pharma executives laugh their way to the bank.

We can do better than this!

Until you find out how to get to the root cause of your problem... you'll never have normal blood pressure.

But here's the secret they don't want you to know... You can get better blood pressure naturally by...

• Soothing inflammation
• Relaxing blood vessels
• Reducing artery plaque
• And increasing blood circulation

Here's how to get 120/80 BP and healthy circulation... with 4 all natural blood pressure savers...

Yours for peak health,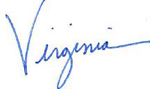 Virginia Tims-Lawson
Founder, Peak Pure & Natural®
 

You subscribed to Easy Health Options® and are receiving this email at - because you indicated an interest in receiving special updates and offers from Easy Health Options®. We hope you'll find these updates interesting and informative. But if you'd rather not receive them, click here. You will be immediately removed from our database. Remember, your personal information will never be rented or sold and you may unsubscribe at any time.

PO Box 1105 Cullman, AL 35056

 
Other emails from Balancing Body Chemistry--unleash Abundant Energy And Healing!
Jan 23, 2021

The supplement that guards against non-alcoholic fatty liver disease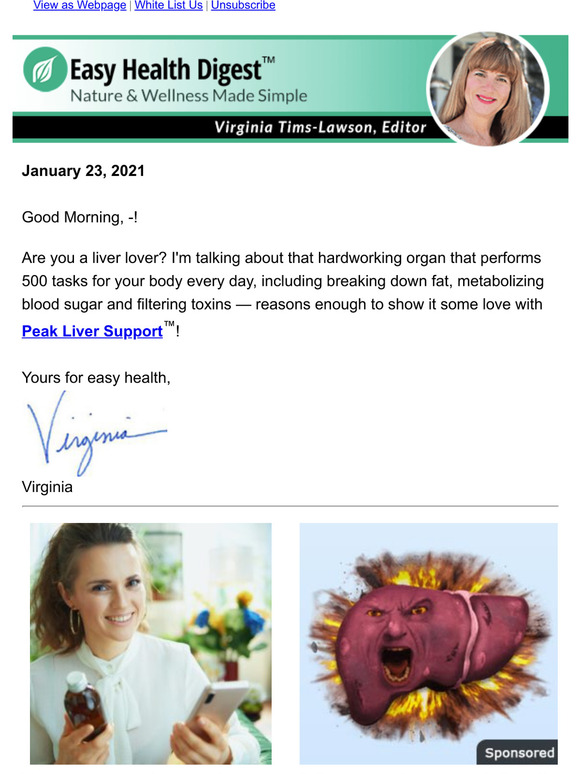 Jan 22, 2021

Chelation: The 28-cent lifesaver heart doctors never tell you about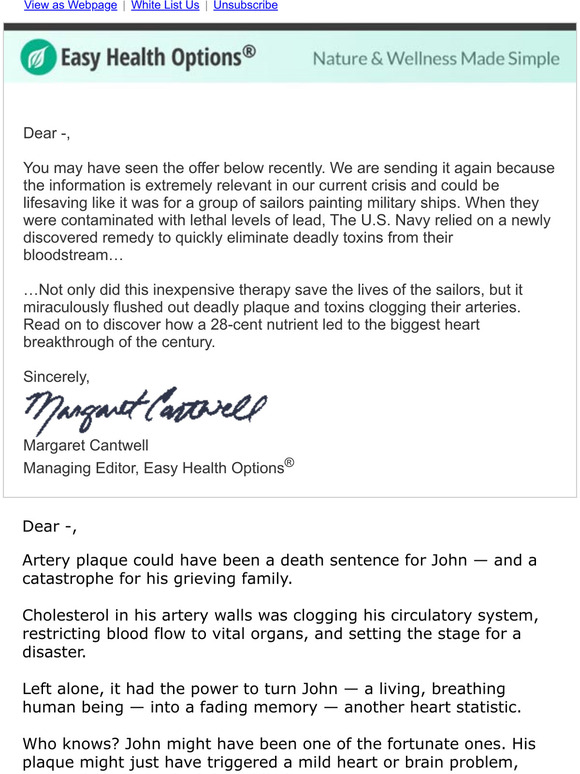 Jan 22, 2021

How a nutritional deficiency can starve your heart following surgery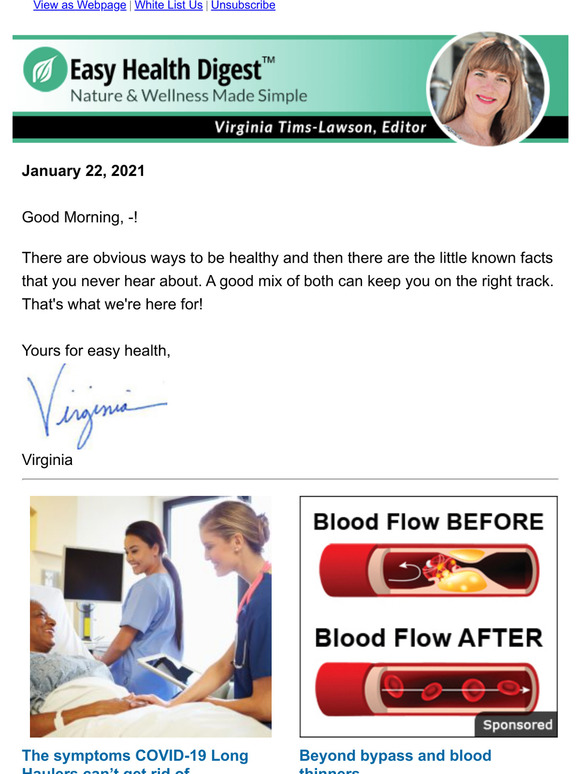 Jan 21, 2021

Why this is the #1 most common prostate mistake that men make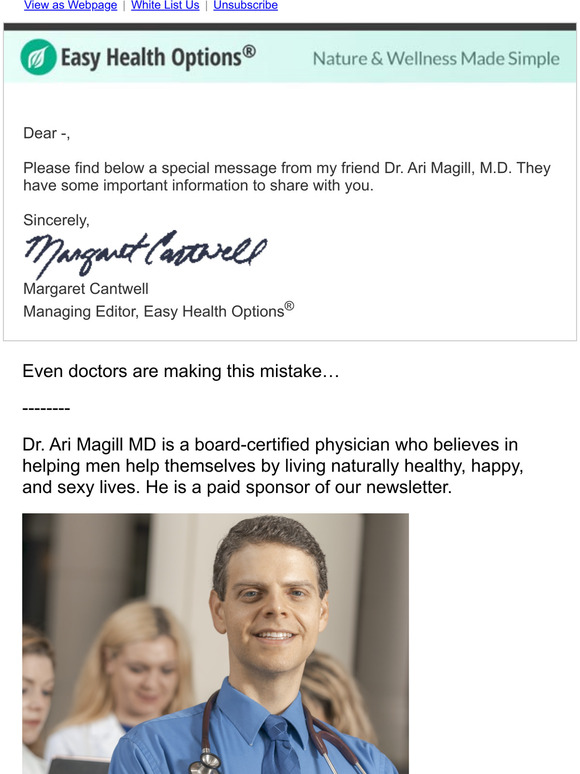 Jan 21, 2021

Slow down your ribosomes, slow down your aging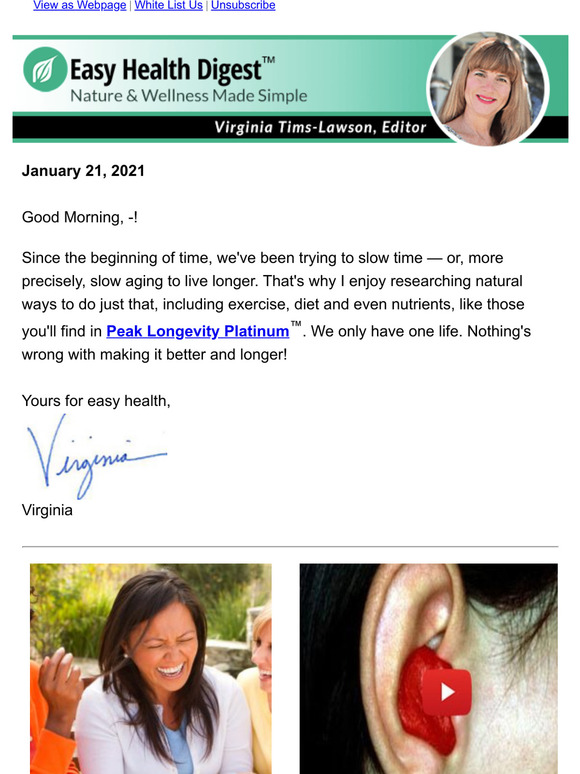 Jan 20, 2021

Insulin: Flush Cancer From Your Body
Shop without the noise.
Get our free newsletter of hand-picked sales you need to hear about from the web's best brands.