-safe traveling from July 2020! Check out 3 exclusive deals
This email was sent
WE WILL TRAVEL FROM JULY 2020
Look for exclusive tours
A gift for all new bookings – 50$ voucher per person for optional tours!
We gathered 3 exclusive tours and 9 departures in the Baltic Countries that are among the safest to travel in Europe in summer 2020.
Special security measures for tours in July: 
1. Maximum group size is 22 pax;
2. Transportation with 45 seater coach allowing physical distancing;
3. Accommodation at hotels with valid hygiene protocols;
4. Operations according to current guidelines for tour operators, issues by WTTC.


Prepare for intriguing discoveries in the fabulous Baltic countries! 8 days and 7 nights full of Baltic highlights and amazing experiences – it's going to be a remarkable adventure! 
The first stop will be in Vilnius, the graceful Lithuanian capital. Elegant architecture, friendly locals, and bustling city life will cement Vilnius as one of the most interesting cities you've ever visited. On your way to Riga, you will be visiting Hill of Crosses, a spectacular and unique site that will definitely give you some chills, and Rundale palace, a so-called "Latvian Versailles" – a true display of luxurious Baroque architecture. Riga itself is something more than just a charming city. Amazing stories behind the beautiful architecture and amazing views create an unmatched atmosphere in the Latvian capital. 
Your final Baltic destination, Tallinn, will be something you should really be looking forward to. Tallinn is well-known for its dynamic city life, special galleries, and the biggest highlight of the city – one of the best-preserved medieval old towns in Europe! Are you ready for a true Baltic experience? Let's make your Baltic dreams come true!



Thinking how to get the full picture of the Baltics? Take on The Best of The Baltics + Baltic Coast in 8 days tour! 
Charming narrow Baroque streets of Vilnius will take your heart away right from the start of this amazing journey, not to mention the spectacular views of Trakai Castle in Lake Galve. The beauty of the Lithuanian seaside will be the next experience on your Baltic do's list – it's really easy to fall in love with the beauty of the Curonian Spit. 
During your stay in Latvia, the incredible architectural mix of Riga won't let you down for sure! Just try to keep up with all the Art Nouveau masterpieces and beautiful riverside views. Tallinn will be the last stop on this fascinating trip, and it is a truly special one! 
Discover the medieval soul of Estonian capital and discover why Tallinn is called one of the most dynamic cities in Europe! Are you ready to discover the true face of the Baltics? Let's embark on this amazing journey together!




It doesn't get much better than this – a roundtrip through the Baltics is possibly the very best way to get the full picture of Lithuania, Latvia, and Estonia! 
The start of your journey will be marked by a brief stay in Tallinn, the dynamic capital of Estonia! Tallinn is famous for its unique medieval spirit, modern galleries, and friendly locals, something that won't disappoint you for sure! After visiting the highlights of Tallinn, you will embark on a fabulous journey through the natural wonders of Lahemaa National Park, and fabled medieval castles around Cesis and Sigulda. 
Now, Vilnius is a true jewel of Northeastern Europe. You will be simply amazed by the range of architectural masterpieces the Lithuanian capital has to offer. Westwards, the golden beaches of the Lithuanian seaside are located and will be reluctantly waiting for your visit! 
After adventures in Klaipeda, you will be visiting the unique Hill of Crosses and luxurious Rundale Palace and its colorful gardens en route to Riga. The Latvian capital has more than enough highlights to make you fall in love with the city, including the famous Art Nouveau buildings and an old town of spectacular beauty. The grand finale of your journey will be in the same place where this amazing journey started – the city of Tallinn, however, this time you will get a chance to explore its captivating highlights to the fullest! 
Are you ready to start an adventure of your lifetime? Let's embark on this amazing journey together!




A gift for all new bookings – 50$ voucher per person for optional tours!
Contact Iveta now
| | | |
| --- | --- | --- |
| Iveta | | Gruodyte |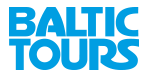 Trusted tour operator since 1991
Do not want to see it again?
Unsubscribe
​
Recent emails from Baltic Tours

See more