Trend or flat: how do you trade?
Email sent: May 10, 2021 5:02am

Let's look into two major trading approaches ‌ ‌ ‌ ‌ ‌ ‌ ‌ ‌ ‌ ‌ ‌ ‌ ‌ ‌ ‌ ‌ ‌ ‌ ‌ ‌ ‌ ‌ ‌ ‌ ‌ ‌ ‌ ‌ ‌ ‌ ‌ ‌ ‌ ‌ ‌ ‌ ‌ ‌ ‌ ‌ ‌ ‌ ‌ ‌ ‌ ‌ ‌ ‌ ‌ ‌ ‌ ‌ ‌ ‌ ‌ ‌ ‌ ‌ ‌ ‌ ‌ ‌ ‌ ‌ ‌ ‌ ‌ ‌ ‌ ‌ ‌ ‌ ‌ ‌ ‌ ‌ ‌ ‌ ‌ ‌ ‌ ‌ ‌ ‌ ‌ ‌ ‌ ‌ ‌ ‌ ‌ ‌ ‌ ‌ ‌ ‌ ‌ ‌ ‌ ‌ ‌ ‌ ‌ ‌ ‌ ‌ ‌ ‌ ‌ ‌ ‌ ‌ ‌ ‌ ‌ ‌ ‌ ‌ ‌ ‌ ‌ ‌ ‌ ‌ ‌ ‌ ‌ ‌ ‌ ‌ ‌ ‌ ‌ ‌ ‌ ‌ ‌ ‌ ‌ ‌ ‌ ‌ ‌ ‌ ‌ ‌ ‌ ‌ ‌ ‌ ‌ ‌ ‌ ‌ ‌ ‌ ‌ ‌ ‌ ‌ ‌ ‌ ‌ ‌ ‌ ‌ ‌ ‌ ‌ ‌ ‌ ‌ ‌ ‌ ‌ ‌ ‌ ‌ ‌ ‌ ‌ ‌ ‌ ‌ ‌ ‌ ‌ ‌ ‌ ‌ ‌ ‌ ‌ ‌ ‌
Trend or flat: what should you pick?
There are two types of the trader: one trades with the trend and the other trades in the flat. Choose the approach you are more comfortable with.
Let's have a closer look. What is this?
The Trend it is an extended directional movement of the price up or down, when every new local high is higher than the previous one. Trends are believed to take up about 20% to 30% of the time in the market. The flat, or a sideways movement, accounts for the rest.
The Flat is a price fluctuation within a narrow range of values. The chart looks like the price moves in a horizontal "corridor." The price does not go outside its upper and lower boundaries. This price movement prevails any market and can last up to 90% of the time depending on period and the situation.
If you opt for the trend:
Get patient. An obvious and long trend occurs seldom. You shouldn't hurry when working with it.
Try to catch the movement in its early beginnings. This is when you can enter into many winning trades as it unfolds.
Use trend-following strategies and chart analysis tools.
Trade primarily one asset. Choose the one where trends appear more often. These are usually major currency pairs.
Stay alert! The flat is quite treacherous, so make only the trades you are confident in. This is usually one out of three or five that you would like to enter into.
Use strategies and tools to analyse the chart, rely on indicators and tools.
Remember, the more times the price has bounced off the boundaries of the "corridor," the greater the likelihood of a sharply rising or falling price. In this situation, it is critical for you to stay focused and not miss the right time.
Try switching to other assets when the flat you have traded ended or you no longer understand it.
Remember that you can only achieve great results and make winning trades by practicing. Your demo account is just created for this!
Apply your expertise and succeed!
More useful information in our communities
Financial operations offered on this site may involve increased risk. By using the financial services and tools this site offers, you may suffer serious financial loss, or completely lose the funds in your guaranteed-trading account. Please evaluate all the financial risks and seek advice from an independent financial advisor before trading. The Binomo company is not responsible for any direct, indirect or consequential losses or any other damages resulting from the user's actions on this site.
Dolphin Corp
First Floor, First St. Vincent Bank Ltd Building, James Street, Kingstown, St.Vincent and the Grenadines.
Your personal data is protected.
Read more about Binomo's personal data protection policy.
You have received this message because you are subscribed to newsletter Binomo
You can change your settings in Your Account
If you have requests concerning our newsletters, write to [email protected]
If you no longer wish to receive emails from us, click Unsubscribe
Other emails from binomo binary options [web-non-incent] cis
May 8, 2021

Homework assignment: learning to trade profitably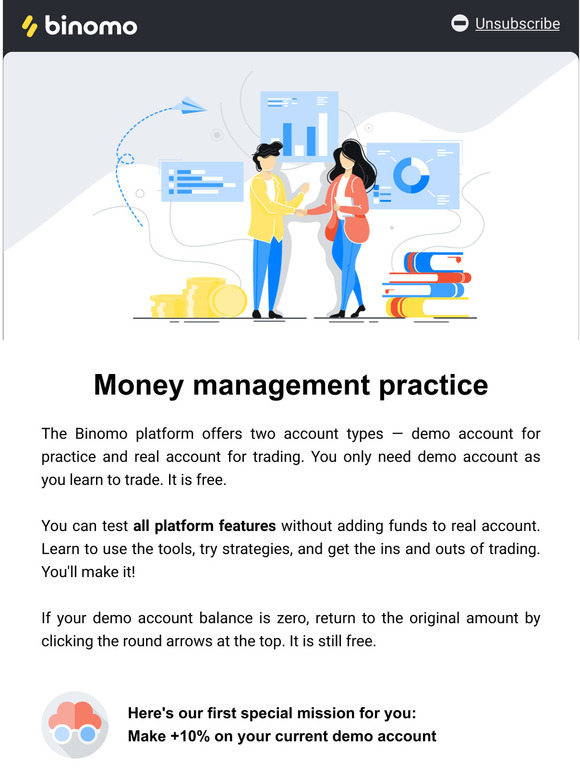 Dec 25, 2020

🎄🎁Но-ho-ho! Three days left to participate in the NEW YEAR Tournament!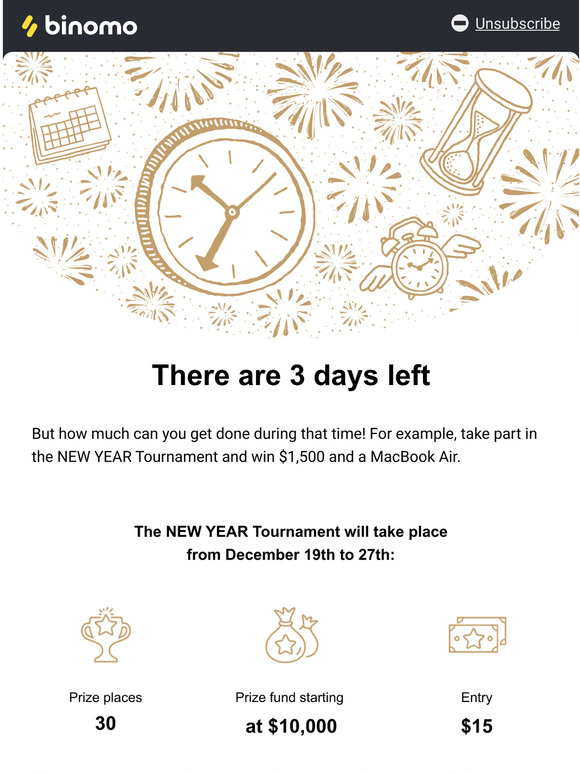 Dec 18, 2020

🎄🎁 NEW YEAR Tournament! Prizes for first place — a MacBook Air and $1,500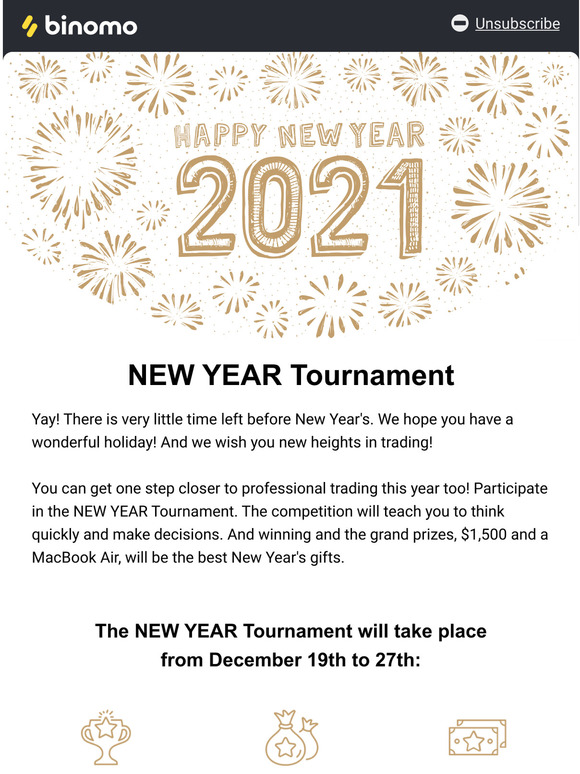 Shop without the noise.
Get our free newsletter of hand-picked sales you need to hear about from the web's best brands.