What to Pack for Your Next Trip
This email was sent
The ultimate list so you don't forget a thing.
The Ultimate Packing List
This packing guide is powered by BookingBuddy's newly launched sister site:
What to Pack. What to Pack was created to help you find all the items you need
for your next trip and teach you to pack them like a pro!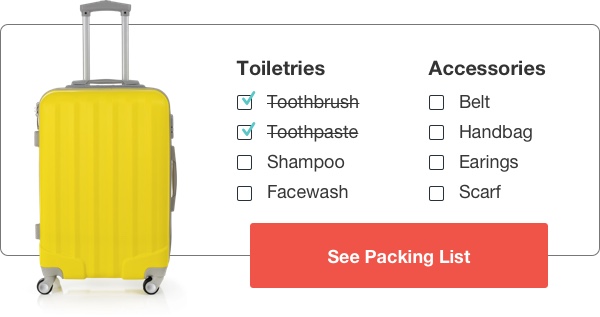 Shop for your next trip
 

Find flights

for less
Email Preferences
|
Feedback
Terms of use
|
Privacy policy
|
Unsubscribe

You received this email because you subscribed as: -. If you no longer wish to receive this email, please unsubscribe here.
BookingBuddy.com is a travel search service and information provider. We do not sell travel products or services. We help you search for third-party travel products and services. All information is valid at the time that we publish it. However, suppliers may update their offers for variety of reasons at any time, and therefore we cannot guarantee that offers will not change or become unavailable.
Additionally, we are not responsible for third-party products, services, or site content.
Copyright © 2005-2021 Smarter Travel Media LLC. All Rights Reserved.
BookingBuddy is a trademark of BookingBuddy.com. Inc., a wholly owned subsidiary of Smarter Travel Media LLC.
Smarter Travel Media LLC  |  1 Washington Mall #1150  |  Boston, MA 02108  |  855.946.2532

Recent emails from BookingBuddy UK

See more