NEW, LIVE Sensational Webinars!
Email sent: May 4, 2021 4:26pm

Highly Engaging Telehealth Sessions in K-5 (Using Zoom)
THIS Thursday, May 6th, 1-3pm EST
0.2 AOTA CEUs / 2 contact hours
Presented by Kim Wiggins, OTR/L
As a telehealth therapist, how many times have you said, "My students are a no-show" or "I can't get them to pay attention!" When your students are highly engaged, they look forward to your sessions and stay engaged the
entire time! This 2-hour webinar provides specific strategies for engaging your students, using green screens, PowerPoints, and much more! Demonstrations, examples, and FREEBIES are provided! Strategies are discussed for engaging students with moderate to severe disabilities.
______________________________________________________________________
Childhood Trauma and Executive
Saturday, May 15th, 11am-2pm EST
0.3 AOTA CEUs / 3 contact hours
Presented by Jerrod Brown, PhD
This 3-hour webinar examines the impacts of toxic stress, adversity, and complex trauma on EF abilities in children and adolescents. The presenter
identifies underlying causes and neurobiopsychosocial factors associated with poor EF along with its reciprocal relationship with attachment formation, language development, emotional intelligence, sensory processing, theory of mind, and sleep. Screening and intervention and other related topics grounded in empirical research findings and case studies are included.
______________________________________________________________________
Tuesday, May 18th, 11am-1pm EST
0.2 AOTA CEUs / 2 contact hours
Presented by Lori Benson Adams, MEd
Dyslexia inhibits otherwise capable students from mastering encoding, decoding, and fluency skills necessary for reading proficiency. Affecting approximately 8-20% of individuals, the impact of instruction and learning is profound, with implications beyond the scope of reading alone. 
OTs have a unique and powerful role in the identification, assessment and intervention process for children and teens with dyslexia. This 2-hour webinar explores the origins [or history] of dyslexia and diagnosis and intervention strategies, as well at the OTs contribution to commonly co-existing challenges with ocular motor, executive and motor functioning.  Based on the most up-to-date research participants gain both foundational background information as well as practical, ready-to-use strategies for children and teens to meet many federal and state mandates for dyslexia training.
Not able to join live? No problem!
When you register for the live webinar, you automatically receive the View-on-Demand Webinar FREE!
Ethical Foundations Webinar Package
Earn 0.75 AOTA-Approved CEUs & save $50!
Need a refresher on ethical topics? This webinar package is the perfect compilation of webinars to meet that need! Purchase of this package includes 0.75 AOTA CEUs and includes topics such as Documentation, Reducing Burnout, Human Trafficking, and Racism in Therapy. Save $50 by bundling all of these webinars together and become a more ethical practitioner!
Do you own your own practice? Do you manage OTs/OTAs?
We offer group, discounted rates!
2021 Sensational Brain Summit:
The Well-Rounded Therapist
Earn 0.7 AOTA-Approved CEUs!
6 presenters sharing 6 topics designed to help make YOU a well-rounded therapist! Implement new treatment interventions immediately upon completion of the summit!
| | |
| --- | --- |
| Join our social media community for behind the scenes, secret sales, and to share your story! Come say hello and tag us when you use your BrainWorks | |
Sensational Brain LLC | (509)714.6173 | www.sensationalbrain.com
Sensational Brain LLC

|
PO Box 2512

,
Eagle, ID 83616

Other emails from Brainworks Sensory Diet Creator For Autism And Spd
Mar 22, 2021

New Webinar, New Curriculum, New Activity Ideas!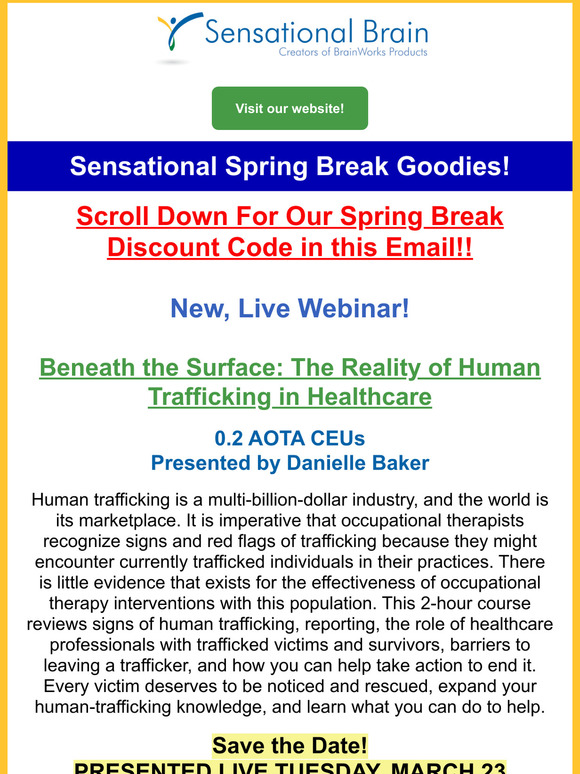 Mar 9, 2021

Sensational Webinars Coming Your Way!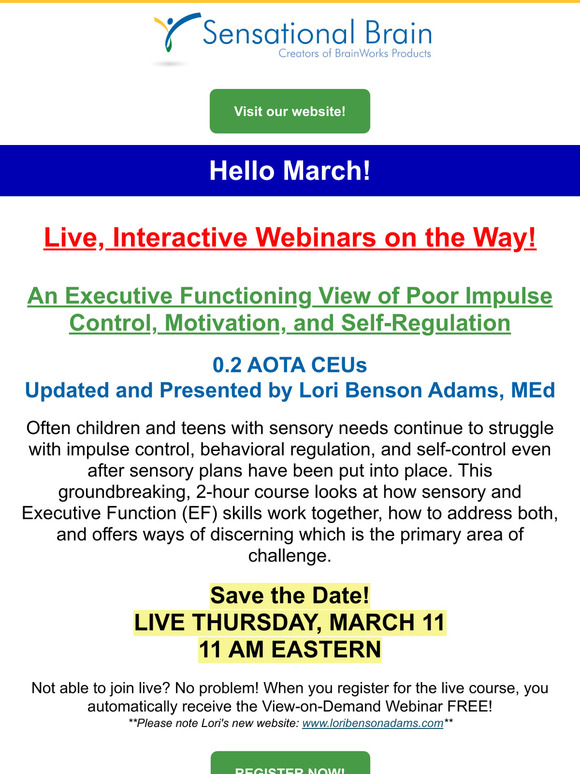 Shop without the noise.
Get our free newsletter of hand-picked sales you need to hear about from the web's best brands.