Tide Clocks are back!
This email was sent

We are very excited to announce that we are relaunching our award-winning and popular Tide Clock, an innovative re-interpretation of a traditional Tide Clock!
 
When we first started Bramwell Brown we sold a limited number of these beautiful Tide Clocks. However, as our little business grew, we had to narrow our focus to just the ever-popular Weather Clocks.
 
We never forgot about the Tide Clocks, though! And, with a bit of clever redesign work on internal mechanism as well as the addition of a flashing lighthouse, we are relaunching them this year in time for Christmas.
 
The Tide Clocks are as cute as ever – a tiny mechanical harbour that moves throughout the day, advising you what your local tide is doing at that moment. The sea moves and the dial turns every fifteen minutes to keep the display up to date. The blinking lighthouse brings the whole scene to life.
 
The Tide Clock is absolutely perfect for families who enjoy sea swims or boat launches at high tide or walks on the beach at low tide. They're an absolute 'must' for anyone with their home or heart by the sea.
By registering your interest, you will be among the very first to hear when the Tide Clocks go on sale and will have the best chance of securing a clock for December delivery.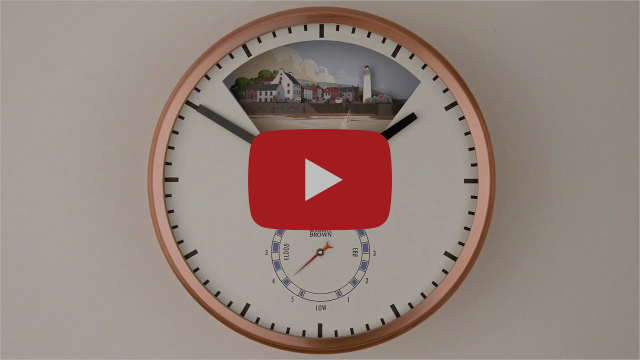 Moving waves and bobbing boats
Like our Weather Clocks, the Tide Clocks will be available in Black, Grey, Copper and (our favourite) Blue frames. From £395 with free delivery in the UK.
  
Thank you for anyone who is interested. We've worked really hard to bring them back to production and the workshop team are thrilled to think where in the world they will end up.
All the very best from everyone at Bramwell Brown,
Brother & Sister Co-Founders of Bramwell Brown Clocks
Copyright © 2021 Bramwell Brown Clocks, All rights reserved.
You are receiving this email because you opted in to receive news from Bramwell Brown Clocks.

Our mailing address is:


Want to change how you receive these emails?
You can update your preferences or unsubscribe from this list.