Accelerated learning techniques to earn more NOW
This email was sent


Hi -,
Tom Peters, best known for "In Search of Excellence," says that continuous learning may be the only real source of sustainable competitive advantage for individuals and corporations.
Why? Because what you learn today, may be gone tomorrow. Many skills, jobs and specific knowledge will change and become obsolete. Think of computers, communications, and even buying habits…if you don't learn more quickly, you'll be left in the dust.
Accelerate your learning ability to earn more money now!
The good news is...you CAN learn anything you need to learn, and accomplish any goal you set for yourself. There are no limits on what you can be, have, or do. You just need to know how to learn the way YOU were designed to learn.
My Brand-New "Accelerated Learning Techniques System" will teach you just that. In fact, it's all about teaching you not only HOW you learn, but how to sustain your knowledge to thrive in this fast paced world.
Get it here--available for a limited time only.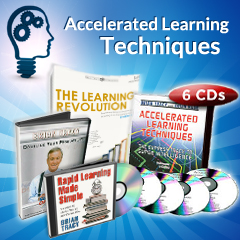 Here is a small taste of what you'll learn:
6 core principles that you should build your life around to solve almost any problem, overcome almost any obstacle, and achieve almost any goal in life.
How to use your 7 Natural Intelligences to perform at your highest level all the time.
A technique that will help you to increase your reading speed immediately--you'll be amazed at how fast you can double your speed with only a few minutes practice.
Why your mindset is so important for learning anything you want, any time you want it.
How to lock in what you learn using REM--and jet propel your brain to new levels of intelligence.
How to learn in natural and informal ways that are best for you.
Order my "Accelerated Learning Techniques System" today!
By discovering how to learn rapidly, you can achieve greater income, security, prestige and self-confidence. You will have a greater opportunity for advancement in your career and finally take control of your life.
People just like you are learning faster, excelling in their field, and able to earn more in one or two years than most people earn in five or more, all by accelerating their learning.
You can too, by using the simple, proven techniques I give you in my "Accelerated Learning Techniques System".
And did I mention that it comes with four incredible bonus programs? Find out what they are here.
To your competitive advantage,



Brian Tracy
P.S. Don't make the same mistakes I did. Learn more to earn more here.
Change Your Email
Update your email address.
Contact
Brian Tracy International
2840 Fifth Ave., Suite 200
San Diego, CA 92103
For questions, concerns, or to order by phone,
call 1-858-436-7300 or email us at: [email protected].
© 2000-2021, Brian Tracy International.