Enrollment in BTU closes tomorrow?
I'm closing the doors
This email was sent

Ok -:
This will be the last time you'll hear me talk about it - this is your last chance to enroll in my on-demand streaming service: Brian Tracy University.
I'm closing the doors tomorrow, at MIDNIGHT.
Click here to enroll in Brian Tracy University now.
Here's what you will get when you enroll today:
Thousands of dollars worth of timeless, valuable content at a steep discount.

The convenience of streaming all of this content from an easy-to-use platform.

Unlimited access to proven strategies for success that you can actually use in real life, right away.

Learn how to sell, how to lead, how to open your own business, and how to achieve your goals, at your own pace, anywhere in the world, and anytime you want.
These are the same strategies I teach CEOs to become exceptional leaders and motivate individuals to become millionaires.
And ready for the best part?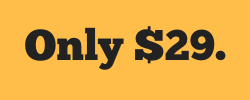 Ready to create your ideal life, -?
To your success,

Brian Tracy
PS. Remember, I'm closing the doors at midnight tomorrow!