How confident are you? [personal assessment inside]
This email was sent

Dear -,
The other day I sent you my audio mp3 called, "Self Confidence and Purpose." Have you downloaded it yet?
If you haven't, you can still access it here.
If you have listened to it, then you know that the majority of successful people have incredible levels of self-confidence. They've accomplished great levels of success and happiness in their lives and seem to be unstoppable in everything they do.
But, what about you?
Have you ever wanted to speak up about something important to you but bit your tongue instead because of lack of self confidence?
Have you ever seen someone, from across the room, that you wanted to go talk to but didn't approach them?
Have you ever been afraid to ask for that raise you SO deserve and have worked hard for?
Well, now you can…
Fortunately for you, self-confidence is a learned behavior. And I can show you what you need to do in order to develop bullet-proof, unshakeable self-confidence.
That's why I'm giving you another complimentary gift…
My powerful personal-assessment test, "The Confidence Factor" will help you to identify your current level of self-confidence, and outline what you need to do in order rank in the top percentage of successful, confident people.
Get your free personal-assessment here.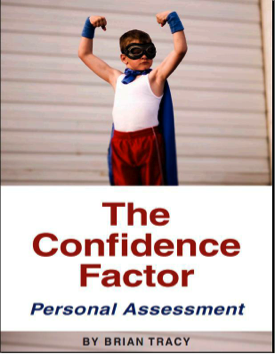 I'm giving you this in-depth self-assessment, at no charge, because I know you're a loyal subscriber.
This assessment will outline and identify:
Your current level of self confidence
Your areas of strength and how you can capitalize on them
Your areas of weakness and what you can immediately start to improve on for faster success
How to take action toward building greater self-confidence
I hope you'll take a few moments to download and take this self-assessment—it has valuable information you can use to pilot yourself toward achieving all of your goals.
To your ultimate success,


Brian Tracy
Change Your Email
Update your email address.
Contact
Brian Tracy International
2840 Fifth Ave., Suite 200
San Diego, CA 92103
For questions, concerns, or to order by phone,
call 1-858-436-7300 or email us at: [email protected].
© 2000-2021, Brian Tracy International.