Ready to STOP procrastinating and START living?
Here's how!
This email was sent

Hi -,
I get it, -. Self-discipline might not be one of the exciting topics in the world…
It sometimes feels like something you're forced to do. That it's no fun. That it's hard. You might've even tried working on your self-discipline before, and it left a bad taste in your mouth.
However…
By now, you realize that without self-discipline, success simply is not possible. Self-discipline can streamline every single step towards any goal, free up more time, and let you accomplish more.
Self-discipline can even add zeroes on the end of your bank account balance…
And, it CAN be very enjoyable!
If you've ever felt like your self-discipline could use some improvement, and if you're ready to reap the endless benefits that self-discipline brings in every part of your life…
Then I've got just the thing for you. It's called "The Miracle of Self-Discipline."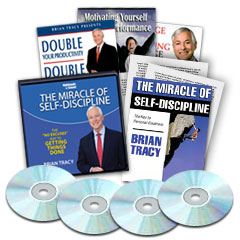 When you reserve a copy of my Miracle of Self-Discipline program that includes 8 information-packed CD's and a huge CD workbook to personalize your journey, I'm also throwing in some of my greatest programs as bonuses. This will make your experience even more life-changing, and move things forward even faster.
That's right - I'm also throwing in 3 of my best-selling audio programs, "Change Your Thinking, Change Your Life," "Motivating Yourself to Peak Performance," and "Double Your Productivity/Double Your Time Off," AND my "Miracle of Self-Discipline" 9-Page Special Report.
Plus, it's 100% risk-free. So, use the program for an entire year, reap all the benefits you can from it… and, if for whatever reason you're not satisfied - just let us know and you won't have to pay a dime.
Get all the details here, and get a head start today >>
To your success,

P.S. I've been fortunate to experience tremendous success in my life, and self-discipline has been one of the biggest reasons for that. I want you to experience the same kind of success in your own life too…
Discover the Miracle of Self-Discipline today.
Remember: self-discipline is what sets the ultra-successful apart from just-scraping-by. It's the secret key ingredient in the recipe for ultimate achievement.


Unsubscribe Privacy Policy © 2000-2021, Brian Tracy International.