Widen the gap, make the sale--content heavy gift inside!
This email was sent

Hi -,
By now, I hope you've had a chance to check out my free article, "Everyone is a Salesperson: How to close the sales gap and convert prospects into buyers"

If not, get it here while it's still posted: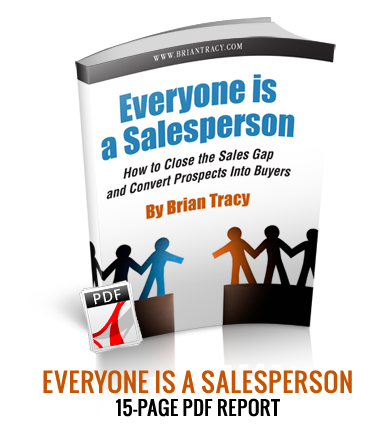 As promised, I'm writing today to let you know about another free gift I'm offering as part of my mission to help the people on my list, including you, to live a better life.
"Gap Analysis In Sales" is a just-released, content-rich video I've designed to delve more deeply into Gap Analysis and bridging that gap.
The fact is, everybody is in sales. From the time you get up in the morning until the time you go to bed, you continually negotiate, communicate, persuade, influence and try to get people to cooperate with you.
So, how do you do all of that – better?
The answer to that question is precisely what I explore in this new video. 

Watch "Gap Analysis In Sales" here:
I've studied the science behind success for the past 4 decades, and I am passionate about helping people like you to create your own success. Becoming an expert salesperson is key in achieving success, no matter how you define it.
In this FREE video, I cover:
Why you are a salesperson even if that's not your actual job description – and how becoming a great salesperson will increase the quality of your life
Why people really buy (and it's not about your product or service!)
The ONE thing that motivates every decision you make – and how knowing this can help you become better at selling
One crucial technique the most astute salespeople navigate efficiently – and how you can learn to navigate it too, straight to an increased number of sales
One of the deepest subconscious needs of all people, and how to use that to motivate them to buy what you're selling
Something you must do BEFORE you get to a sales meeting (skip this step and you could be fighting to close every sale for the rest of your life!)
And more.
If you're serious about changing the course of your life, so you can live among the truly successful, then you've GOT to learn to become an expert salesperson. Even if you're not technically a salesperson.
So don't waste another minute – get this complimentary video and become better at communicating, persuading, and cooperating, starting right away.

Watch the complimentary video here.
To your success in selling,


Brian Tracy
P.S. If you haven't read the article yet, read it now before I take it down.  Read the complimentary article here.
Change Your Email
Update your email address.
Contact
Brian Tracy International
2840 Fifth Ave., Suite 200
San Diego, CA 92103
For questions, concerns, or to order by phone,
call 1-858-436-7300 or email us at: [email protected].
© 2000-2021, Brian Tracy International.