A Poem for 2020 + New Spice Route Playlist
Email sent: Dec 31, 2020 4:13pm
What do mulling spices, ice cream and rice have in common? They all could use a pinch of saffron >
A Poem for the New Year
As we close out the year
Look back and review
The moments we savored
The things we got through
When the going got tough
New dishes created
We reached for new spices
For meals elevated
Time spent in the kitchen
Warmed by the stove's heat
Our favorite moments
 Preparing to eat
We cooked beans and baked breads
Blanched, stewed and fermented
With ramps and dried garlic
We experimented
We put lime on chicken
Paprika and thyme;
Silk chili and cumin
On lamb was divine
We braised, seared and slow-cooked
Tough cuts of red meat
Our spice-rubbed grilled veggies
Made our meals complete
We're far, but together
Sharing meals over Zoom
Remote celebrations
Brightened so many rooms
To all the spice lovers
A heartfelt THANK YOU!
And our partner farmers
Send their gratitude, too
So seasonings greetings
Health, wealth, and good cheer
We can't wait for cooking
Together next year.
Happy new year from Ori, Ethan, Kathryn, Paola and Bayley! Thank you for supporting our small business and our partner farmers this year. We'll see you in 2021!
NEW PLAYLIST: The New Spice Route - Winter 2020
Our Winter 2020 cooking playlist is here! We've got songs from around the world to warm your soul. 
We kick things off with Guts, a hip hop producer from France, before jumping into Selçuk Alagöz's pop-rock hit that topped the Turkish charts in the early 80s.
Then we head to Vietnam in the late 60s, where a new style emerged that was a fusion of traditional Vietnamese music and Western pop. Where do we go from there? To a rocking track titled Soubor (patience) from Songhoy Blues, the activist blues band from Mali.
Those are just the first 4 songs - you'll have to head to the playlist to get the rest.
So cozy up, get the stew bubbling, and remember: during the coldest time of the year, the warmest place in the house is by the stove.
Want more spicy goodness?
Hi, it's Ori, co-founder of Burlap & Barrel.
I write our newsletters along with my fellow co-founder Ethan.
🌱  Learn more about Burlap & Barrel
 🍳  Find recipes on our Spice Forum
🎒  Follow our adventures on Instagram
 🎧  Cook along to our Spotify playlists

Questions? Feedback? Ideas? 
We love to hear from you. Just reply to this email.

Other emails from Burlap & Barrel
Nov 14, 2021

New Collab with Alicia Kennedy + Fall Spice Club Reveal (Lots of New Spices!)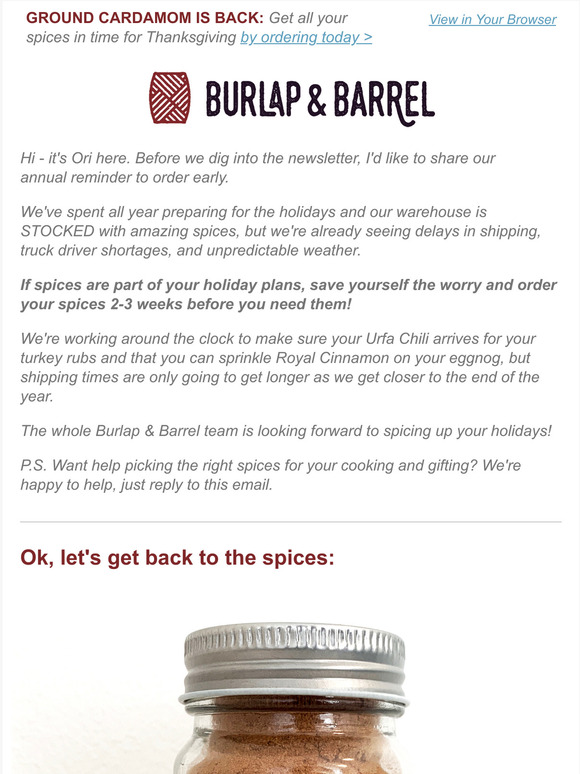 Nov 7, 2021

New: Red River Coriander & Lucknow Fennel + A Hot Cocoa Collab + 3 Malaysian Blends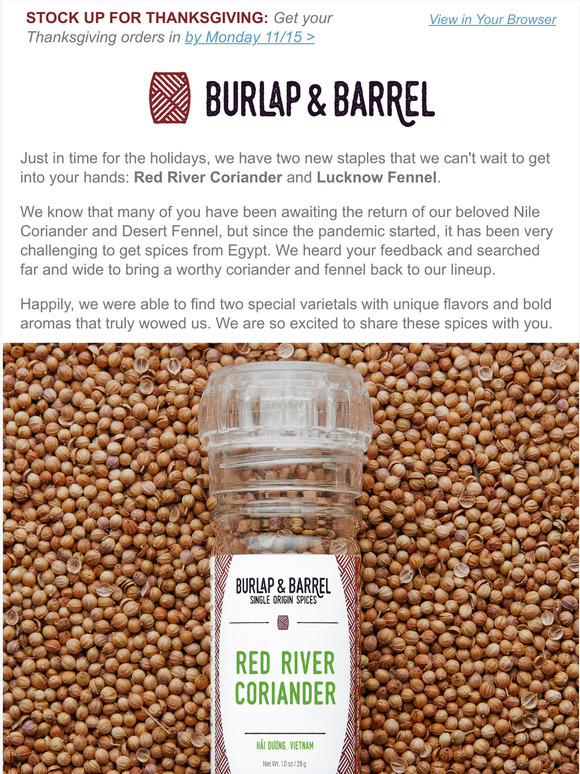 Oct 31, 2021

3 New Floyd Cardoz Masalas + 3 New Spices + 5th Anniversary Deals Extended Until Nov 2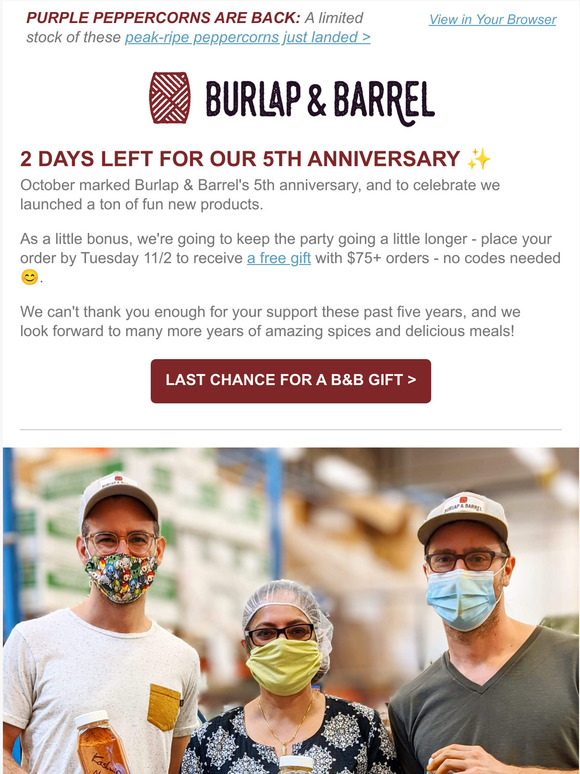 Oct 24, 2021

The Perfect Chili Blend + Meet Our Spice Mixing Bowl + Two More Surprises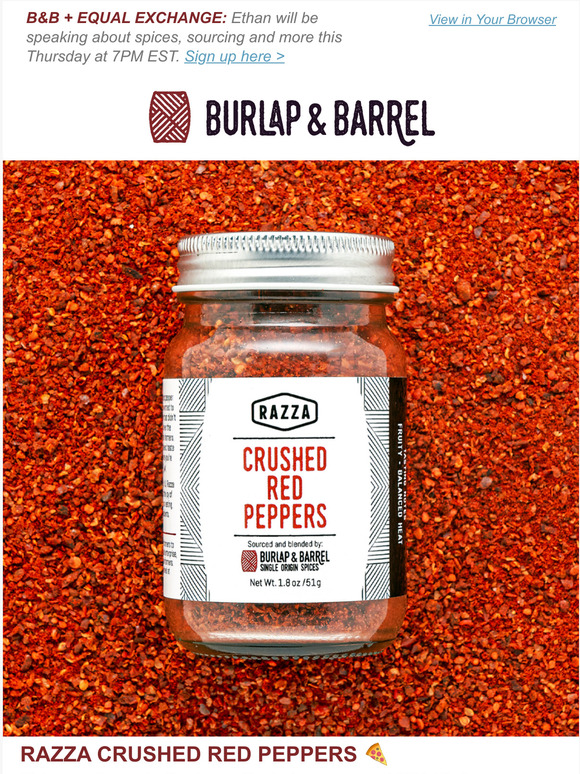 Shop without the noise.
Get our free newsletter of hand-picked sales you need to hear about from the web's best brands.