Introducing Salinas Crystal Salt + A Seedy, Nutty Collaboration
Email sent: Mar 28, 2021 1:27pm
We've been restocking: Smoked Paprika, Black Lime, Cobanero Chili are all back >
Introducing Salina Crystal Salt
We're so excited to share our first foray into the world of salt: Salina Crystal Salt and Black Lime & Chili Salt, both from the incredible father-daughter team behind Syracuse Salt Co.
We've wanted to carry salt for a while (and yes we know that salt is technically a mineral, not a spice), and we found our ideal partners in David and Libby.
Read on to learn about where it comes from and how it was made, but believe us, these crunchy, pristine salt crystals are perfect for sprinkling over everything from steaks to brownies.
David was born and raised in the industrial town of Syracuse, NY, which sits on the edge of Onondaga Lake. The town got the nickname the "Salt City" way back in the 18th century for the salt springs found all along the shores of the lake.
In fact, the massive salt deposit in the Salina shale formation (from 300 million years ago!) made Syracuse the epicenter for salt production in the United States in the 1800s.
Fast forward to today. David left his job as a grounds manager for Sodexo to start a salt company. He rented a small warehouse and hired a crew to install a long pipe deep into a patch of dirt right outside the warehouse.
How deep? He'd reviewed the geological surveys for the area, but you can never be certain what you'll find until you start digging.  So they started digging, crossing their fingers to hit a well of incredibly salty water before they got to the impenetrable bedrock below.
After digging 300 feet straight down, David gave the OK to stop. He tasted the water that they pumped up through a green garden hose, and his eyes lit up. They were pulling up pristine water from the shale that was 13% salt, which is 3 times the salinity of ocean water. Syracuse Salts Co. was in business.
Today, David and his daughter Libby have a small but growing salt production facility. While mineral salt is typically mined in big blocks and ground by heavy industrial machinery, Syracuse Salt Co. gently evaporates the salty water to form crunchy cubic towers. Then, the salt is scooped up, laid out on trays to dry, and carefully sifted to preserve its perfect shape and texture.
We don't have as much of their salt as we'd like, but they're working hard on expanding their facility so that this can be a regular item for us.
We're Also Launching a Black Lime & Chili Salt Blend
If we're going to introduce salt, we might as well also introduce a limited run salt blend, too, right?
Our Black Lime & Chili Salt starts with the exact same salt as our Salina Crystal Salt. The salt is hand-blended with our Black Lime,  Black Urfa Chili, Silk Chili, and Cobanero Chili for a seasoning that is savory, tart and just a little bit spicy.
It's perfect on grilled corn and elote or sprinkled over hummus and baba ganoush. Since summer is not too far away, you might as well also dust it over a cut fruit salad.
NEW COLLAB: Smoky Spicy Mixed Nuts and Seeds
We're big fans of San Francisco-based Nana Joes and have been working on this collaboration with founder Michelle for over a year.
If you haven't heard of Nana Joes, they make really, really, ridiculously good-tasting all-natural, gluten-free, vegan snacks using thoughtfully sourced ingredients - and this collab is no exception!
Get your hands on this mix of nuts, seeds and spices, featuring our Smoked Paprika from Spain, summery Silk Chili from Turkey, and tart Black Lime from Guatemala.
This blend is great on its own, but also delicious on salads, as part of your cheese board or tossed in with your favorite roasted vegetables. Add it anywhere you could use a little flavor and a little crunch.
For those with nut sensitivities: this blend has sliced almonds, sunflower seeds, and pumpkin seeds. It's made in a different facility than the rest of our spices.
Want more spicy goodness?
Hi, it's Ori, co-founder of Burlap & Barrel.
I write our newsletters along with my fellow co-founder Ethan.
🌱  Learn more about Burlap & Barrel
 🍳  Find recipes on our Spice Forum
🎒  Follow our adventures on Instagram
 🎧  Cook along to our Spotify playlists

Questions? Feedback? Ideas? 
We love to hear from you. Just reply to this email.

Other emails from Burlap & Barrel
Nov 14, 2021

New Collab with Alicia Kennedy + Fall Spice Club Reveal (Lots of New Spices!)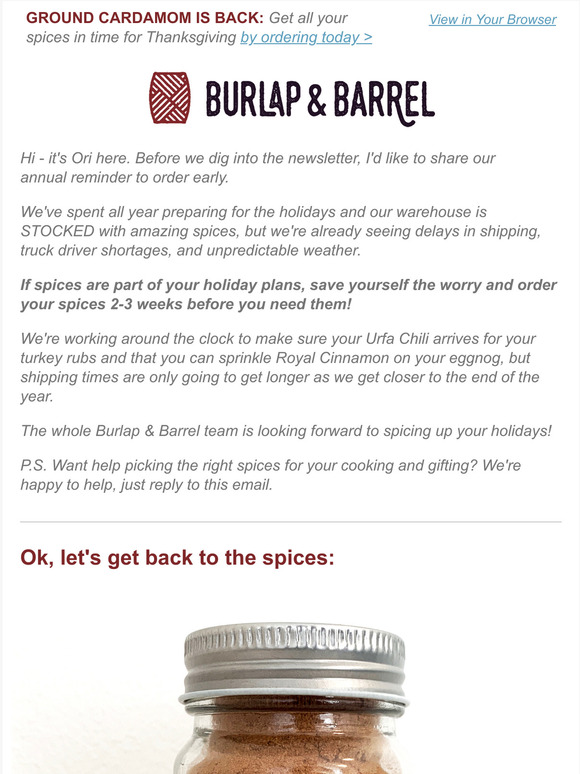 Nov 7, 2021

New: Red River Coriander & Lucknow Fennel + A Hot Cocoa Collab + 3 Malaysian Blends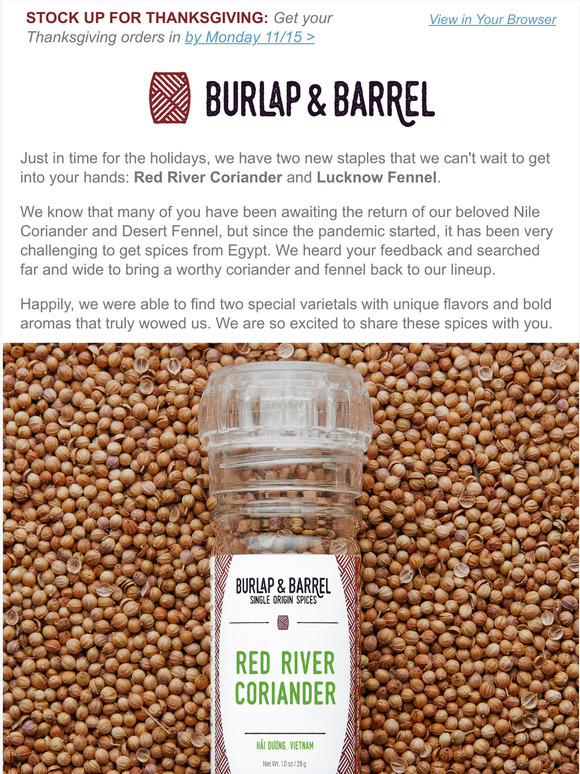 Oct 31, 2021

3 New Floyd Cardoz Masalas + 3 New Spices + 5th Anniversary Deals Extended Until Nov 2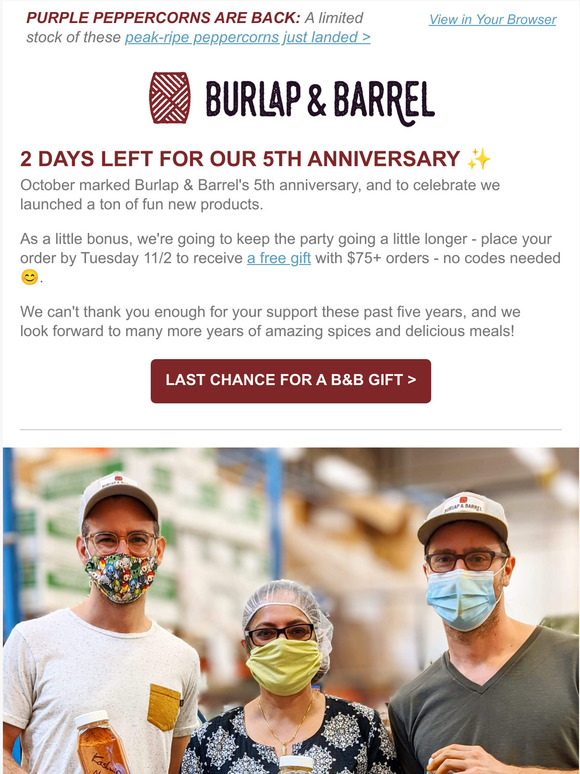 Oct 24, 2021

The Perfect Chili Blend + Meet Our Spice Mixing Bowl + Two More Surprises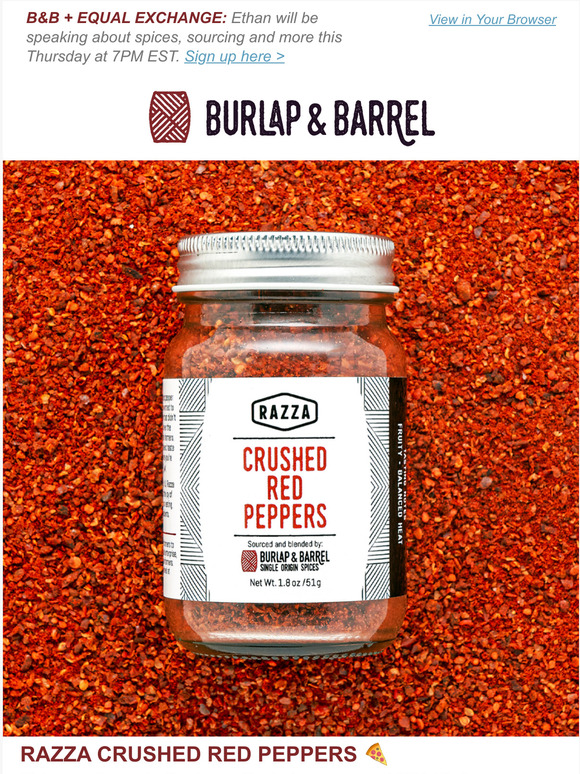 Shop without the noise.
Get our free newsletter of hand-picked sales you need to hear about from the web's best brands.