Our 2019 Impact Report is Here + Get a Signed Copy of the Falastin Cookbook
Email sent: Sep 8, 2020 11:15am
Our 2019 Impact Report is Here!
Yes, we know it's September, and yes, we agree that it's pretty far into 2020 to publish a report about 2019. We apologize for our tardiness, it's been a year. We promise to publish our 2020 report in a more timely manner.
In the meantime...
We're so excited to share our 2019 Social Impact Report with you!
First, let's discuss why we're doing this. Burlap & Barrel is a Public Benefit Corporation, and as such, we publish an annual Impact Report where we share specific updates on how we've been advancing our social mission.
Our social mission is to connect smallholder farmers with high-value markets. It's written into our company DNA... aka our Articles of Incorporation.
We started importing spices in late 2016, mostly by schlepping home duffel bags full of spices from visits to our partner farmers. Since then, we've added a few zeros to the size of our shipments, bringing in spices in shipping containers and cargo planes, in trucks and boats, and yes, occasionally still in our duffel bags.
Most spice supply chains are completely opaque; where the spices came from, who grew them, and how they were grown is usually a mystery. That's not by accident - the systems we live with today are legacies of the colonial spice trade, which was designed to disenfranchise farmers and shortchange consumers.
We're replacing those broken systems with equitable sourcing, direct supply chains, and mutually-supportive relationships partner farmers. It's not only better for our partner farmers and our world; it also makes for much fresher, more flavorful spices. You can tell that our spices were grown with immense expertise and care as soon as you crack open the jar.
2019 was a big year for us. It was our 3rd full year as a company and a year where we grew our support for our partner farmers more than any previous year... combined. It's a good record to set, but also one we plan to keep breaking.
If you don't feel like reading a full report, here are a few numbers that we're the proudest of:
400,000
Amount of spices we sourced in 2019
4x more than 2018
$196,854
Amount we paid our partner farmers
between 2017 and 2019
11
Number of countries we sourced from in 2019,
including 3 new ones (Nicaragua, Indonesia, and Vietnam)
We included a lot more in the full report, including how we approach social impact, as well as case studies with our partner farmers in Zanzibar and Guatemala.
Get the full scoop:
(Signed) Falastin Cookbook + Tote + Syrups + Spices
We're so excited to bring this collection built around acclaimed chef and cookbook author Sami Tamimi's newest cookbook: Falastin.
As a longtime collaborator with Yotam Ottolenghi (including as his co-author of the best-selling cookbook Jerusalem), Sami recently released Falastin, which takes us on a tour of the incredible flavors of Palestinian cuisine.
We owe a debt of gratitude to Sami and Yotam - their cookbooks have made Silk Chili Flakes (aka Aleppo Chili), Black Urfa Chili, and Cured Sumac into pantry staples across America.
Falastin is no different. Throughout the book, you'll find classic Palestinian dishes that call for date syrup, pomegranate molasses, and an assortment of spices.
We've pulled together a wonderful collection that includes a signed copy of the cookbook, a Falastine tote,  as well as the syrups and spices to get you started.
Each kit will include:
An autographed copy of his beautiful new cookbook, Falastin
A super cool and roomy Falastin tote
1x bottle of Just Date Syrup and Just Pomegranate Molasses
A set of 3 or 6 of our single origin spices that are used throughout the book
If you choose the 3 Spice Collection, you'll get Ground Allspice Berries, Cured Sumac, and Wild Mountain Cumin
If you choose the 6 Spice Collection, you'll get everything in the 3 Spice Collection, plus Silk Chili Flakes, Euphrates Mint, and Raki Anise Seeds.
Quantities are limited, so grab yours!
Want more spicy goodness?
Hi, it's Ori, co-founder of Burlap & Barrel.
I write our newsletters along with my fellow co-founder Ethan.
🌱  Learn more about Burlap & Barrel
 🍳  Find recipes on our Spice Forum
🎒  Follow our adventures on Instagram
 🎧  Cook along to our Spotify playlists

Questions? Feedback? Ideas? 
We love to hear from you. Just reply to this email.

Other emails from Burlap & Barrel
Nov 14, 2021

New Collab with Alicia Kennedy + Fall Spice Club Reveal (Lots of New Spices!)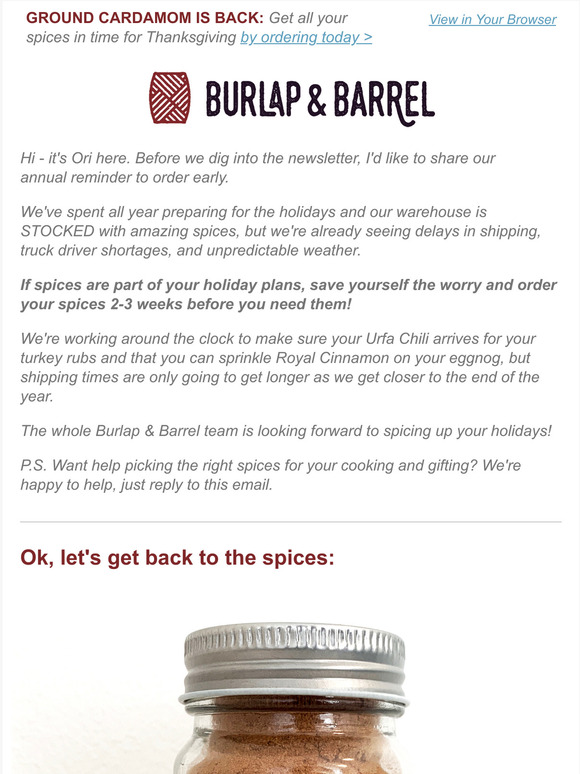 Nov 7, 2021

New: Red River Coriander & Lucknow Fennel + A Hot Cocoa Collab + 3 Malaysian Blends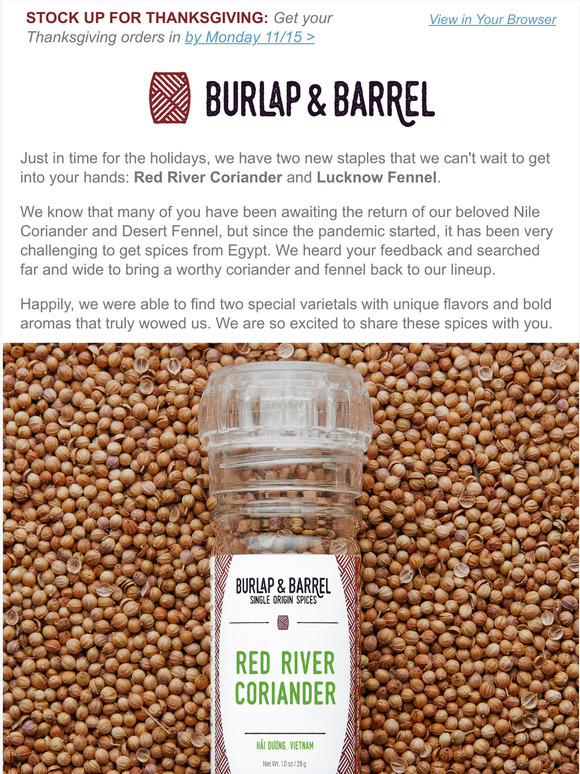 Oct 31, 2021

3 New Floyd Cardoz Masalas + 3 New Spices + 5th Anniversary Deals Extended Until Nov 2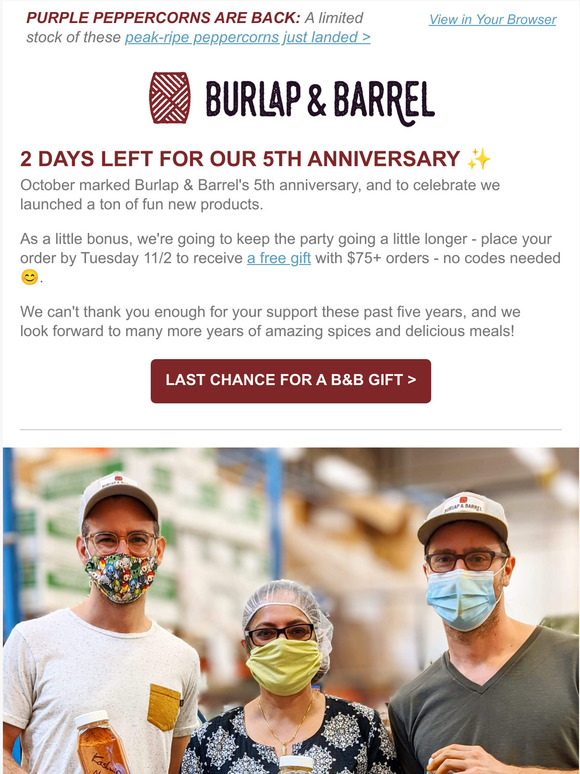 Oct 24, 2021

The Perfect Chili Blend + Meet Our Spice Mixing Bowl + Two More Surprises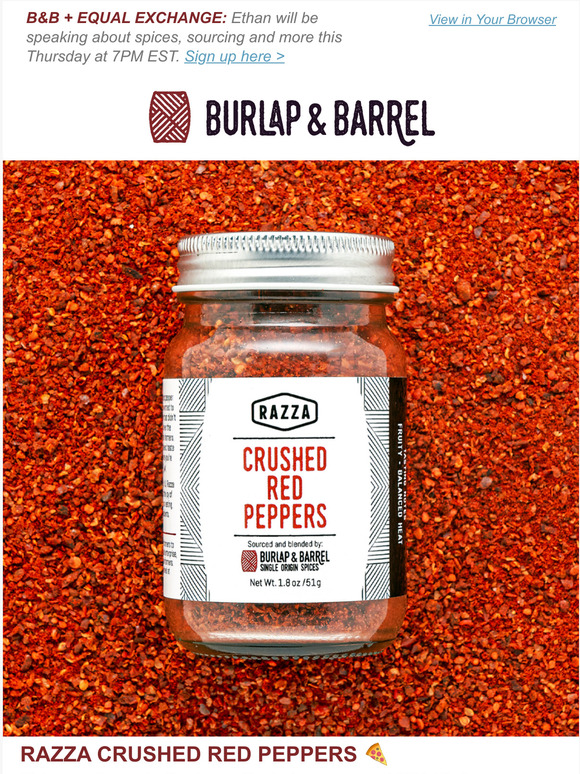 Shop without the noise.
Get our free newsletter of hand-picked sales you need to hear about from the web's best brands.