Wild Ramps Are Back! A New Vanilla Bitters Collab + Last Call for Mushroom Kits
Email sent: Jun 27, 2021 12:14pm
Forager & agricultural expert Drysdale picking wild ramp leaves by hand

.
Wild Ramps Are Back and They're Amazing
If you've lived on the East Coast, you're probably aware of those few weeks of giddy excitement every spring when freshly picked wild ramps show up at all the farmers markets and as very limited seasonal specials in just about every fancy-schmancy restaurant up and down the East Coast.
Last year, we got our first-ever batch of hand-picked wild ramps by partnering with New Leaf Tree Syrups and their team of agricultural experts from Jamaica.
We love the ramps, but we'd never seen them dried like a spice before, so we decided to give it a shot. Ramps are such a rare ingredient, with a very short growing season and no shelf life. We didn't know how it would turn out, but we decided to try to preserve them anyway.
Last year's harvest of 1,000lbs of fresh leaves sold out in just a couple of days, so we started planning this year's harvest in January for a much larger quantity: 5,813lbs in total.
Ramps are known to be finicky, so we trucked the delicate leaves overnight to a drying facility to capture their famously savory, earthy allium flavor. Getting these hand-picked wild ramps to you logistically challenging, but it's worth it. 
In celebration of our partnership with skilled ramp foragers, we wanted to share a bit more about what ramps are, where they come from, and who we have to thank for getting them.
Ramps are a wild onion, one of the first forest plants to mature every spring. They need altitude, rich loamy soil, low temperatures, sunlight and space to grow.
These conditions exist for only a few weeks in mid-spring — before the ground has warmed up, before the other plants have crowded them out and blocked the sun.
Ramps propagate slowly and can take several years before they mature to their full size. They grow in clusters on the forest floor, especially around the bases of old-growth trees.
Ramps are a slow-growing wild plant, and figuring out how to harvest them sustainably is a challenge. We opted to pick only the leaves (and not the bulbs, which will re-grow new leaves every year) and to only harvest a small percentage of plants from each cluster.
Our ramp leaves were foraged on the land reserve where New Leaf Tree Syrups tap trees for their excellent maple, birch and other tree syrups.
You can see Omar in the photo above — he's one of the H-2A agricultural experts from Jamaica. Omar is a carpenter back home in Jamaica, but he's been spending the late winter/early spring in the Adirondacks in the past few years, snowshoeing through the woods, setting taps in thousands of maple trees.
We joined Omar during the harvest last year, and our friend Max shared his story in Food & Wine. Check it out to learn more about the ramp harvesting process and Omar's ramp-infused fish tea. (Spoiler alert: it's great!)
Wild ramps are a celebration that spring has arrived —  a sort of starting pistol for the produce season in the Northeast. Their flavor, somewhere between fresh-picked herbs, green garlic and caramelized onions, sticks with you.
Then they disappear almost as quickly as they arrived, making way for asparagus, new potatoes and rhubarb. We usually have no choice but to wait until the next spring. Not anymore.
We've got a limited stock of Wild Ramps on our site. This batch is even more fragrant and flavorful than last year's. These jars do have something in common with the fresh leaves — once they're gone, they're gone.
COLLAB: Barrel-Aged Vanilla Bitters
These limited-edition barrel-aged vanilla bitters are the result of a collaboration between us and two award-winning, small-batch New Orleans makers: El Guapo Bitters and Roulaison Distilling Co.
El Guapo made these delicious bitters using our Nyanza Vanilla, then aged them in freshly emptied rum barrels from Roulaison Distilling Co.
The result is a slightly sweet, well-balanced bitters with notes of sarsaparilla and nutmeg that are just as at home in an old fashioned or daiquiri as they are in a glass of sparkling water or lemonade. They're also a nice addition to baked goods like cookies and brownies, caramels and jams, and, well, your morning coffee.
LAST CALL: Mushrooms, Tahini and Urfa Grill Box
We've got a few more Mushroom, Tahini and Urfa Grill Boxes left from our collaboration with New York–based food companies Smallhold and Seed + Mill.
This kit produces a serious amount of mushrooms.
Each kit includes:
Smallhold Blue Oyster Grow Kit: Grow a hefty haul of mushrooms right in your home (7–9 days, instructions included)
Seed + Mill Organic Tahini: A full-sized jar of tahini for drizzling over veggies, making your own hummus or tossing with grilled mushrooms
Burlap & Barrel Black Urfa Chili: A certified favorite, but especially excellent with tahini and mushrooms
The right time to become a real-life mushroom farmer is now, so...
Want more spicy goodness?
Hi, it's Ori, co-founder of Burlap & Barrel.
I write our newsletters along with my fellow co-founder Ethan.
🌱  Learn more about Burlap & Barrel
 🍳  Find recipes on our Spice Forum
🎒  Follow our adventures on Instagram
 🎧  Cook along to our Spotify playlists

Questions? Feedback? Ideas? 
We love to hear from you. Just reply to this email.

Other emails from Burlap & Barrel
Nov 14, 2021

New Collab with Alicia Kennedy + Fall Spice Club Reveal (Lots of New Spices!)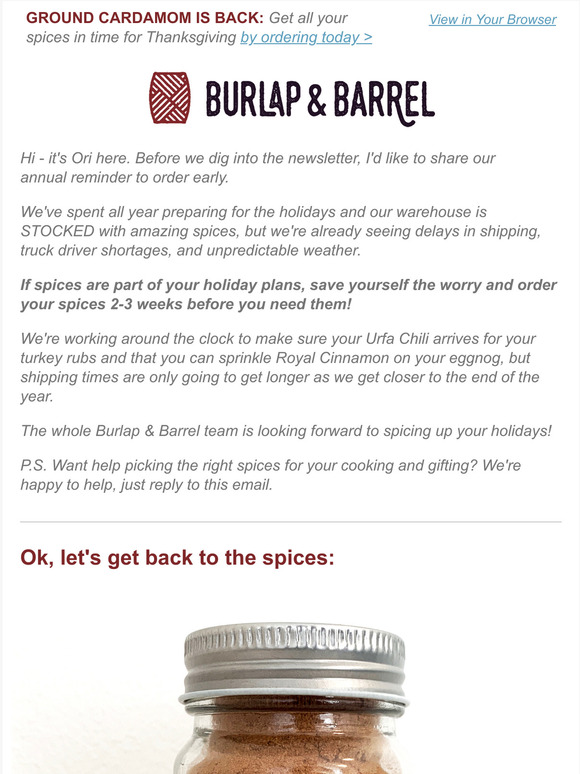 Nov 7, 2021

New: Red River Coriander & Lucknow Fennel + A Hot Cocoa Collab + 3 Malaysian Blends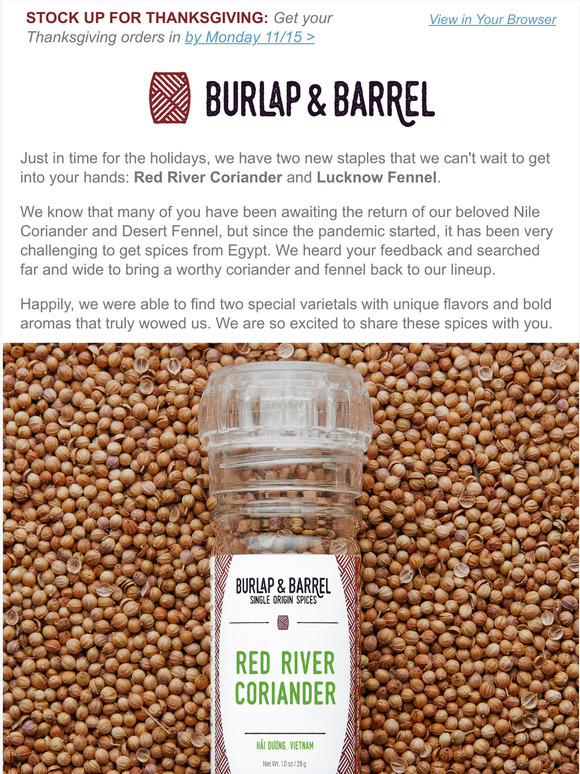 Oct 31, 2021

3 New Floyd Cardoz Masalas + 3 New Spices + 5th Anniversary Deals Extended Until Nov 2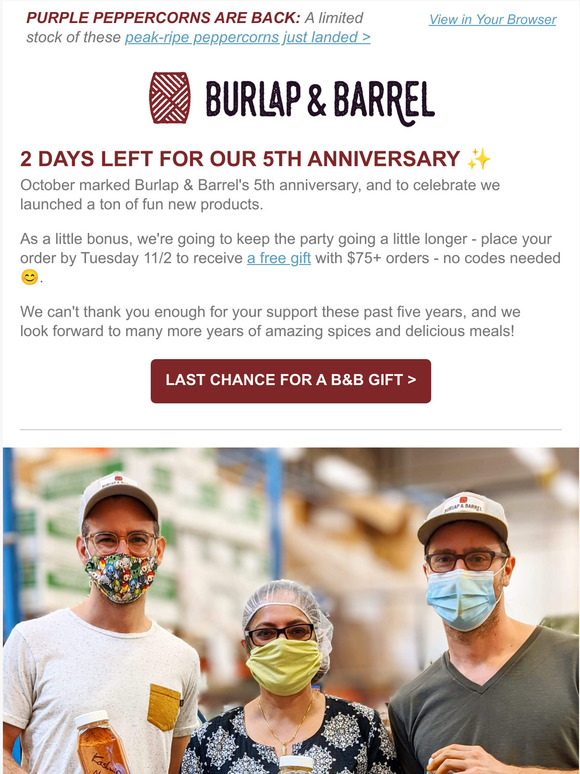 Shop without the noise.
Get our free newsletter of hand-picked sales you need to hear about from the web's best brands.