How to get rid of period blood stains
And the shame that comes with them
This email was sent
View this email in your browser

Wish I'd Known...
how to get rid of period blood stains

Let us start by saying that period blood is not dirty, and staining your favourite underwear or linen-blend bedsheets is nothing to be ashamed of. But while they're an absolutely normal occurrence in the life of a menstruating person, period stains can be kind of annoying, can't they? If you're not ready to say goodbye to your stained belongings, you're in the right place. Here are some tips and tricks to get rid of even the most stubborn old marks. Blood stains, begone!

1.

If you've caught blood stains early, cold water alone might work

If the blood is fresh, take off your pants or (*insert name of other period-blood-stained item here*) and run them under cold water. If the stain needs extra help, use a bit of ordinary hand soap. 
2.

Older stains might need a little more help

To get rid of stubborn blood stains lingering in knickers that are just too comfy to throw away (we know it!), you might need to buy a specialist spot stain remover. Just use it on the stain and then pop into the wash.
3.

If you'd prefer to try a more natural solution, give salt a go

Yep, you heard us right. As well as being the perfect accompaniment to your chippy dinner, salt can also be used to get rid of period stains! Who'd have thunk it, eh? Mix regular table salt with cold water and leave your things to soak overnight (just ask

Hannah Witton

!).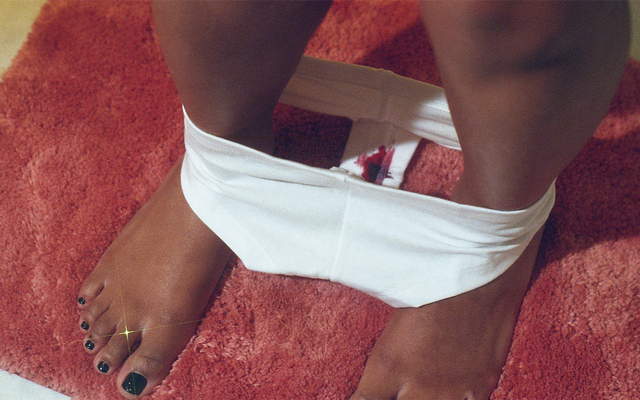 The professional POV
For all our blood-stain-cleaning needs, we look to our favourite clean person Jolie Kerr. In her article you'll find even more tips on getting period blood out of your clothes, bedding, mattresses + more. Our favourite tip from Jolie? Never use hot water on blood stains as it causes blood to seep further into the fibres of the fabric. Of course, we knew that! 👀

The social POV
Period blood is not dirty – did we mention that already? In this IG live we teamed up with

@bodyposipanda

to discuss why we should never be ashamed of leaks. Watch to see Megan dispel this and other ridiculous period myths we grew up believing.
No longer want to receive these emails? Choose exactly what you want to read about or unsubscribe below.
Manage preferences
|
Unsubscribe
If you unsubscribe, you'll still receive emails relating to your Callaly orders and payments.
www.calla.ly