The Drop: This week, social distancing at a water point in Ethiopia
Email sent: Apr 13, 2020 1:10pm
Welcome to the second issue of The Drop, a weekly email designed to keep you informed and encouraged. This week, you'll learn about an exciting upcoming event, hear from our Vice President of Program Operations, and discover some good news from Uganda.
We respect your time—and your inbox—and we realize that you may be receiving an abundance of coronavirus-related communications right now. If you'd like to opt-out from The Drop, you can do so here. 
FRIDAY, APRIL 17, 1 PM EST
INSTAGRAM LIVE WITH SIMON SINEK

Optimist, bestselling author, and longtime charity: water supporter Simon Sinek will join Scott Harrison for a conversation on Friday. Follow @charitywater to watch!
Spring members have access to even more events, like small group chats with charity: water staff and an upcoming Facebook Live Q&A with our VP of Program Operations. 

Want access to more events like these? Click here to join The Spring for as little as $5 each month.
DISPATCHES FROM THE FIELD
Brain Hoyer is our Vice President of Program Operations. In this week's Dispatch, he shares about our partners' quick response to the pandemic.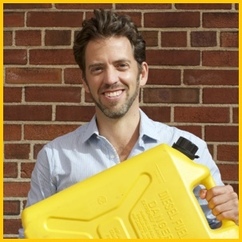 Six weeks ago, I was with a partner in West Africa. News was already spreading about the challenges unfolding in Europe and the WHO's pandemic declaration. Each morning, when I asked our partner's staff for new updates, they recounted in detail any probable case identified in the region, the situation in Europe, and the exact prevention needed for protection. I also watched as emergency handwashing stations quickly went up in local businesses (a bucket with a tap, soap, and a catch bucket for dirty water) and health screenings with temperature checks began at the border entries. An equally encouraging and worrying sign, because I believe this was a direct reflection of a very traumatic experience from the Ebola outbreak in 2014—an outbreak I saw first-hand, having been deployed to Liberia for a year to lead a treatment facility with another organization.

Fast forward to mid-April and I have the same balance of extreme concern and absolute admiration for community response—particularly in West Africa. In recent days, I have talked with our partners in Sierra Leone and, although the first COVID-19 case was confirmed in that country recently, communities and institutions have been preparing for weeks with handwashing stations, radio awareness campaigns, and WASH preparedness. 

Now, more than ever, we are in a position to leverage the expertise of our local partners.

The tough reality is that a place like Sierra Leone simply does not have a sufficient health system to fall back on, even under normal circumstances. Instead, they have already activated a community response the rest of the world can learn from, and now it is our task to support them.

This is what your support looks like—right now, in the middle of a pandemic. Communities in the most remote regions of Ethiopia are practicing social distancing at a water point. They have access to handwashing stations. They're able to collect the clean and safe water they need to protect their families and stay healthy.
None of this is possible without you.

Thank you for saving lives with the gift of clean water.

Photos courtesy of our local partner, Relief Society of Tigray (REST)
IN CLOSING, A LITTLE GOOD NEWS
Though Uganda has been under COVID-19 lockdown for weeks, our partner, WHH Uganda, received permission from the national and district governments to operate as an essential service.WHH coordinated with the local government and communities to ensure that these crucial services could be delivered without risk to our partner or beneficiaries. A small construction team was able to complete work on several projects last week, bringing clean and safe water to those who need it most!


Shop without the noise.
Get our free newsletter of hand-picked sales you need to hear about from the web's best brands.