Save now with Priceline's Freedom Sale
Email sent: Jun 28, 2021 11:36am
Instantly save an extra $20 off* sitewide Express Deals on your hotel, flight, or rental car booking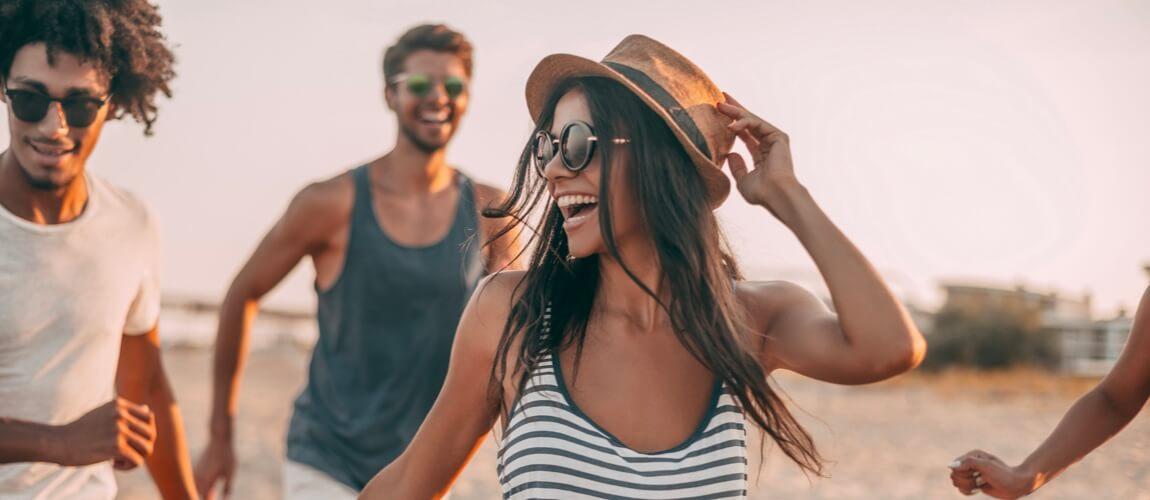 $20 off Express Deals*
During the Freedom Sale at Priceline, every trip is an even bigger deal. Instantly save an extra $20 off sitewide Express Deals on hotel, flight, or rental car bookings with code FREEDOM20* when you spend $120 or more.

Book now and save
Spend $120 or more and receive an instant $20 off Priceline Express Deals. Book by 11:59pm EST on July 6, 2021 and travel any time.
save $20 with code FREEDOM20
See Deal
*Savings claim based on Express Deals® bookings compared to Priceline's lowest retail rate for same itinerary. Express Deals® travel provider shown after booking. Promo code savings only valid on bookings made between June 21, 2021 and 11:59pm EST on July 6, 2021 with a minimum purchase of $120. Promo code is case-sensitive, must be applied at time of booking, and is subject to change. Additional terms and conditions may apply.
Find the right restaurant for your trip with OpenTable
Download the app
Cheap flights, hotels & more
Unsubscribe
Email Preferences
Feedback
Privacy Policy
Prices, savings, and availability may vary. Additional restrictions may apply. Savings are not ensured. Cheapflights does not sell tickets but provides a price comparison service. The deals in this newsletter were current at the time this email was published and subject to change based on date, time and availability, which may be extremely limited. Cheapflights accepts no liability for inaccuracies arising from this or any other cause, including, but not limited to, expiration of deals and typographical error, we are not responsible for any loss, damages, or injury incurred by the deals herein. Unless otherwise specified, hotel prices are per night, based on double-occupancy rooms and do not include taxes and fees. Unless specified to be one-way (ow) or otherwise, flight prices are for round-trip (rt) economy class travel and include taxes and fees. If in doubt, always consult the agent or company supplying the tickets.
Unless otherwise specified, package prices include flight + hotel, taxes and fees, but not baggage fees or other fees charged directly by the airline for the included flight.
Cruise and car rental prices do not include taxes and fees. Please check the provider's webpage or contact the provider for additional details.
© 2021 Cheapflights Media (USA) Inc.
10 Canal Park 6th Floor
Cambridge, MA 02141-2250



Other emails from Cheapflights Us
Sep 15, 2014

Luxe Punta Cana Resort fr $87 pp/nt, 30% off | More Caribbean Roundup Deals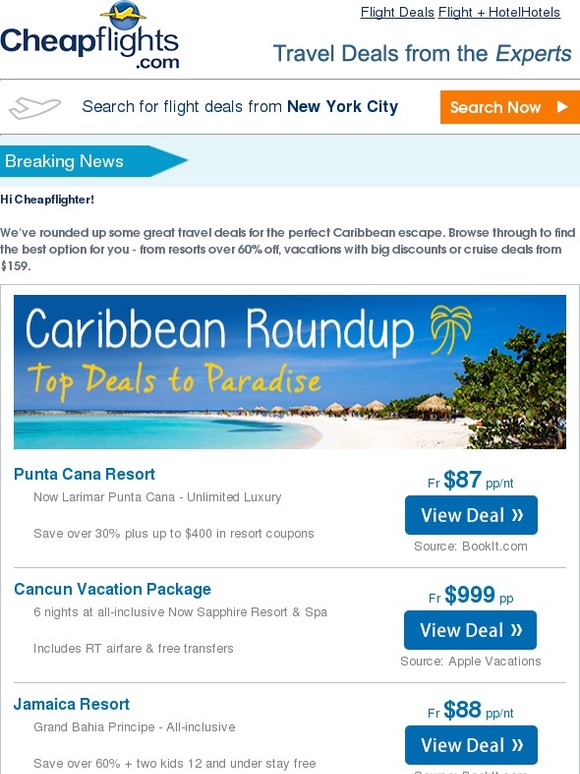 Sep 14, 2014

Budget-Friendly Flights from New York City | How to Tip in 19 Countries
Shop without the noise.
Get our free newsletter of hand-picked sales you need to hear about from the web's best brands.