Dan Ivascyn and Orlando Bravo on buying opportunities in choppy markets
All DA sessions are now available to watch on demand.
This email was sent
Pimco's Dan Ivascyn still sees opportunities
Tech investors Orlando Bravo and Bill Ford on the brutal 2022
SPAC sponsors are forced to close up shop early
Jamie Dimon says expect more blowups from the volatility
Exclusive panel replays from Delivering Alpha 2022
Watch the DA sessions now available on demand.
Pimco bond expert Dan Ivascyn believes the U.S. is likely headed toward a "fairly mild recession" due to strong fundamentals, but he thinks the investing environment remains fertile.
Orlando Bravo of PE firm Thoma Bravo believes the bottom is not yet in for what were high-growth tech firms. Bill Ford, CEO of growth equity firm General Atlantic, said IPO market could be several years away from strengthening.
SPAC liquidations top $12 billion this year as sponsors grapple with tough market, new buyback tax
A new buyback tax has motivated more and more SPAC sponsors to close up shop before the year-end, adding another headwind to the blank-check space already roiled by a tough market environment.
A total of 27 SPAC deals, worth $12.8 billion, have been liquidated this year, according to data from SPAC Research. Under the new provision in the Inflation Reduction Act, SPAC sponsors could face a 1% exercise tax if they return cash to investors starting in 2023.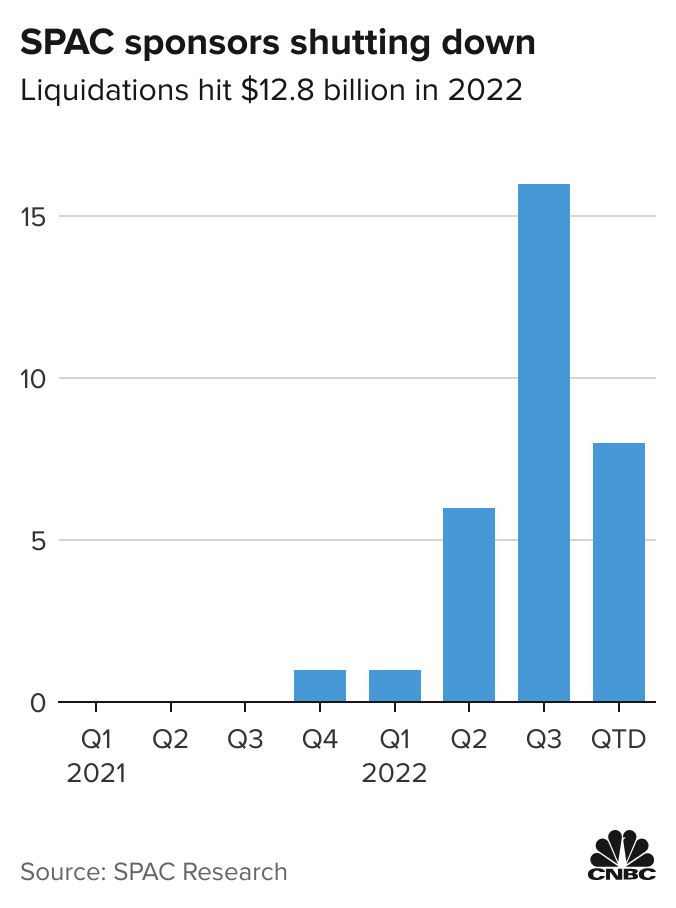 "Market condition is the driving factor, and apart from that, there is the 1% exercise tax," said Melanie Chen, a partner at UHY LLP. "I think it added a little bit chemistry to accelerate the decision making process."
SPACs, Wall Street's hottest tickets in 2020 and 2021, are experiencing a big reset amid increasing economic and regulatory headwinds. There are still more than 450 deals on the market for a merger target ahead of their 2023 deadlines, according to SPAC Research.
Appetite for SPACs, which are often early-stage growth names with little earnings, has diminished in the face of rising rates as well as elevated market volatility. Even deals from some of Wall Street's most high-profile investors couldn't come to fruition.
Chamath Palihapitiya, once dubbed SPAC king, has shut down two deals this month after failing to find suitable merger targets within deadline, returning $1.6 billion to investors. Bill Ackman, who raised $4 billion in the biggest-ever SPAC, folded the deal in July amid choppy markets.
SPACs stand for special purpose acquisition companies, which raise capital in an IPO and use the cash to merge with a private company and take it public, usually within two years.
Stocks that did go public via SPACs are among the hardest hit during the market turmoil. The CNBC SPAC Post Deal Index has fallen over 60% in the past year.
Delivering Alpha Headlines
Big thoughts from the big money

Jamie Dimon says investors should expect more blowups
JPMorgan Chase CEO Jamie Dimon said more blowups are on the way after a crash in U.K. government bonds last month nearly caused the collapse of hundreds of that country's pension funds. "I was surprised to see how much leverage there was in some of those pension plans," Dimon told analysts in a conference call to discuss third-quarter results. "My experience in life has been when you have things like what we're going through today, there are going to be other surprises."
Jeff Bezos is the latest to warn about the economy

Amazon founder Jeff Bezos has become the latest corporate leader to warn about the state of the economy, cautioning that rougher times are likely ahead. In a tweet posted Tuesday evening, the former president and CEO of the online retailing giant echoed comments that Goldman Sachs Chief Executive David Solomon made to CNBC earlier in the day. "Yep, the probabilities in this economy tell you batten down the hatches," Bezos said in a comment attached to a clip of Solomon's "Squawk Box" interview.

Cathie Wood on the emerging investing trend in genomics

Ark Invest's Cathie Wood believes innovators in DNA development are the most undervalued corner of the market. "I believe that today the genomic revolution is most misunderstood and underappreciated," Wood said at Morgan Stanley's AlphaCurrents Conference recently.

"The stocks in the last year, this growth stock bear market, has ravaged the genomic space. And so we think they're ripe for the plucking," Wood said. "There are some amazing ideas out there."
© 2022 CNBC LLC. All rights reserved. A property of NBCUniversal.
900 Sylvan Avenue, Englewood Cliffs, NJ 07632
Data is a real-time snapshot *Data is delayed at least 15 minutes. Global Business and Financial News, Stock Quotes and Market Data and Analysis.
Data also provided by THOMSON REUTERS