Exclusive: Derivatives investor Paul Britton says the worst is yet to come
Founder and CEO of a $9.5 billion derivatives firm sees more volatility ahead.
This email was sent
Derivatives investor Paul Britton says market hasn't seen the worst of it
No SPAC issuance in July as valuations undergo a reset
Bill Ackman warns of 'persistently higher' rates ahead

Register to attend CNBC's Delivering Alpha conference Sept. 28 in New York City
The Sharpe Angle Interview: Paul Britton
Founder and CEO of a $9.5 billion derivatives firm sees more volatility ahead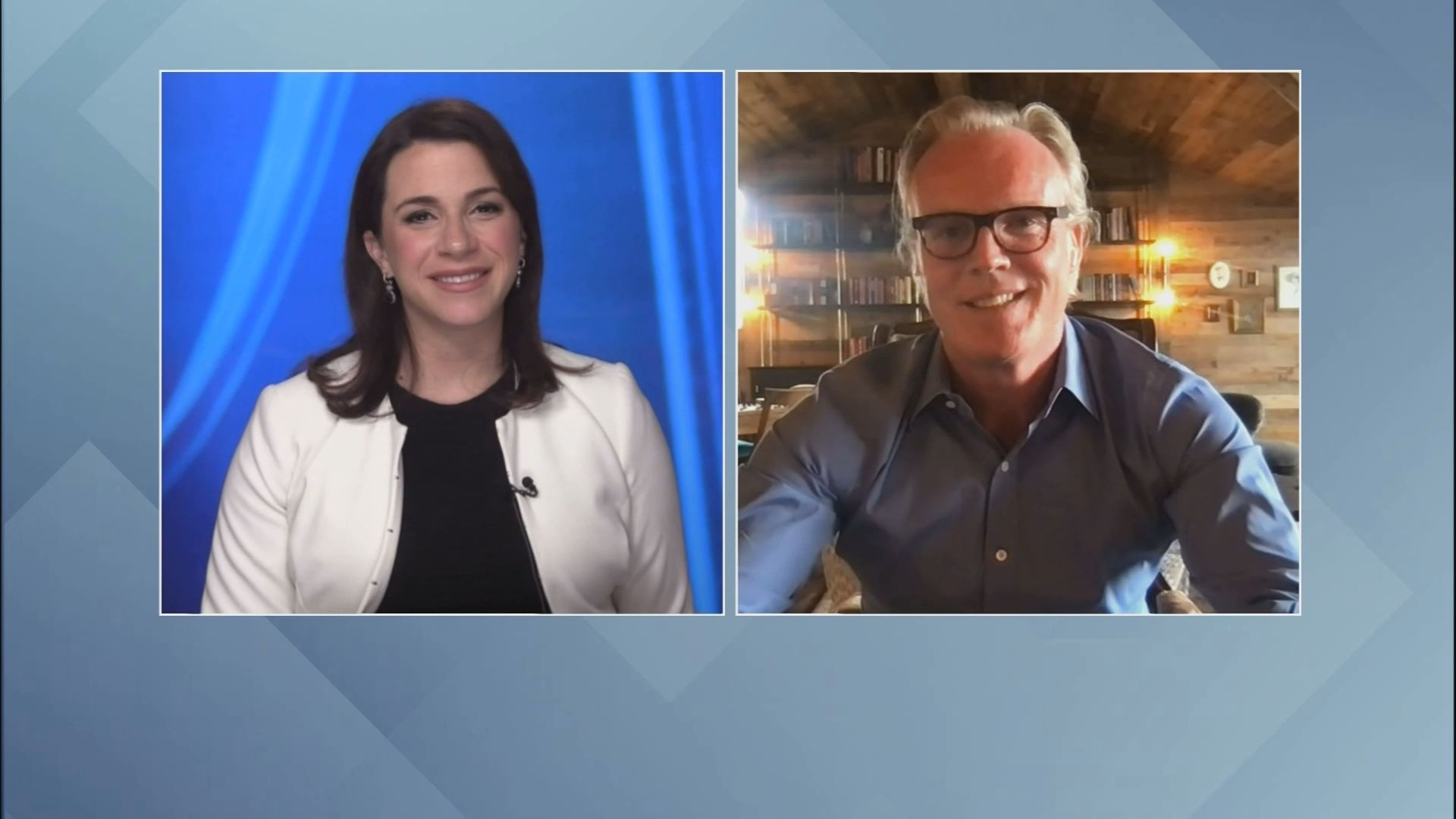 The Federal Reserve continues to hike rates, but the 10-year yield remains stubbornly below 3 percent, the S&P 500 in July had its best month in two years, and volatility has come down significantly since the Spring. It's not quite the contours of a market in the midst of monetary-policy tightening. 
But Paul Britton of Capstone Investment Advisors says that's going to change in the second half of the year. That's when he thinks rate hikes will "come to roost around balance sheets, trying to determine and factor in a real, extraordinary move in interest rates."
"I struggle to believe that that's not going to catch out certain operators that haven't turned out their balance sheet, that haven't turned out the debt," said Britton in an interview for the Delivering Alpha Newsletter. "I think that you'll see some surprises and that's what we're getting ready for." 
Britton thinks "Phase Two" could involve a different part of the credit cycle, involving a slew of negative headlines that will "cause the investor to question whether there's contagion within the system." However, he doesn't believe we'll see a "remarkable uptick" in the amount of bankruptcies and defaults. 
Still, Britton, whose firm focuses on derivatives linked to volatility, says he isn't counting on the Fed to pivot and intervene as quickly and at the size and scale that the market is hoping for. 
"If we do get an event and we do get a catalyst, then the level of volatility that you're going to be exposed to is just simply going to be higher, because that put – an intervention – is going to be further away," he said. 
In light of the rocky future that Britton is painting, how should investors be positioning? 
He says he's looking at ways to build in downside protection through options strategies and volatility strategies. But for those without access to more-exotic positioning, Britton recommends pursuing minimum volatility securities or more defensive stocks. 
"The most important thing is to do the work to be able to ensure that when you're running your portfolio through different types of cycles and scenarios, that you're comfortable with the end result," he said.
SPAC market hits a wall as issuance dries up and valuation bubble bursts
The SPAC boom is officially a thing of the past.
Not a single special purpose acquisition company was issued in July as the market slowdown turned into a screeching halt, according to CNBC calculations of SPAC Research data. Sponsors who once took advantage of a hot market were forced to pause as investor interest waned and regulatory pressure ramped up.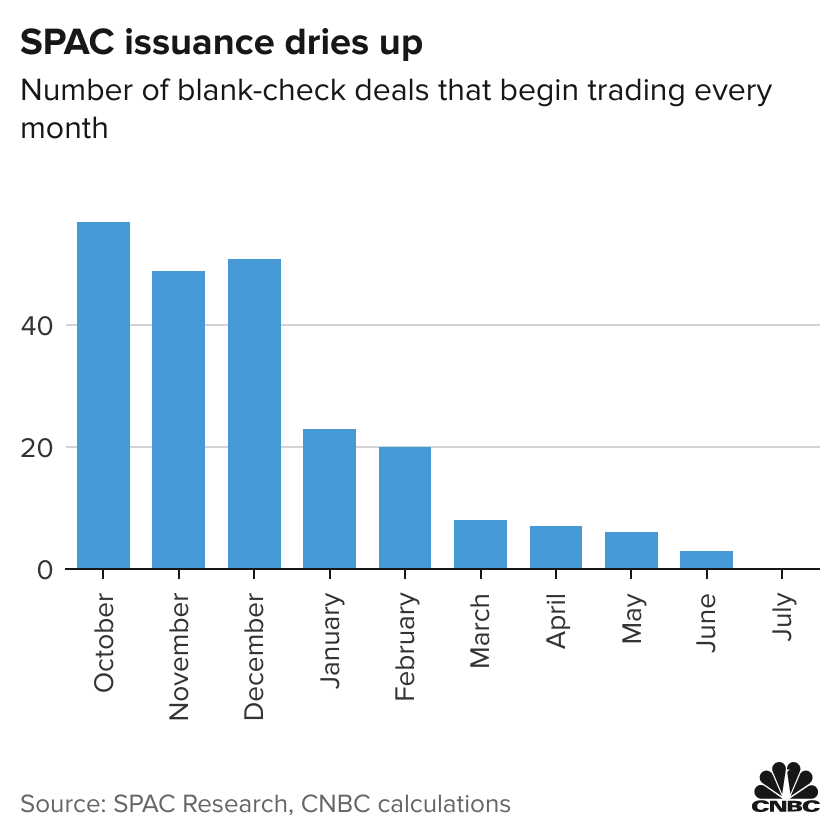 SPAC investors have turned their backs on speculative high-growth equities with unproven track records after many of these firms failed to meet inflated forecasts. Meanwhile, regulators started to look into deals that entice investors with forward-looking statements after a boom in 2020 and 2021 created more than 600 SPACs hunting for targets before time runs out.
"I think that was a once-in-a-lifetime experience just like during the internet bubble," said Jay Ritter, University of Florida finance professor. "A year ago, the whole market was overpaying and now we have a reset. Giving a valuation of $500 million on a zero revenue company ... those days are gone."
A recent acquisition highlighted just how absurd SPAC valuations were during the mania. Nikola recently announced it will buy Romeo Power in a $144 million all-stock transaction. That's just about 10% of Romeo Power's valuation when it merged with a SPAC less than two years ago.
Along with issuance drying up, liquidations are rising amid difficulties in finding suitable targets. Three deals were tabled last month, including Bill Ackman's record $4 billion Pershing Square Tontine, pushing the number of liquidations this year to 10 deals. In all of 2021, only one SPAC was liquidated, according to the calculations.
"We expect the acquisition landscape to remain highly competitive, and caution that many SPACs are likely to be pressured on time to find suitable targets," Venu Krishna, deputy head of U.S. equity research at Barclays, said in a note.
Delivering Alpha Headlines
Big thoughts from the big money

Bill Ackman calls for further Fed hikes, warns of 'persistently higher' rates ahead
Bill Ackman said the U.S. economy is not in a recession right now but the Federal Reserve needs to be significantly more aggressive to defeat inflation. "The biggest problem for the economy right now is inflation. Inflation is roaring, it's continued to rage, and unfortunately the steps taken by the Federal Reserve have not been effective," Ackman said. The CEO of Pershing Square Capital Management said the economy is entering a period of "persistently higher rates."
Einhorn likes companies with big buybacks in this bear run

Greenlight Capital's David Einhorn just had his best quarter ever. His hedge fund returned 8.4% in the second quarter of 2022, bringing its first-half performance to 13.2%.The star manager attributed his stellar year to a rotation to value stocks and his preference for companies with sizable buyback programs in place. "We aren't relying on other active investors to buy the stocks that we own, so we instead are choosing to emphasize investing in companies that appreciate this dynamic and are creating value both through their operations and through buying back their own stock at very low prices," Einhorn said in an investor letter on Monday.

Cathie Wood says growth stocks will outperform as bear market ends

Ark Invest's Cathie Wood said growth stocks should soon take the leadership in the market as the downturn runs its course. "Typically growth stocks will outperform as we move towards the end of a bear market and of a recession because they are the new leadership," Wood said. Wood's disruptive technology darlings have been among the biggest losers this year in the face of rising rates. Her flagship active fund Ark Innovation ETF is over 50% year to date, but it just posted its first monthly gain since October. "We actually bottomed before the Nasdaq and the S&P did," Wood said. "That was an early signal that we might be turning the corner here."