Exclusive: Hedge fund founder Peter Kraus on why the traditional active management model is broken
Founder of Aperture Investors is charging 30% of alpha for his hedge funds.
This email was sent
$3.8 billion hedge fund shakes up the industry with its pay-for-performance model
Hedge funds' record short positioning defies market rally
Warren Buffett keeps buying the dip

Register to attend CNBC's Delivering Alpha conference Sept. 28 in New York City
The Sharpe Angle Interview: Peter Kraus
Founder of Aperture Investors deviates from traditional active management model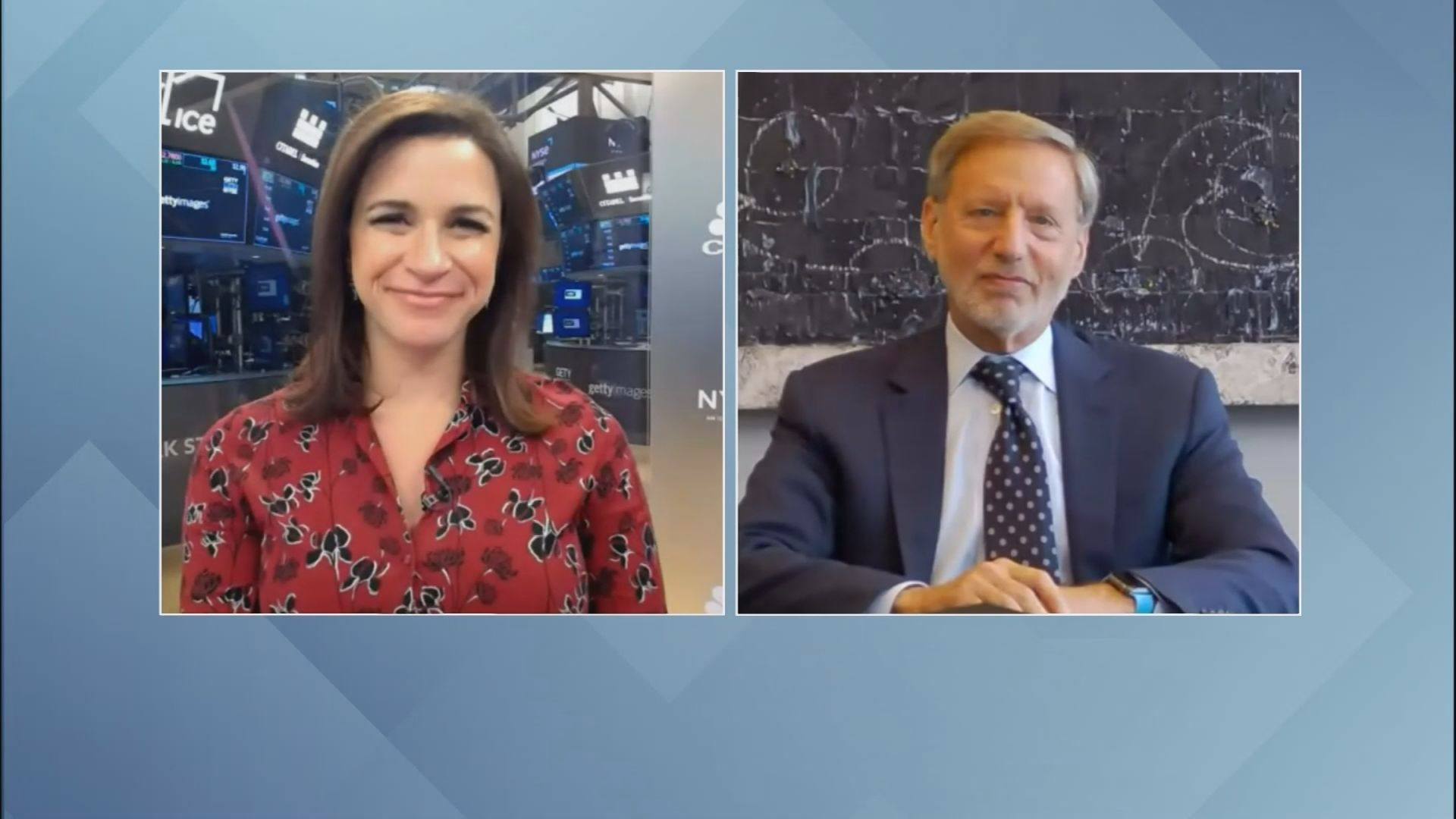 Peter Kraus, the former chairman and CEO of AllianceBernstein, believes the active-management model is broken. 
"The existing model, in almost all cases, rewards people whether or not they perform," Kraus said in an interview for the Delivering Alpha Newsletter. "As assets grow, you earn more money. Well, clients don't actually hire us to grow assets; they hire us to perform." 
So, when he started Aperture Investors four years ago, he structured the fee structure to tilt more toward performance and away from a percentage of assets managed. 
Aperture charges its investors a 30 percent performance fee – higher than the industry standard, which is around 20 percent. But then, its management fee is commensurate with that of a relevant ETF. And the performance fee is charged for returns above that benchmark. 
Its largest fund, managing nearly $1 billion as of Aug. 12, focuses on credit opportunities, and has outperformed its benchmark by 93 basis points since inception in May 2019. About half of the firm's funds have delivered alpha for investors, according to performance figures obtained by CNBC. 
With so much on the line to deliver return, we asked Kraus how he was putting capital to work. He said it's been a lot of bottom-up fundamental work. 
"In the equity strategies, we are, what you would expect, highly research dependent, looking for specific opportunities with companies that we think have long-term growth, or undervalued and will accelerate their value over time," Kraus said. "It's fundamental research to find credits, and obviously being careful about the market because, you know, credit markets tend to be more macro-driven." 
Kraus said in the one hedge fund it runs, it's pretty close to neutral in terms of positioning – not net long nor net short. And the funds, in general, do not take on much leverage. 
So, it's incumbent on the managers to structure their portfolios to beat its indexes. With management fees so low, we asked whether Aperture was able to "keep the lights on" – the industry trope used to justify the usual 2 percent of assets it tends to charge. 
"How many assets do you need to keep the lights on?" Kraus said. "And once you have the lights on, then do you need to keep charging a fixed fee? Because your incentive is just to continue to gather assets." 
Aperture has about $3.8 billion under management – roughly the same as when it first launched back in 2018. He said clients appreciate the model for its "clarity" against the backdrop of capital moving from active to passive. He added that allocators would rather not pay a performance fee for the beta their money is exposed to. 
"I'm incentivized as the owner of the business identically with the client," he said. "I don't make much money – if any money, unless we actually perform."
Hedge funds are sitting on a record level of bearish bets on the stock market
Hedge funds are getting increasingly skeptical about this big rally that broke out in the middle of a bear market.
Net short positions against the S&P 500 futures by hedge funds have reached a record $107 billion this week, according to calculations by Greg Boutle, head of U.S. equity and derivatives strategy at BNP Paribas. Shorting the S&P 500 futures is a common way to bet against the broader stock market but also could be part of a hedging strategy.
The bearish bets accumulated as the S&P 500 rallied for four straight weeks, bouncing more than 17% off its 52-week low from June 16. Economic data pointing to easing price pressures firmed the belief that Federal Reserve is getting inflation under control.
"As powerful as the market rally has been, it is being viewed with substantial skepticism," said Mark Hackett, Nationwide's chief of investment research.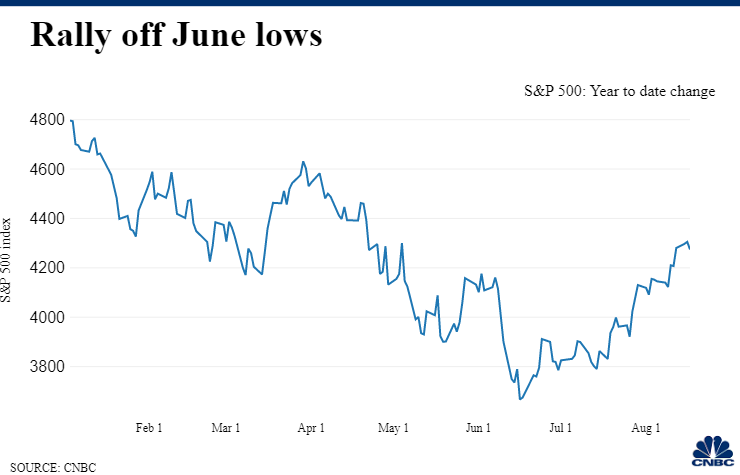 Given the massively defensive positioning, some hedge funds have been forced to cover their short bets as stocks continued to go higher, further fueling the rally in the near term.
Since the S&P 500's June low, short sellers ended up covering $45.5 billion of their short positions, according to S3 Partners. The largest amount of short covering in dollar terms occurred in the consumer discretionary and technology sectors, S3 said.
"This may indicate that institutions are looking at the recent upward market movements as a 'bear rally' and are expecting a pullback in share prices across the broad market if the recession continues or worsens and the Fed is forced to raise rates higher or quicker than expected," said Ihor Dusaniwsky, managing director of predictive analytics at S3.
Many on Wall Street believe that signs of peaking inflation data may not be a sufficient catalyst for the rally to have any lasting power.
"We think we would need to see a larger and more persistent improvement in the macro outlook, to drive a larger scale reallocation of institutional money back into equities," Boutle said.
Delivering Alpha Headlines
Big thoughts from the big money

Buffett has been a net buyer of stocks for 3 quarters in a row
Michael Burry of 'The Big Short' dumps all of his previous stock holdings

Famed investor Michael Burry, known for calling the subprime mortgage crisis, dumped all of his 11 existing stock holdings at the end of the second quarter, according to a new regulatory filing. He also exited his short bet against Apple by the end of June. The big selling in Burry's portfolio perhaps conveys just how bearish he is on the market. The investor, now running hedge fund Scion Asset Management, has been expressing his pessimistic views about the markets and the economy on Twitter.

Dan Loeb takes stake in Disney, pushes for ESPN spinoff

Daniel Loeb's Third Point has taken a new stake in Disney, pushing the entertainment giant to spin off its sports network ESPN. "ESPN would have greater flexibility to pursue business initiatives that may be more difficult as part of Disney, such as sports betting," Loeb said in a letter to Disney CEO Bob Chapek. "We believe that most arrangements between the two companies can be replicated contractually, in the way eBay spun PayPal while continuing to utilize the product to process payments."