Exclusive interview with Canyon Partners' Josh Friedman on the economy and his firm's 'shopping list'
Canyon Partners' Co-CEO says the markets are strong enough to absorb a downturn.
This email was sent
Canyon Partners' Josh Friedman is building a shopping list despite recession fears
What's behind the surge in Berkshire Hathaway's trading volumes
Charlie Munger is bullish on both fossil fuels and renewables

Register to attend CNBC's Delivering Alpha conference Sept. 28 in New York City
The Sharpe Angle Interview: Josh Friedman 
Canyon Partners' Co-CEO says the markets are strong enough to absorb a downturn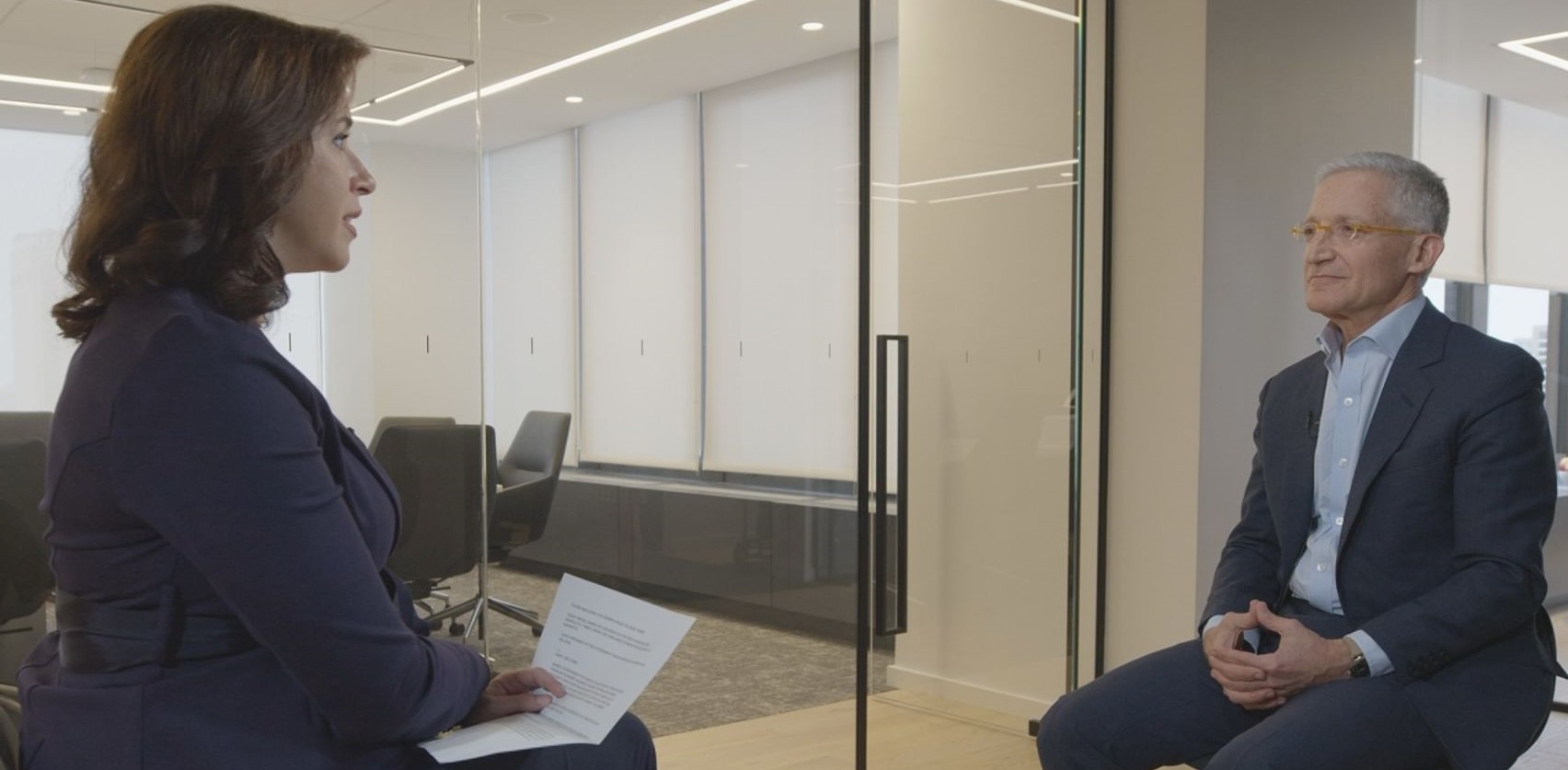 The last time I talked to Canyon Partners' Joshua Friedman in January, the word "transitory" was still a possibility when describing inflation, Russia had yet to invade Ukraine, and the Fed was still easing. He called it a "fork in the road" and that was, perhaps, an understatement. 
However, his latest take, as divulged in an interview for the Delivering Alpha Newsletter, on the direction the economy is headed is perhaps a bit more sanguine – especially than that of other credit pontificators. Friedman says the economy is "strong enough to absorb…a slowdown, even if it qualifies, technically, as a recession because we have two quarters of contraction."
Friedman says that he's focused on the positives – with low unemployment, personal balance sheets that are "actually quite good," and a stable banking system. He doesn't think that the sole responsibility for a soft landing doesn't actually falls solely on the Fed's shoulders – that natural market forces may also hold the economy up by itself. 
As such, the Fed will continue hiking, according to Friedman. 
"It wouldn't surprise me if the Fed continued to raise rates aggressively, if for no other reason than to restore their own credibility," said Friedman. "So I think, to restore their credibility, to make it clear that inflation should be run out of the system and to communicate with the public in a way that the public will react; it would not surprise me if they even overreacted a little bit."
He said the market has already provided a "sea change in the opportunity set," with equities, investment-grade debt and high-yield debt markets all getting "destroyed." 
"June was the worst single month that we've seen in decades, with the exception of the immediate aftermath of COVID, which was gone like that, because the Fed bailed everyone out, which they're not going to do this time," he said. 
But, to Friedman, the selloff doesn't necessarily translate into distress – unwelcome news for distressed investors, who have been essentially waiting since the financial crisis for a bigger set of troubled opportunities to scoop up. 
Even though Friedman "grew up in the distressed business," he said the firm has "comprehensive shopping lists of securities" in other areas like secondaries, loan originations, and securitized packages. 
"A modest uptick in unemployment, a modest decrease in available job openings…doesn't throw the economy in anything like we had in 2008, in my view," he said. 
The reason behind a mysterious trading surge in stocks like Berkshire Hathaway has been revealed
Berkshire Hathaway's Class A shares is among the stock market's most expensive stocks priced above $400K a share and therefore it was often one of the least traded well-known companies. So a surge in volume that began over a year ago left many scratching their heads.
Now new research released Wednesday has shed light on this trading frenzy and concluded that a change in how Robinhood and other online brokers report fractional trading data was a culprit.
"This volume is due to the interaction of a well-intentioned but misguided FINRA reporting rule, Robinhood trading, and fractional shares," wrote the authors — Robert Bartlett at University of California at Berkeley, Justin McCrary at Columbia University and Maureen O'Hara at Cornell University.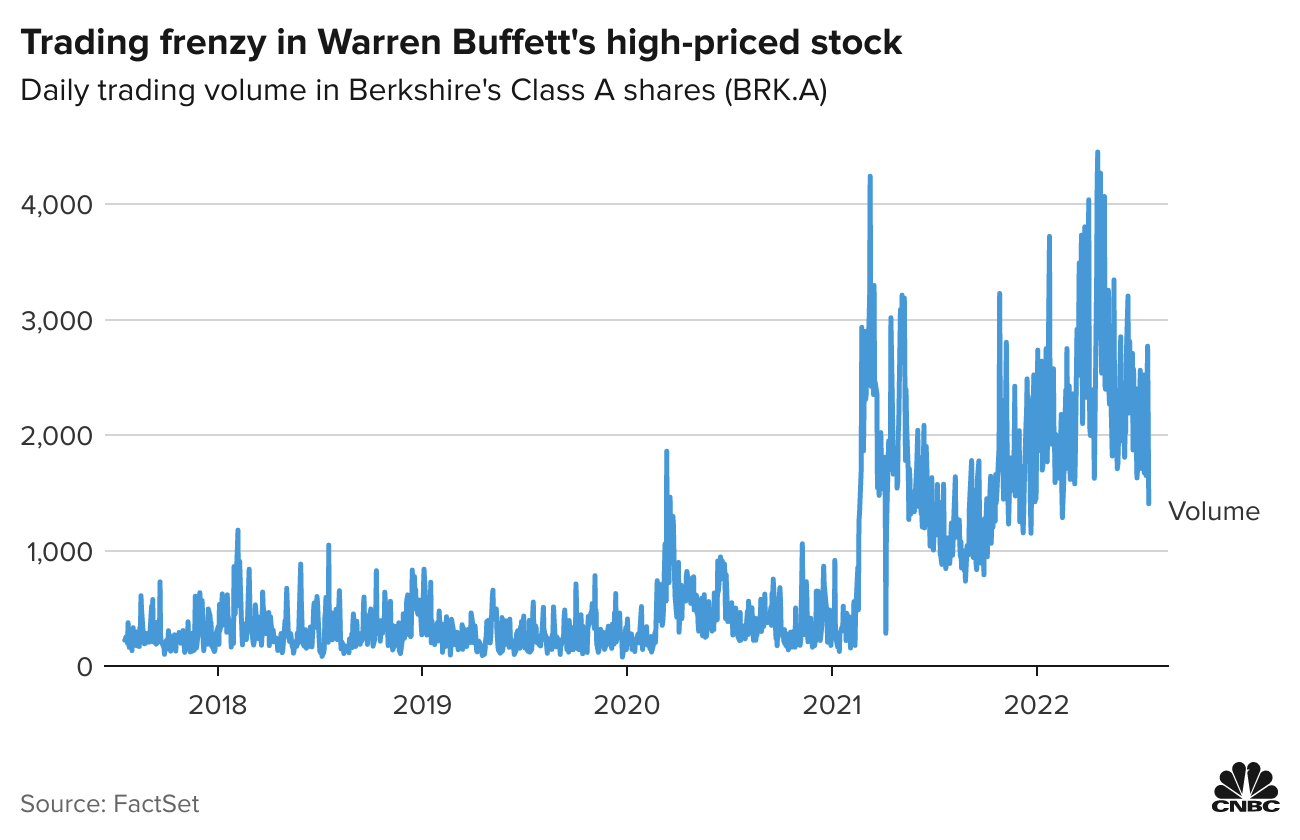 In 2017, the Financial Industry Regulatory Authority started requiring brokers to report fractional trades — sometimes just 1/100th of a share — as if they were for one whole share, which the authors coined as the "Rounding Up" rule.
The effect of this rule change went pretty much unnoticed until the spring of 2021 when a pandemic-driven trading mania by retail investors boosted the use of fractional trading.
As more tiny trades are being reported as full shares, trading volumes for many stocks became massively inflated. In Berkshire's case, the authors said this reported "phantom" volume now represents 80% of Class A shares daily trading volume.
Shares of the Omaha-based conglomerate hit a record high above half a million dollars in March and have since retreated more than 20% to about $430,000 apiece amid a sell-off in the broader market.
Trading volumes for this pricey name surged more than tenfold in March 2021 from its average daily volume of just 375 shares over the past decade, according to the study. Volumes have stayed at these elevated levels.
"FINRA is already actively working on the issue, and is engaged in ongoing discussions with firms and regulators," a FINRA spokesperson told CNBC. "The current trade reporting systems (other than the Consolidated Audit Trail) do not support the entry of a fractional share quantity. FINRA's guidance on trade reporting needs to be understood in that context."
The Wall Street Journal first reported on the new study earlier Wednesday.
Delivering Alpha Headlines
Big thoughts from the big money

Charlie Munger believes fossil fuels and renewables are both here to stay
Berkshire Hathaway Vice Chairman Charlie Munger said he believes fossil fuels and renewables both have an important role to play in the world. "I think we're going to be using fossil fuels for a long time ahead, because we have to," the 98-year-old investor said. While Munger remains a firm supporter of fossil fuels, he is also optimistic about the future for renewable energy, noting that Berkshire is one of the biggest creators of renewable energy in the U.S. "I also think more of the world's power generation will come from renewables. Both things are going to happen," Munger said.
Cathie Wood says deflationary forces could lead to a Fed policy reversal

Ark Invest's Cathie Wood said the Federal Reserve is making a policy mistake by raising rates aggressively to tame inflation that she believes to be short-lived. "We are getting all kinds of catalysts, a list of them ... which should give the Fed a pause," Wood said. "If not pause, it should cause an entire pivot and reversal in policy. They are making a mistake. The markets are telling us they are making a mistake. I think something will break that matters to them." Contrary to the conventional wisdom, Wood said inflation should ease quickly in the next few months as inventory issues resolve.

Bill Ackman to wind up SPAC, return $4 billion to investors

Bill Ackman, who had raised $4 billion in the biggest-ever SPAC, told investors he would be returning the sum after failing to find a target company to take public through a merger. "High quality and profitable durable growth companies can generally postpone their timing to go public until market conditions are more favorable, which limited the universe of high-quality possible deals for PSTH, particularly during the last 12 months," said Ackman. The billionaire investor said the rapid recovery of the capital markets and our economy made the conventional IPO market a strong competitor and a preferred alternative for businesses seeking to go public..