Just Dropped: Styles You'll Take Everywhere
Email sent: Jul 22, 2021 9:27am
‌ ‌ ‌ ‌ ‌ ‌ ‌ ‌ ‌ ‌ ‌ ‌ ‌ ‌ ‌ ‌ ‌ ‌ ‌ ‌ ‌ ‌ ‌ ‌ ‌ ‌ ‌ ‌ ‌ ‌ ‌ ‌ ‌ ‌ ‌ ‌ ‌ ‌ ‌ ‌ ‌ ‌ ‌ ‌ ‌ ‌ ‌ ‌ ‌ ‌ ‌ ‌ ‌ ‌ ‌ ‌ ‌ ‌ ‌ ‌ ‌ ‌ ‌ ‌ ‌ ‌ ‌ ‌ ‌ ‌ ‌ ‌ ‌ ‌ ‌ ‌ ‌ ‌ ‌ ‌ ‌ ‌ ‌ ‌ ‌ ‌ ‌ ‌ ‌ ‌ ‌ ‌ ‌ ‌ ‌ ‌ ‌ ‌ ‌ ‌ ‌ ‌ ‌ ‌ ‌ ‌ ‌ ‌ ‌ ‌ ‌ ‌ ‌ ‌ ‌ ‌ ‌ ‌ ‌ ‌ ‌ ‌ ‌ ‌ ‌ ‌ ‌ ‌ ‌ ‌ ‌ ‌ ‌ ‌ ‌ ‌ ‌ ‌ ‌ ‌

Kick off the season with sporty new looks
that go the distance
These Styles Are Calling Your Name
Gift with purchase offer is valid online only through 7/24/2021 at 5:59 AM ET with your purchase of $50 or more. Use code BIGAPPLE at checkout online when threshold is met while supplies last. One gift with purchase per person. Gift cannot be returned for cash or store credit. Offer not valid on previous purchases. Other exclusions may apply.
By signing up for text message marketing, you agree to receive recurring automated marketing and informational text (e.g., SMS and MMS) messages from Coach Outlet, including text messages that may be sent using an automatic telephone dialing system, to the mobile telephone number you provided when signing up or any other number that you designate. Consent to receive automated marketing text messages is not a condition of any purchase. Msg & Data rates may apply. $10 off unique code is valid for first time subscribers only and valid until 30 days after receiving via text. Offer valid for one-time use, online only. Minimum order of $100.
Due to additional health and safety measures put in place to protect our distribution center employees, shipments may be delayed.
Listed pricing after all discounts. Due to high demand and limited inventory, orders cannot be guaranteed. Pricing in stores and online may vary. Listed pricing applicable for merchandise on Coach Outlet online only. All fragrance is excluded from offer. Other exclusions may apply. Items featured may not be available on Coach Outlet Online and/or in all Coach Outlet stores.
Please do not reply to this message. If you have any questions, please contact us via email at [email protected].
Click here to learn more about Coach Outlet's privacy policy.
If this email was forwarded to you and you wish to subscribe to future Coach Outlet emails, click here.
This message may constitute an advertisement or solicitation under federal law. If you wish to unsubscribe or change your email address, please click here.
© 2021 Tapestry, Inc. 10 Hudson Yards New York, NY 10001 US

Other emails from Coach Outlet
Jul 30, 2021

Don't Forget! The Horse And Carriage Tote With Horse And Carriage Dot Print Could Be Yours!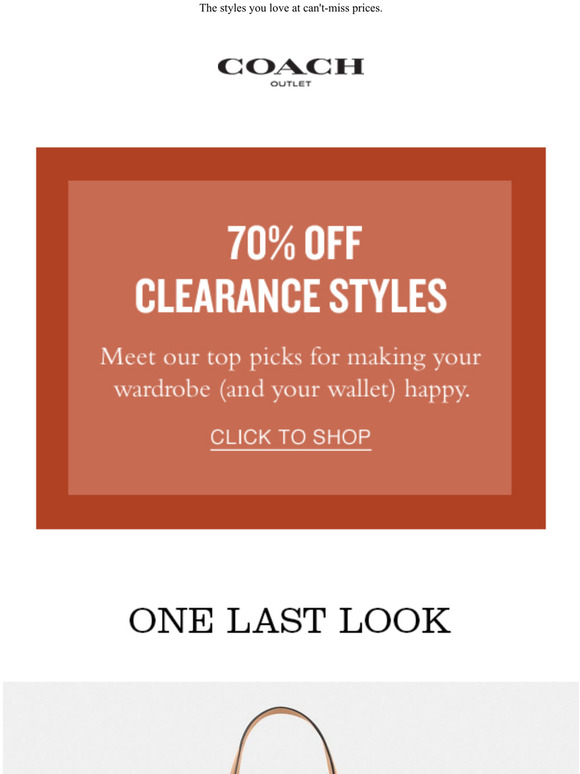 Jul 29, 2021

The Gallery Tote In Signature Canvas With Kaffe Fassett Print Is ALMOST Yours!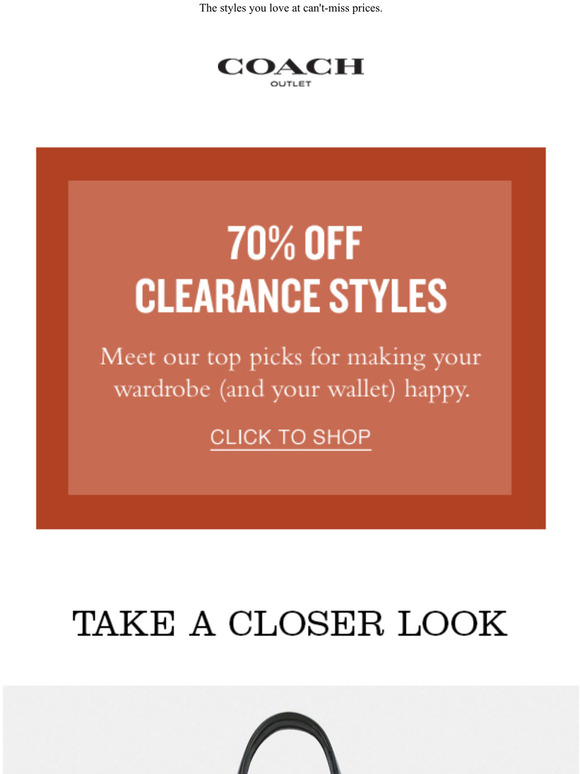 Shop without the noise.
Get our free newsletter of hand-picked sales you need to hear about from the web's best brands.