Drink coffee get $20 - dog days of summer
I want to give all our Cooper's Cask fans $20 in points for your next order
This email was sent

Stock up! EARN 1,000 POINTS ($20) 
ON YOUR NEXT ORDER!
New accounts get 500 extra points for signing up! It's free to join!

 
It's the dog days of summer sale! Thanks so much for continuing to be part of the Cooper's Cask Coffee Drinkers Association (I just made that up). For your continued, support I want to give you $20 worth of points on your next order!
DURING CHECKOUT ENTER: "1000 points please"
  in the special instructions area of your shopping chart
Don't have an account? No problem. During checkout you it will ask you to make one!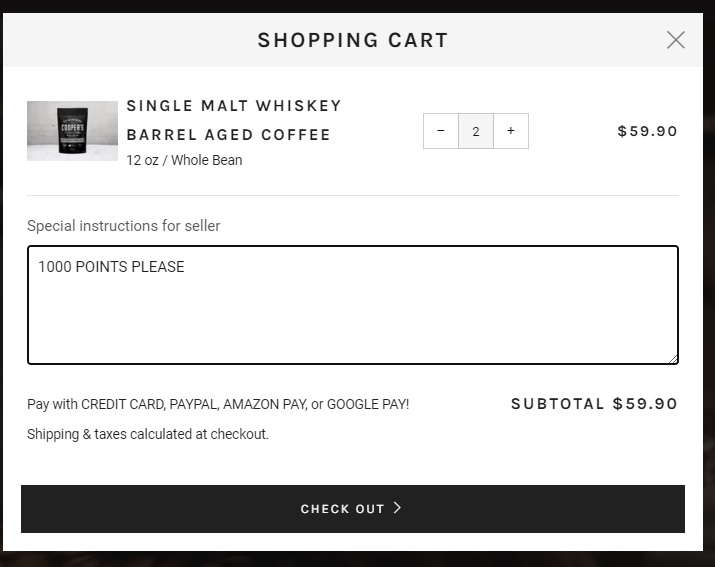 *Points will be updated each evening. 
*Must have a free account so we can assign the points to you. All new accounts get an additional 500 POINTS!

*$40.00 minimum order
**THIS WEEK ONLY  
*TYPE "MUG" IN THE INSTRUCTIONS FIELD AT CHECKOUT
*GOOD THRU 4/1/2021
 

JOIN THE COOPER'S COFFEE CLUB & SAVE 10%
 


Thank you for your continued support of our family-owned, craft roastery. 

As always, please remember, life's too short to drink ordinary coffee.




John & The Cooper's Team
Copyright © 2021 Cooper's Coffee Company, All rights reserved.
You love coffee. That's why you signed up for our occasional emails.

Our mailing address is:


Want to change how you receive these emails?
You can update your preferences or unsubscribe from this list.