Last Minute Coffee Gifts - Gift Cards & Box sets
Last minute gifts. Watch out for shipping slow downs and order early.
This email was sent
Holiday Shopping From Cooper's Cask Coffee.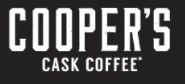 Get ahead of the rush and shipping delays by ordering our coffee box sets this week!
SAVE 12% THIS WEEK 
COUPON CODE:

SAVE12
FREE SHIPPING ON ALL ORDERS OVER $39.95
Discounts not available for subscriptions (they have built in discounts). Cannot combine coupons. 
THE BEST HOLIDAY GIFTS!
WHISKEY BARREL, WINE, ESPRESSO OR SINGLE ORIGIN BOX SETS! 

ESPRESSO BOX SET: 1.5 LBS OF COFFEE! 8oz bags of 3 different types of coffee that make amazing espresso!

WINE BARREL BOX SET GIFT SET: 3 Bags (12oz total). Coffee Aged in CAB, PINOT & CHARDONNAY!

COLD BREW TRIO SET: 3, 8oz bags of Colombian, Peruvian and Guatemalan coffee roasted specifically for cold brew. 

AND OUR FLAG SHIP BOX SETS

WHISKEY BARREL AGED
SINGLE ORIGIN BOX SET


 

JOIN THE COOPER'S COFFEE CLUB & SAVE 10%
 


Thank you for your continued support of our family-owned, craft roastery. 

As always, please remember, life's too short to drink ordinary coffee.




John & The Cooper's Team
Copyright © 2021 Cooper's Coffee Company, All rights reserved.
You love coffee. That's why you signed up for our occasional emails.

Our mailing address is:


Want to change how you receive these emails?
You can update your preferences or unsubscribe from this list.