Special Combo Deal! Kowa TSN-883 + 25-60x Eyepiece
Experience the PROMINAR Fluorite Crystals!
This email was sent
Kowa TSN-883 88mm PROMINAR Pure Fluorite Spotting Scope w/
TE-11WZ 25-60x Wide Angle Zoom Eyepiece Combo Special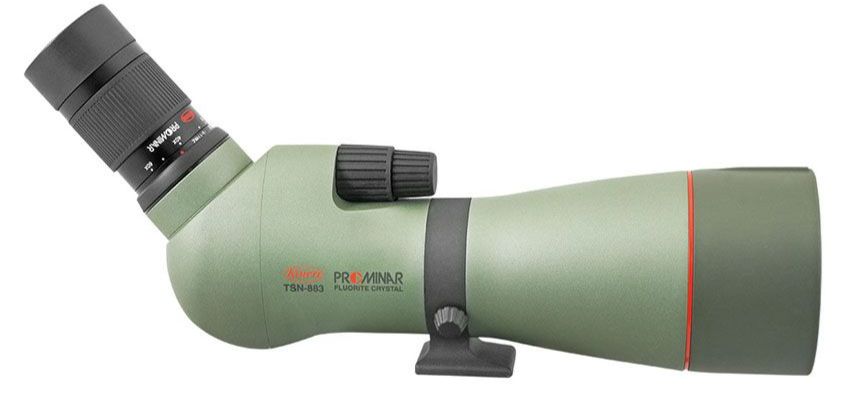 Utilizing Kowa's PROMINAR Fluorite Crystals lenses, this flagship model possesses special dispersion properties that nearly eliminates chromatic aberration to redefine the standards of color brilliance.
Fluorite Crystal Lenses
Fluorite crystal makes for the ideal lens material with "ultra-low dispersion" properties not possessed by an ordinary optical glass. This outstanding specification adds the featured benefit of a near-completely reduced chromatic aberration, or color blue, to provide shooters with the ultimate viewing experience.
Waterproof and Fogproof
The housing is waterproof to JIS Protection Class 7 and filled with dry nitrogen gas to prevent internal fogging to ensure image clarity.
Tripod Mounting Screw
A tripod mounting screw allows the scope to be safely secured to both 1/4 and 3/8 inch mount tripods.
Dual Focus Mechanism
Kowa's well-developed focus system has progressed to a dual focus system with smooth movement at high magnification for pinpoint accuracy in image display. The quick focus can easily shift from infinity to 5m in two revolutions with the large and maneuverable knob. The fine focus moves fluidly to create pinpoint accuracy and is extremely useful at high magnifications and with digiscoping systems.
Thixomolded Magnesium Alloy Body
The magnesium alloy body is constructed by a sophisticated process called thixotropic molding to give the strength and feel from a traditional metal body, but with lighter weight. The rugged structure can tolerate the severest conditions and delivers the highest level of confidence and security.
Kowa's Eyepiece Locking Mechanism
Kowa's standard eyepiece bayonet mount includes a locking mechanism to prevent the eyepiece from getting lost or falling out unexpectedly.
Our mailing address is:
Creedmoor Sports Inc
167 Creedmoor Way
Anniston, AL 36205
*We attempt to be as accurate as possible and eliminate errors on our Site; however, We do not warrant that any product, service, description, photograph, pricing or other information is accurate, complete, reliable, current or error-free. In the event of an error, whether on this email or Site, in an order confirmation, in processing an order, delivering a product or service or otherwise, We reserve the right to correct such error and revise your order accordingly if necessary (including charging the correct price) or to cancel the order and refund any amount charged. Your sole remedy in the event of such an error is to cancel your order and obtain a refund. Current discounts and holiday promotions are not valid on previous purchases. *Creedmoor Sports reserves the right to cancel or modify any promotion at any time.

Want to change how you receive these emails?
You can update your preferences or unsubscribe from this list.


Recent emails from Creedmoor Sports

See more