The NEW Anschutz Rifle You'll Definitely Want to Shoot!
Anschutz 1710 w/ MDT Adjustable Core Competition Chassis
This email was sent
Anschutz 1710 22LR Rifle w/
MDT Adjustable Core Competition Chassis
Anschutz Model 1710 — Great Accuracy Right from the Start

Report by Wayne Dayberry


The Anschutz 1710 MDT ACC rifle system is purpose-built for smallbore tactical precision rifle competition. With its capabilities, we went from from bore-sight to 300 yards in just 12 shots.

We started with a factory-fresh .22 LR Anschutz 1710 in an MDT ACC Ghost Gray chassis. This rifle incorporates a 20-inch heavy profile threaded stainless barrel and the 5119 two-stage trigger. After a clean, lube, and inspection, we mounted up an Element 5-25x56mm First Focal Plane optic we already had in a set of rings and headed out to the CMP Talladega Marksmanship Park. In addition to traditional target ranges, the CMP range has an unknown distance steel range with targets out to 600 yards.

Due to a compressed schedule, we did not have time to follow the traditional zeroing and velocity-gathering processes, so we headed straight to the unknown distance steel range. This range has steel from 75 yards to 600 yards much like you would see in PRS and NRL type competitions. Given the compressed timeframe, we didn't follow the traditional steps one would normally take to do a break-in process, zero, collect data, and build out rifle dope. We were essentially doing all of that on a steel target range as we were putting the first rounds down the barrel while shooting this piece. At the same time, with a quality rifle system, and following a process, it worked out well as we were able to stretch out the capability of this rifle to 435 yards very quickly.
Watch Hits at 100, 150, 200, 250, 300, and 435 Yards!
Testing the Anschutz 1710 on Steel — Expedited Procedure

The closest steel on the Talladega range that day was 75 yards so we started from scratch at that distance. Brent was on the rifle, so I spotted and ran ballistics. After bore-sighting at 75 yards, and confirming zero on steel with a few rounds, we went to the ballistic solver to start a profile. For the RWS R100 ammunition we were running, I entered a G1 BC of .14 and a guess at the muzzle velocity of 1080 FPS. The call of 1.1 MILs for the 100-yard steel resulted in Brent's shot landing .2 MILs high of center on the first round; we "confirmed" 0.9 MILs. We noted the impact and moved on to 150 yards.

As I mentioned we were very short on time so the "confirmations" of our dope for our first pass were with a single shot and measuring in the reticle. That's obviously not the normal process, but for us, it was good enough for this exercise given the time we had. We were shooting on freshly-painted targets and getting excellent feedback to see POA / POI deviations and could easily measure this in the reticle, which helped. And we were shooting a top-of-the-line Anschutz which came with a confirmation test target showing a 10-shot group at 50 meters with all shots touching and within a circle the size of a dime. With a former NCAA All-American smallbore shooter running the gun, and this test target in hand, confidence was high.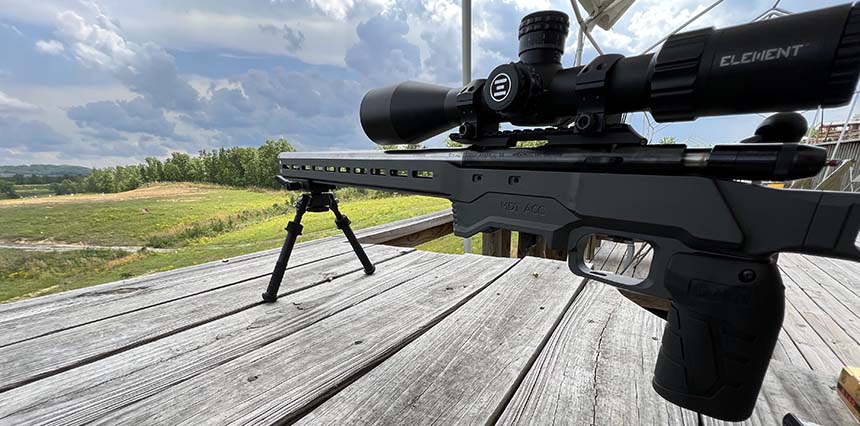 Moving to the 150-yard target, a call of 3.7 MILs hit 0.6 high on our first round so we measured and confirmed 3.1. We trued the muzzle velocity in the solver as we went. At 200 yards I called 6.0 MILs and the first round hit was .3 high. We measured and confirmed 5.7 MILs. 9.0 mils was the call at 250 yards and we hit just a bit high. After measuring, we confirmed 8.6 MILs. At 300 yards, Brent was holding about 1 mil wind as a storm started rolling in. I called 12.5 MILs elevation and the first round impact was near the top of the plate, and after measuring we confirmed a come up of 11.7 MILs.
The net result was this — we went from mounting the optic and bore-sighting, to making solid first-round impacts from 100 yards out to 300 yards, at each 50-yard increment, in just 12 rounds! That's efficiency!

The net result was this — we went from mounting the optic and bore-sighting, to making solid first-round impacts from 100 yards out to 300 yards, at each 50-yard increment, in just 12 rounds! That's efficiency!
Stretching it out to 435 Yards on Steel

Later, we went on to make solid hits at 350 yards and 435 yards. I got on the gun and put two on top of each other at 350 yards — pretty cool. This just proved this gun is an absolute hammer. The 435-yard target was a bear target, which was quite a bit larger than the 12″ steel we were shooting in the video. Not a small target by any means, but we were shooting 435 yards with a rimfire rifle as a storm rolled in. I think between us, Brent and I hit 5 of 6 (at 435 yards) which was pretty good given the sporty conditions. Next stop… the 600-yard plates at the end of this range. That's a come-up of about 36 Mils.
Choose Your Favorite Color

MDT Adjustable Core Competition Chassis
What's so cool about the MDT ACC?
Adjustable Core Competition chassis system is designed for the competition world: the ACC is primarily suited for the PRS & NRL shooting style, although it can be used in other disciplines. The ACC chassis system is the result of endless testing and collaborating with competition shooters, implementing the most crucial and results driven features, while ensuring accuracy and precision remain unparalleled.

The ACC (keyword A for Adjustable) was created with an integrated weight management system, allowing shooters to fine tune their chassis' weight and balance point. The adjustability comes from a series of weights that can be added to either the buttstock, interior forend or exterior forend m-lok. It's original weight of 4.5 lbs transforms into a maximum of 12.3 lbs (chassis only - add on your action, barrel, scope and accessories and most shooters are pushing 25-30 lbs in the ACC).

All of this modularity and adjustment can be achieved without taking your barreled action out of the chassis system: internal forend weights can be inserted from the front of the forend and screwed in place, while external weights were designed to be M-LOK compatible and easily attached on either side of the forend. This ACC weight management system allows shooters to rapidly adjust the feel and recoil characteristics of their system, even while at the range.

Along with other features like the full 17" ARCA/RRS forend, flared magazine well, extended barricade stop, widened thumb shelf, adjustable cheek riser and length of pull, and the adjustable MDT Vertical Grip Elite - the Adjustable Core Competition chassis is nothing short of excellence for the competition shooting world.
Anschutz 1710 22LR
20" Threaded Stainless Steel Barrel

The Anschutz Match 54 action is in a world of its own. Developed in 1954, it still represents the benchmark for smallbore rifles.
There is a reason why Match 54 dominates the World Championships, the Olympic Games and other smallbore rifle disciplines. A barreled action of which every manufacturer can - indeed: must - be measured against. The Match 54 is a masterpiece of ANSCHÜTZ gunsmithing.

The foundation. A solid, extremely reliable construction; a functional safety that does not fail even under the most adverse conditions; a very extraordinarily high shooting performance and precision. The effect. Anschutz rifles radiate safety and the certainty of being the right choice. They convey joy in use. They convince without imposing themselves.
There is only one word for this: Quality.
Anschutz 1710 Details
System: Match 54 bolt action repeater, 5119 two-stage trigger, blued receiver with stainless steel barrel.

Weight: 10 lbs, 10 oz.

Receiver: Scope mount attachment with 11mm rail and drilled and tapped

Barrel Length: 20" SS heavy barrel, no iron sight provision

Chamber: Optimized Match Chamber

Crown: Recessed Target Crown

Muzzle Diameter: 0.90"

Trigger: New 5119 Two Stage Trigger

Trigger Weight: Adjusted to 6.35 oz. (180g)

Trigger Weight Range: 4 to 7.5 oz. (110 to 215g)

Magazine Capacity: 10

Magazine Release: Extended
Our mailing address is:
Creedmoor Sports Inc
167 Creedmoor Way
Anniston, AL 36205
*We attempt to be as accurate as possible and eliminate errors on our Site; however, We do not warrant that any product, service, description, photograph, pricing or other information is accurate, complete, reliable, current or error-free. In the event of an error, whether on this email or Site, in an order confirmation, in processing an order, delivering a product or service or otherwise, We reserve the right to correct such error and revise your order accordingly if necessary (including charging the correct price) or to cancel the order and refund any amount charged. Your sole remedy in the event of such an error is to cancel your order and obtain a refund. Current discounts and holiday promotions are not valid on previous purchases. *Creedmoor Sports reserves the right to cancel or modify any promotion at any time.

Want to change how you receive these emails?
You can update your preferences or unsubscribe from this list.


Recent emails from Creedmoor Sports

See more