TRX-925 Reloading Scale Is Back In Stock!
A Scale Designed For Reloaders
This email was sent
Creedmoor Sports TRX-925 Precision Reloading Scale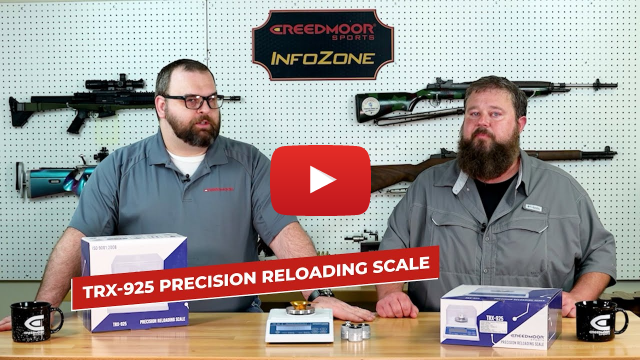 Creedmoor Sports TRX-925 Precision Reloading Scale
Designed for Reloaders with Grains as Native Unit


+/-.01 Grain Accuracy


Includes 2g, 10g, and 50g Stainless Steel Calibration Weights


925 Grain Weighing Capacity


Creedmoor's Gold Anodized Static Free Powder Pan


Easy to Read Backlit LCD Screen


Customizable Draft Shield


Manufactured in an ISO 9001:2008 Factory
Our mailing address is:
Creedmoor Sports Inc
167 Creedmoor Way
Anniston, AL 36205
*We attempt to be as accurate as possible and eliminate errors on our Site; however, We do not warrant that any product, service, description, photograph, pricing or other information is accurate, complete, reliable, current or error-free. In the event of an error, whether on this email or Site, in an order confirmation, in processing an order, delivering a product or service or otherwise, We reserve the right to correct such error and revise your order accordingly if necessary (including charging the correct price) or to cancel the order and refund any amount charged. Your sole remedy in the event of such an error is to cancel your order and obtain a refund. Current discounts and holiday promotions are not valid on previous purchases. *Creedmoor Sports reserves the right to cancel or modify any promotion at any time.

Want to change how you receive these emails?
You can update your preferences or unsubscribe from this list.


Recent emails from Creedmoor Sports

See more