Transform your system with a Crucial SSD!
Email sent: May 4, 2021 4:16pm
Improve the Performance of Your SSD with 3 Easy Tips and Tricks from the Experts
Crucial SSDs deliver a complete system transformation and nearly instant access to your data. To get even more out of your SSD, here are three quick things you can do to maximize its capabilities. 
Tip #1:
Re-Run Your System's Experience Assessment

This is an important step because it helps your computer recognize and anticipate the full throttle of a Crucial SSD. For Mac users, this process is automatic – you won't need to do anything! For PC users, press the "Windows" and "R" key to open Run. Type in "perfmon" into run, click "OK" to open the performance monitor. Open the "Reports" folder in the left hand column. Open "System" then "System Diagnostics." Under system diagnostics, click on a report from a date and time you want to view. In the report, click on "Hardware Configuration" to open, then click "Desktop Rating" to open, expand "Query", and expand "Returned Objects." Your Windows Experience Index score will now be shown.


Tip #2:
Make sure your SSD doesn't go into Sleep Mode

You will need to manually adjust your system's preferences, otherwise your SSD will turn off when your computer enters sleep mode. This isn't a good thing. For SSDs, idle time is productive time – this is when functions like Active Garbage Collection are able to clean up used data cells.
To make sure your SSD doesn't go into sleep mode, PC users can go to "Control Panel," click "Hardware and Sound," then "Power Options," then "Change Plan Settings," then select "Change Advanced Power Settings." On this menu, check the "+" box next to the hard disk field and make sure the setting reads: "Never." Then click "Apply." Now, the SSD will never enter sleep mode.
For Mac users, this process is a bit easier. Just go to "System Preferences," then "Energy Saver," then make sure the box "Put the hard disk(s) to sleep when possible" is unchecked.
Tip #3:
Make sure you are Using a Modern Operating System

Pre-2006, operating systems were designed before SSDs were mainstream, so they aren't able to take advantage of an SSD's full performance. Use the most recent operating system with up-to-date drivers and the fastest performing ports on your system to achieve maximum performance with your SSD.
We understand how frustrating it can be when your computers performance is lacking. Transforming your systems performance can be accomplished with simple steps like re-running your systems experience assessment, making sure your SSD isn't shutting down when your system goes into sleep mode, and using a modern operating system.
Optimize your configuration and enjoy a higher performance.
This email newsletter is an automated notification, which is unable to receive replies. For questions or concerns, please go to our contact page.

To unsubscribe from Crucial newsletters, visit this website

We encourage and appreciate customer feedback. Please send your comments to [email protected] or call us toll-free at 800-336-8915 or 1-208-363-5790.

© 2021 Micron Technology, Inc. All rights reserved. Information is subject to change without notice. Crucial and the Crucial logo, Ballistix and the Ballistix logo, and the Crucial tagline, The Memory and Storage Experts, are all trademarks or registered trademarks of Micron Technology, Inc. All other trademarks and service marks are property of their respective owners. Products and specifications are subject to change without notice. Neither Crucial nor Micron Technology is responsible for omissions or errors in typography or photography.

crucial.com 3475 E. Commercial Ct. Meridian, ID 83642

This email was sent to -. If you no longer wish to receive these emails you may unsubscribe at any time.
Other emails from Crucial DE
Apr 22, 2021

Erweitern Sie den Speicherplatz Ihrer Konsole mit einer externen Crucial SSD!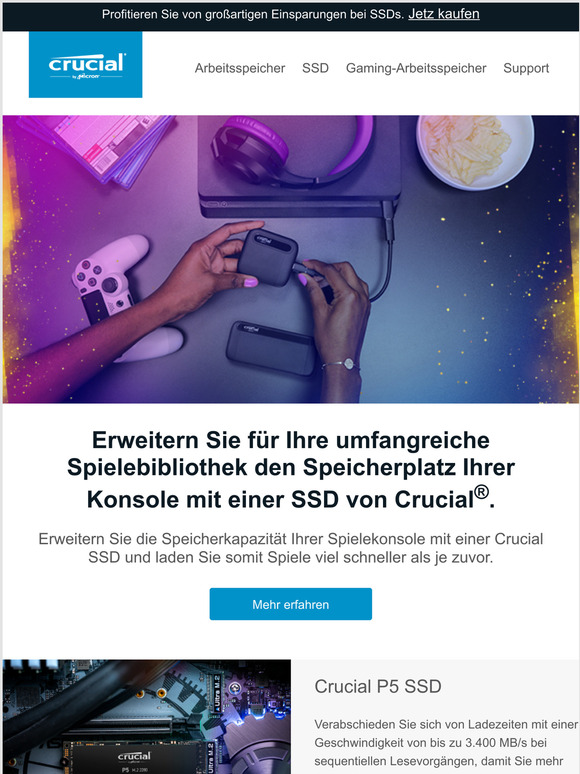 Shop without the noise.
Get our free newsletter of hand-picked sales you need to hear about from the web's best brands.