💙☕ Ready to Roll in Less Than One Hour
Always be packed.
This email was sent

Hello and welcome back to Declutter Fast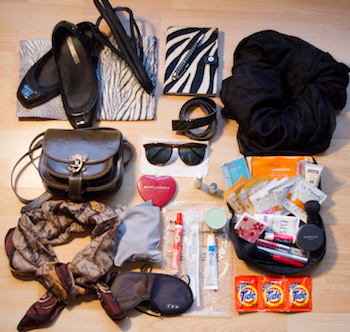 Today, a reader shares her excellent system for "Always Be Packed"!

"I started doing this about 3 years ago when my father's health started downhill. I visit once a month for 5 days.

"I put shelves in my hall closet for what goes with me. As soon as I get home from a trip, I do my laundry and repack. Suitcase goes in that closet once it is packed. Anything else I need to take goes in that closet. When the closet is emptied, my SUV is loaded and I can leave.

"I keep one shelf in my freezer empty for whatever I plan on fixing for his dinner while I am there. I always buy the meat here as it is cheaper and better tasting and I can pick it up when on sale.

"Things that I might need if I would break down, stay in my SUV. Everything has its own place and I can find it if I need it. Yes, it adds probably 100# to the weight of my SUV but I normally don't drive more than 300 miles a month outside of my trip to dad's, so it really doesn't effect my mileage that much.

"You can only imagine the piece of mind this gives me, knowing that I can be packed and on the road in less than an hour. 10 minutes and I am loaded, 50 minutes to notify neighbors about my trip and arrange for someone to feed and care for the animals and garden.

"When my dad first got the Parkinson's, he would panic over every little thing and I would be on the road again. One month, he had me there 3 times. I live 7 hours away."

- Sherry in W.V.

Thank you so much, Sherry. What a great system of being organized!

This is very inspiring.

Many people have a time in their lives of care-taking - which can also mean some serious mileage.

Still more of your ideas on Always Be Packed tomorrow.

And for surefire methods to take control over clutter... 

Find out why thousands love the Declutter Fast methods of getting your home in order:

Declutter Fast

Here's to the joy of order in your life!

With love,


Mimi Tanner


Author of Declutter Fast: How To Get Your Home In Order Almost Immediately

BY THE WAY: Did you know that I write a legendary email column for women? It's called "With Love" and it's all about your love life.

You can sign up for that column at

With Love Mimi Tanner

I hope to see you there.

P.S. From readers:

"Dear Mimi, you have given me so much inspiration. I have been decluttering by category - containers, books, movies, etc. and things look so much better in my house. Thanks!"

"Mimi, I love getting the declutter emails."

"Thanks Mimi, You give me hope!"

-- B.


Declutter Fast is the original online book on how to declutter. Declutter Fast has helped and inspired tens of thousands of people to declutter their homes since 2006.

This message may not be shared, copied, or published anywhere without written permission from the copyright holder. Be sure you adhere to all copyright law.

Copyright Mimi Tanner. All Rights Reserved. This is intellectual property protected by copyright, trademark, and other laws of the United States, as well as international conventions and the laws of other countries.

Please note: use the email-address you check daily when reading these messages, because if my message reaches "mailbox full" or if your service is temporarily blocking certain messages, your address will be removed from this group. This is the only way this important advice can arrive at its destination and reach the people who most want to receive it.

Thank you for reading. I appreciate you.
This message has been sent to -

These messages are sent only to VIP readers & friends who signed up to receive them.

Unsubscribe

Mimi Tanner
450 Lexington Ave. Floor 2
POB 4668 #34690
New York, NY 10163-4668