💙☕ The truth about simplifying your kitchen
You'll be so glad you did
This email was sent

Hello and welcome back to Declutter Fast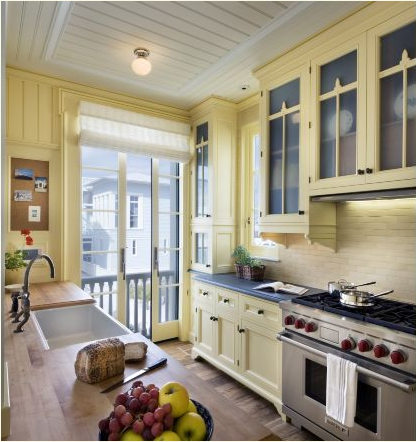 There's one room that can be a LOT easier to declutter, and that is your kitchen!

The wonderful thing about kitchens is - there's usually NOT a lot of the OTHER types of stuff in there.

There are no piles of paper, stacks of clothing, collections of cosmetics, or reams of bookshelves.

There is just ("just") - the stuff. Plates, mugs, cups, silverware, pots, pans, and gadgets of all kinds.

Wine glasses, your 40-year-old child's baby spoon, your grandmother's specially made vintage whatnots...

Someone ELSE's kitchen stuff that you promised to hold on to for a while (that was years ago).

Specialty whiz-kitchen contraptions you bought and have never used...

A vast collection of straws from fast food places in case you run out of straws one fine day...

A collection of plastic bags from the stores, and a few brown paper grocery bags in case you need to wrap a package to mail...

Cookbooks maybe... and perhaps a bunch of tools, sandpaper, pliers, wrenches, hammers, batteries, WD-40, and things you purchased from the hardware store...

Holiday plates, different sets of china and dishware,

The lovely, the cheap, the practical, and the fancy, it's all in there.

Placemats, cloth napkins, timers, CLEANING STUFF (a class all by itself).

Did I say the kitchen was simple? Well, if your kitchen resembles what I've described, then let's face it -

That's a LOT of upkeep and MOST of it is for stuff you never use.

BUT you've hung on to it for so long that you regularly remind yourself that one day you may use every single last one of those devices.

It all sounds like a LOT, but "a lot" means exactly what it says, literally - your kitchen becomes a LOT, as in parking lot.

It's time to wheel in the tow truck and truck most of that stuff Out Of Your Life.

If you really want to enjoy your day SO much more then consider getting ruthless about Your Kitchen.

If you really want to SIMPLIFY your life, then you have to chuck the excess.

Do whatever you want with it - the Salvation Army welcomes your donations. That's the fastest and easiest way to go, other than the fine old trash can (my favorite).

I did this recently and you know what? I owned THREE pressure cookers. Two of them were brand new, never used, one probably not even mine but parked by a transient relative... the other was my mom's old one.

Sure, I liked the idea of learning how to use them. I didn't like the idea that I might blow a hole in my ceiling. But I realized shrewdly that I am *never* going to take the time to add this to my repertoire.

I got over my sentimentality regarding Mom's pressure cooker. Getting rid of 3 pressure cookers is a whole lot of space freed up in itself.

So go ahead and decutter your kitchen!

You can take your time with this one. You might even enjoy it once you get rolling.

It's not half bad to declutter your kitchen, because as I said, all that other aggravating stuff I listed is NOT in your kitchen.

Let's see, I don't need a meat thermometer, or melon ball scoopers, or a whole lot of what was in my kitchen.

Losing the sentimentality grip helped me greatly. It's nice to think fond thoughts; it's not nice to deal with hardware of any kind!

So take a good look and pare down... or go ballistic and REALLY only keep what you use.

Your entire kitchen will be a dream to enter, and actually fun to maintain and keep clean.

It will also be super easy if you ever move to a new place, too!

Once you simplify your kitchen, you will be truly inspired to simplify even more challenging places in your home.

Find out about the Declutter Fast Methods Here

With love,


Mimi Tanner


Declutter Fast: How To Get Your Home In Order Almost Immediately

P.S. From readers:

By the way!

Did you know that I write a legendary email column for women? It's called "With Love" and it's all about your love life - it's especially for women who are single, but also a lot of married women and guys like to read it.

You can sign up for my sometimes sardonic and usually entertaining love tips at:

With Love Mimi Tanner.

www.withlovemimitanner.com

I hope to see you there.


Declutter Fast is the original online program on how to declutter. Declutter Fast has helped and inspired tens of thousands of people to declutter their homes since 2006.

How To Get Everything Done is the online system for breaking through the overwhelm and getting anything done.

This message may not be shared, copied, or published anywhere without written permission from the copyright holder. Be sure you adhere to all copyright law.

Copyright Mimi Tanner. All Rights Reserved. This is intellectual property protected by copyright, trademark, and other laws of the United States, as well as international conventions and the laws of other countries.

Please note: use the email-address you check daily when reading these messages, because if my message reaches "mailbox full" or if your service is temporarily blocking certain messages, your address will be removed from this group. This is the only way this important advice can arrive at its destination and reach the people who most want to receive it.

Thank you for reading. I appreciate you.
This message has been sent to -

These messages are sent only to VIP readers & friends who signed up to receive them.

Unsubscribe

Mimi Tanner
450 Lexington Ave. Floor 2
POB 4668 #34690
New York, NY 10163-4668