💙☕ An Easy Way To Declutter the Kitchen, Even If You're Exhausted
This will be fun.
This email was sent

Hello and welcome back to Declutter Fast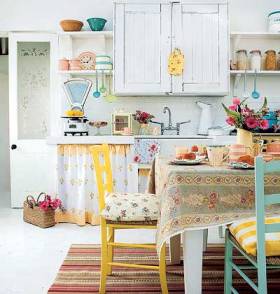 How is your kitchen today?

If there's any kind of mess or clutter in your kitchen, but you feel too tired, busy, or overwhelmed to tackle it, here's what to do:

Head for the kitchen about four times a day for a little "decluttering visit."

Start with the kitchen counters. Pick one section and only work on an area that is 3 feet long.

Work on this 3-feet section of the counter for a few minutes in the following way:

Clear that section completely by throwing away items if needed, setting aside some items for cleaning, and putting other items in the cupboards or pantry.

Then (the fun part) clean the counter and get it shining.

Leave that counter area alone for the rest of the day if possible, so it will stay clean and clear!

If you must use this area you just cleaned, then immediately get it right back to where it was - clean and wonderful.

Later in the day, head for the kitchen again for another "decluttering visit," and do the same thing on another three-feet section.

Within 1 or 2 days, your kitchen will be in great shape.

As you get more and more done, you can add more tasks: work on the refrigerator, or shine up the floor.

You'll feel great about your clean, clear, orderly, shiny kitchen!

Just a small amount of progress will improve your mood, your day, and your week!

My program Declutter Fast has helped thousands of people to "cut to the chase" of their clutter and get the decluttering ball rolling. Declutter Fast has even been quoted in the Smithsonian Magazine Online!

Our motto is:

Every effort we make adds up. Here's to more and more order in our lives!

Find out about the Declutter Fast Methods Here

With love,


Mimi Tanner


Declutter Fast: How To Get Your Home In Order Almost Immediately

P.S. From readers:

Hello Mimi, Thanks so much for all the ideas and encouragement you have sent me.... I live in India, zillion of miles away from you ... I so look forward for your newsletters... they have helped quite a bit, but I still have lots to do... I hope to pick up where I left after the season..

Mimi , Here's wishing you and your family a great year ahead....

Love and Thanks again....

Bernadette

Get started AND motivated to Declutter your world.


Declutter Fast is the original program on how to declutter. Declutter Fast has helped and inspired tens of thousands of people to declutter their homes since 2006.

How To Get Everything Done is the online system for breaking through the overwhelm and getting anything done.

This message may not be shared, copied, or published anywhere without written permission from the copyright holder. Be sure you adhere to all copyright law.

Copyright Mimi Tanner. All Rights Reserved. This is intellectual property protected by copyright, trademark, and other laws of the United States, as well as international conventions and the laws of other countries.

Please note: use the email-address you check daily when reading these messages, because if my message reaches "mailbox full" or if your service is temporarily blocking certain messages, your address will be removed from this group. This is the only way this important advice can arrive at its destination and reach the people who most want to receive it.

Thank you for reading. I appreciate you.
This message has been sent to -

These messages are sent only to VIP readers & friends who signed up to receive them.

Unsubscribe

Mimi Tanner
450 Lexington Ave. Floor 2
POB 4668 #34690
New York, NY 10163-4668