💙☕ Baseboards Need Love Too
Here's what to do.
This email was sent

Hello and welcome back to Declutter Fast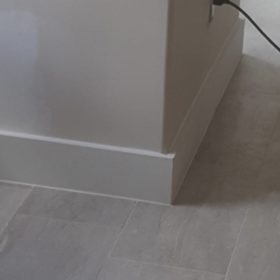 Baseboards need love too.

When I was a kid, the house I lived in seemed to stay clean like magic.

I never actually saw much cleaning going on.

So I had no idea what a baseboard was. Or that they got dusty.

Fast forward. I signed up for a religious commune in California and we all had chores. This was during the hippie times.... maybe a few years after.

Every morning for fifteen minutes, and every Saturday for about 4 hours - house cleaning.

I got the baseboards. I didn't even know what baseboards were called before that.

But I learned that baseboards need love too. They get spills, scuffs, and dust. And they have to be cleaned.

Here's how I clean baseboards. On my knees, yes. I fold up a towel and kneel on that. Then I make my way around the room.

What with? You take a clean rag, and get it wet. Wring it out. Then lightly spray it with a cleanser. Then squeeze out the excess again. And you're ready to clean the baseboards.

You'll need to clean them especially when company's coming!

And of course, clean baseboards don't eliminate clutter. But they do improve the health of your home, because clean baseboards mean less dust and more fresh, clean surfaces.

Cleanliness makes your home smell inviting.

Get the Declutter Fast System and change your life

"I absolutely love your book! I stayed up half the night reading it and getting a real sense of hope for my situation."

--S.

With love,


Mimi Tanner


Author of Declutter Fast: How To Get Your Home In Order Almost Immediately

P.S. BY THE WAY: Did you know that I also send out a long-running daily email for women? It's called "With Love" and it's all about your love life.

Sign up for this "column" at

With Love Mimi Tanner.

I hope to see you there.


Declutter Fast is the original online system on how to declutter. Declutter Fast has helped and inspired tens of thousands of people to declutter their homes since 2006.

This message may not be shared, copied, or published anywhere without written permission from the copyright holder. Be sure you adhere to all copyright law.

Copyright Mimi Tanner. All Rights Reserved. This is intellectual property protected by copyright, trademark, and other laws of the United States, as well as international conventions and the laws of other countries.

Please note: use the email-address you check daily when reading these messages, because if my message reaches "mailbox full" or if your service is temporarily blocking certain messages, your address will be removed from this group. This is the only way this important advice can arrive at its destination and reach the people who most want to receive it.

Thank you for reading. I appreciate you.
This message has been sent to -

These messages are sent only to VIP readers & friends who signed up to receive them.

Unsubscribe

Mimi Tanner
450 Lexington Ave. Floor 2
POB 4668 #34690
New York, NY 10163-4668