💙☕ Be Ruthless with the Time Derailers
You must be absolutely ruthless.
This email was sent

Hello and welcome back to Declutter Fast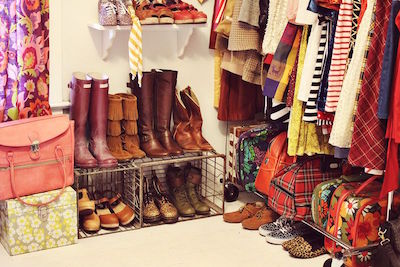 Does it ever feel like time "gets away" from you?

It's the Time Derailers that can mess up our best intentions.

You make plans to spend your time on one project.

But then some kind of "Urgent Matter" comes along, or a pressing phone call comes along, and it completely derails your plans!

Next thing you know, several hours have gone by. Where's your energy and drive? Where's the TIME you set aside for your project at hand?

You feel like your plans got derailed!

It's a kind of "Murphy's Law": you finally settle in to work on that long overdue project and you're humming along...

... and somehow this dedicated state of mind is a MAGNET for some CRISIS (usually someone else's) that cannot be ignored.

Now that's frustrating!

There is only one solution for this - vigilance.

Yes, you've heard the word, but let's look at the actual definition:

"Vigilance: the action or state of keeping careful watch for possible danger or difficulties."

Yep. Close out ALL the interruptions when you are working on a special task.

You must be absolutely ruthless about the Time Derailers!

Don't check email. Do not even go on the internet.

Put your phone on silent - in another room entirely. Let the phone go to voice mail.

Cutting out all distractions is the ONLY way to make progress on your goal.

Be ruthless! This can save your sanity - and it can make you much more organized.

Then when you do put out those fires, you'll already be on top of things - instead of playing "catch up" all the time.

Every effort we make adds up. There is great hope to reach your goals!

-- How To Get Maximum Results With Minimum Effort

-- The True Understanding Of Where Your Time is Going

-- How To Finally Get Control of Your Time

-- What To Do When You Don't Know Where To Start

-- When To Do When You Feel Overwhelmed

-- How To Get the Energy You Need To Get Organized

-- How To Finally Stop Guilt From Wrecking Your Efforts

-- How To Handle It When You Suddenly Have Family Obligations That Stop Your Project Temporarily

-- Strategies That Will Take You All the Way To Your Goal

This is the quickest solution to your dilemma because this focuses on making it finally easy - because you will start WANTING to get things done.

How To Get Everything Done - Intensive Program

With love,


Mimi Tanner


Author of How To Get Everything Done

BY THE WAY: Did you know that I write one of the longest-running daily emails on relationships for women?

It's called "With Love" and it's all about your love life.

You can sign up for that column at

With Love Mimi Tanner

I hope to see you there.

P.S. From readers:

"This has caught me stashing my mail in a box, covering the ottoman, and even stacked up on the entry-way table...I am really ashamed! I'm going to work on this problem today until its all cleared up, (I can do this because I'm snowed in and can't get to work, hehehe). Thanks for this great idea!" - M.

"I always love your suggestions and creative ideas, they are a welcome to me!" - T.

"Thank you very much for the newsletter. It helps a lot. I will take 30 minutes a day and do exactly what you said. You are truly amazing! Thank you again." - B.

"Excellent. I'll start tonight. Having a limited time is a great idea." - Cindy


Declutter Fast is the original program on how to declutter. Declutter Fast has helped and inspired tens of thousands of people to declutter their homes since 2006.

How To Get Everything Done is the online system for breaking through the overwhelm and getting anything done.

This message may not be shared, copied, or published anywhere without written permission from the copyright holder. Be sure you adhere to all copyright law.

Copyright Mimi Tanner. All Rights Reserved. This is intellectual property protected by copyright, trademark, and other laws of the United States, as well as international conventions and the laws of other countries.

Please note: use the email-address you check daily when reading these messages, because if my message reaches "mailbox full" or if your service is temporarily blocking certain messages, your address will be removed from this group. This is the only way this important advice can arrive at its destination and reach the people who most want to receive it.

Thank you for reading. I appreciate you.
This message has been sent to -

These messages are sent only to VIP readers & friends who signed up to receive them.

Unsubscribe

Mimi Tanner
450 Lexington Ave. Floor 2
POB 4668 #34690
New York, NY 10163-4668