💙☕ Breaking the bonds of clutter
What has a hold on you?
This email was sent

Hello and welcome back to your Declutter Fast Newsletter

I have a confession to make - conquering clutter is not only habit-forming, it is positively addicting.

Yet I didn't always feel that way. And breaking the bonds of clutter is a "process" - even for those of us who take this subject deeply to heart, as I personally do.

Take furniture. (Please!!)

I parted with the ONE piece of furniture I'd held on to the longest. It was the first antique I ever bought. I remember exactly what I paid and what year it was.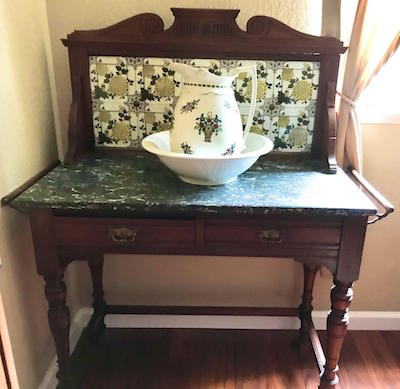 I'd moved this antique dry sink to so many apartments and houses over the years. I had it refinished for more than what I paid for it. It looked a lot like this photo above, only the tiles were white and a beautiful shade of blue.

However - this piece was a real pain to move each time. It came apart in several pieces, and that marble top was HEAVY!

But I hung on to this one - why? Because it was the first antique I ever bought.

But eventually I began to realize that this dry sink definitely was more of a liability than a pleasure.

I no longer got pleasure out of having the dry sink in my home. It had limited practical use, and only served to crowd the rooms it was in and eventually give me a negative feeling when I looked at it, not a positive one.

So the real question was, why was I still keeping it?

Clutter is a lot like that - and this was furniture clutter.

Every single piece of furniture you have matters. It either serves you, and cheers you - or it takes a toll on you!

So, I asked a friend if she would like to have this antique. She was thrilled and ready to take it.

That made us both feel happy. I knew it would be in a "good home" and would be kept immaculately, and I would no longer have to look at it, move it, or think about it ever again!

Yes, there was a "little twinge" of letting it go... but also the relief of feeling free of the weight of that furniture, which was more on my mind than in the room!

Did I ever regret it? No. Can I "take it with me" anyway? No. So my time with that dry sink was limited anyway - I only shortened the "lease" a bit.

So.... What's in your life that you are ready to let go of?

You may not be fully ready to let go of some things, but you can start taking the steps to get there.

Start thinking about what pieces you have that are still about who you are right now - and who you want to be.

NOW, there are only about 2 small furniture pieces in my home that mean something to me. And even those, I could let go of and never look back, because FURNITURE no longer has a hold on me!

And that's a Ginormous Relief!

Start that "letting go" process in your mind... and you'll be well on your way to less clutter!

Here's to the joy of order in your life.

Get the Declutter Fast Methods

With love,


Mimi Tanner


Declutter Fast: How To Get Your Home In Order Almost Immediately


Declutter Fast is the original program on how to declutter. Declutter Fast has helped and inspired tens of thousands of people to declutter their homes since 2006.

How To Get Everything Done is the online system for breaking through the overwhelm and getting anything done.

This message may not be shared, copied, or published anywhere without written permission from the copyright holder. Be sure you adhere to all copyright law.

Copyright Mimi Tanner. All Rights Reserved. This is intellectual property protected by copyright, trademark, and other laws of the United States, as well as international conventions and the laws of other countries.

Please note: use the email-address you check daily when reading these messages, because if my message reaches "mailbox full" or if your service is temporarily blocking certain messages, your address will be removed from this group. This is the only way this important advice can arrive at its destination and reach the people who most want to receive it.

Thank you for reading. I appreciate you.
This message has been sent to -

These messages are sent only to VIP readers & friends who signed up to receive them.

Unsubscribe

Mimi Tanner
450 Lexington Ave. Floor 2
POB 4668 #34690
New York, NY 10163-4668