☕💙 Do you own your furniture or does your furniture own you?
How about just giving it away?
This email was sent

Hello and welcome back to Declutter Fast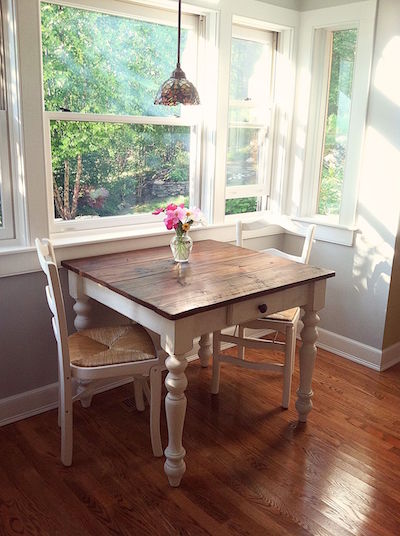 Do you own your furniture - or does your furniture own you?

Furniture is important - furniture is beautiful.

(My great-grandfather was a legendary furniture store owner in his day. I suspect a few pieces in my home came from his store!)

But over time, when we take on too many pieces - or get stuck with the furniture others leave at our homes -

- it gets to be ridiculous!

And we start to suspect.... "This furniture is running the show. I don't own the furniture, IT owns ME."

That's the day to call Goodwill or the Salvation Army, in my opinion.

Other people disagree.

Still other people don't just disagree, they have a cow over it!

"WHAT?? Give it away? That's valuable, no way am I giving it to the Salvation Army. I'm SELLING it."

I completely understand selling furniture - IF you can sell it. It's really a great idea.

But you have to list the furniture and then answer all the calls and messages.

Then you have to wait at your home to show the furniture piece to some stranger.

Then you have to deal with your potential buyer trying to bargain you down in price.

So in the end, that 200 you want to make from the furniture - takes up weeks of your time and energy!

Which adds up to a loss of more like 1000 worth of your time, if your time earns you money. Maybe much, much more!

That's why I say: if you can, just GIVE it away.

You probably have a family member, friend, or neighbor who is thrilled to take it off your hands, so it can fill up THEIR garage for the next five years...

A needy family might really be able to use your furniture - that makes you feel good.

Whatever you decide to do - don't let your furniture own YOU.

You're the king of your castle (or the QUEEN). What you say, goes.

Less furniture means less to attract dust, less to move, and less to clean.

Less to step around; less to find a place for, and Less To Think About!

And in the meantime, find out why thousands love the Declutter Fast methods of getting your home in order:

Declutter Fast

Here's to the joy of order in your life.

With love,


Mimi Tanner


Author of Declutter Fast: How To Get Your Home In Order Almost Immediately

BY THE WAY: Did you know that I write a legendary email column for women? It's called "With Love" and it's all about your love life.

You can sign up for that column at With Love Mimi Tanner. I hope to see you there.


P.S. From readers:

"Dear Mimi, you have given me so much inspiration. I have been decluttering by category - containers, books, movies, etc. and things look so much better in my house. Thanks!"

"Mimi, I love getting the declutter emails."


Declutter Fast is the original ebook on how to declutter. Declutter Fast has helped and inspired tens of thousands of people to declutter their homes since 2006.

How To Get Everything Done is the online system for breaking through the overwhelm and getting anything done.

This message may not be shared, copied, or published anywhere without written permission from the copyright holder. Be sure you adhere to all copyright law.

Copyright Mimi Tanner. All Rights Reserved. This is intellectual property protected by copyright, trademark, and other laws of the United States, as well as international conventions and the laws of other countries.

Please note: use the email-address you check daily when reading these messages, because if my message reaches "mailbox full" or if your service is temporarily blocking certain messages, your address will be removed from this group. This is the only way this important advice can arrive at its destination and reach the people who most want to receive it.

Thank you for reading. I appreciate you.
This message has been sent to -

These messages are sent only to VIP readers & friends who signed up to receive them.

Unsubscribe

Mimi Tanner
450 Lexington Ave. Floor 2
POB 4668 #34690
New York, NY 10163-4668