💙☕ Finding Things You've Lost
Mind over matter
This email was sent
Hello and welcome back to Declutter Fast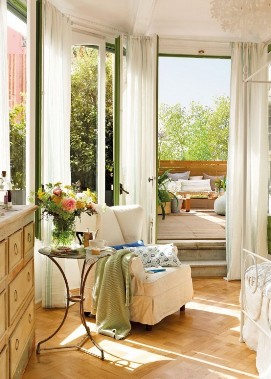 Yesterday I shared that I'd LOST a ring, and was looking everywhere for it.

I admit I was upset about misplacing this ring - because I am usually so careful with it.

I always put it in the same place (that's the most important thing to do, of course).

One reader emailed me to ask me if I'd found it. And the answer was YES.

Just a few hours after writing the email about it, I thought of another place to look.

Retracing my steps from the day before, I'd rummaged around in my briefcase looking for a phone charger.

The ring must have slipped off when I was searching the briefcase. There it was.

Wow, was I ever happy to see that ring sitting there.

I almost always find lost things. Would you like to know why?

I'll tell you anyway.

The main reason I find lost things is because of this:

"They Have To Be Somewhere."

That's a fact. But people usually obsess that they're not anywhere.

People say that the lost item disappeared. But that's impossible.

They say, "It's gone." It's not gone. It's SOMEWHERE.

And you literally have to keep believing that until you find it.

Somehow, this makes a big difference about finding ANYTHING.

I also have this book that was published in 1963, called The Secret of Perfect Living by James T. Mangan.

It has a chapter called "How To Find Lost Treasures."

Here's part of that chapter:

You Know, and You Don't Know.

Still pursuing your search [for the lost item], you stop and analyze yourself.

A voice within openly states that you SHOULD know and you DO know where that object is.

You are sure you know, but you cannot announce this knowledge out loud.

... When your desire for the lost article reaches the stage that [finding it] is something more than a mere wish, you feel a stirring and a churning of forces within you, prompting you to try harder.

... The stirring force inside you which says, "Don't stop now, keep going!" is actual notice from your underground factory that the special machine for finding lost articles is ready to go into action.

Your conscious experience has failed you, but a world of subterranean experience is still available.

All that the machine asks is that you flip the switch that sets in in motion.

Experiments have shown that the word-switch for the special experience machine which finds lost articles is: "Reach."

...Do not think of the meaning of the word "Reach," simply say it silently without considering its meaning.

Flip this word-switch in much the same way you flip an electric light switch.

But keep clearly in mind just what you want to find.

Now abandon all your conscious thoughts and analyses. Let your body go limp; let your mind rest. Prepare to be a mere automaton instead of a thinking person.

Suddenly you find yourself moving in a strange way to a strange place. Lo and behold you push your arm into a strange pile of papers, or open a strange box, or pull a strange drawe, or kick a strange object, and then - almost immediately - the lost article appears right in front of you!

That's just part of a whole chapter on finding lost treasures.

It truly is a "MIND" thing to continue your search with a purpose - because things do come to mind when you are focused but still mentally relaxed.

Knowing where you put things makes it hard to lose items - and easier to find them!

So does being truly organized and having your act together.

Would you like to know things you never thought of about how to get organized?

And not just organized, but how to get the Energy to get organized - which is maybe even more of a challenge.

Also - how not to get distracted in the middle of what you're doing!

Find out a wealth of tricks and new ways to think about getting things done here:

How To Get Everything Done

Here's to the joy of order in your life!

With love,


Mimi Tanner


Author of Declutter Fast: How To Get Your Home In Order Almost Immediately

BY THE WAY: Did you know that I write a legendary email column for women?

It's called "With Love" and it's all about your love life.

You can sign up for that column at:

With Love Mimi Tanner

I also have a private Facebook group for women and you can learn a LOT there about relationships.

https://www.facebook.com/groups/fascinatehim

And another private Facebook group for men and women:

https://www.facebook.com/groups/conversationsbetween

I hope to see you there!


Declutter Fast is the original online program on how to declutter. Declutter Fast has helped and inspired tens of thousands of people to declutter their homes since 2006.

This message may not be shared, copied, or published anywhere without written permission from the copyright holder. Be sure you adhere to all copyright law.

Copyright Mimi Tanner. All Rights Reserved. This is intellectual property protected by copyright, trademark, and other laws of the United States, as well as international conventions and the laws of other countries.

Please note: use the email-address you check daily when reading these messages, because if my message reaches "mailbox full" or if your service is temporarily blocking certain messages, your address will be removed from this group. This is the only way this important advice can arrive at its destination and reach the people who most want to receive it.

Thank you for reading. I appreciate you.
This message has been sent to -

These messages are sent only to VIP readers & friends who signed up to receive them.

Unsubscribe

Mimi Tanner
450 Lexington Ave. Floor 2
POB 4668 #34690
New York, NY 10163-4668