💙☕ Make your closet a work of art
Take your closet out of the closet!
This email was sent

Hello and welcome back to Declutter Fast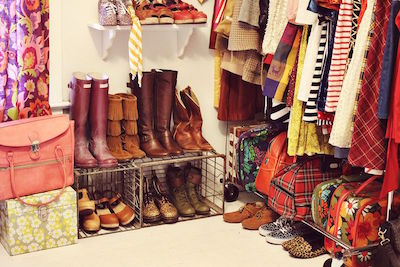 You'd be surprised what you can do with a closet - and what it can do for you.

First of all, most closets are small. Because of that, they can be fabulous.

They can be inspiring every time you open the closet door - after you fix up the closet and make it everything you want it to be.

Pro Tip: Most closets have white or off-white walls, right? Well, if you want a closet to rhapsodize over every time you see it, that has to change!

Paint your closet a beautiful, deep color. For example, a deep, dark mauve. Or a caramel brown. Something that doesn't clash with the room or hallway the closet is in.

When you have a lovely background for your closet, it will set off everything that's in it.

The background will also make you want to keep the closet nice and in order.

Now on to the hard stuff: organizing the closet.

First of all, don't think of it as organizing. Think of it as layering, or creating it from scratch.

You know what I'm going to say next, I'll bet:

Take everything out of the closet. Ouch. I know that is rough, but it's the only way.

And it's not nearly as rough to take things out as it is what to do with those things later...

But anyway, empty the closet entirely and completely.

Then start putting things back in. The things you've chosen.

Depending on how many closets you have, the closet can have a theme. It can be a closet only for certain types of items.

It can be a work closet, a project closet, a Clothes-You-Actually-Wear closet. The list is endless. (The number of closets is not, though.)

Now create your new and improved and glorious closet - it's fun to do that. You'll feel a sense of accomplishment!

(Be sure and wait a day or so after the Paint is Dry...)

Your closet is going to be spectacular - a hidden work of genius in your home, that you did yourself.

* * * * * * * *

Would you like to know things you never thought of about how to get organized?

And not just organized, but how to get the Energy to get organized - which is maybe even more of a challenge.

Also - how not to get distracted in the middle of what you're doing!

Find out a wealth of tricks and new ways to think about getting things done here:

How To Get Everything Done

Here's to the joy of order in your life!

With love,


Mimi Tanner


Author of Declutter Fast: How To Get Your Home In Order Almost Immediately

BY THE WAY: Did you know that I write a legendary email column for women?

It's called "With Love" and it's all about your love life.

You can sign up for that column at:

With Love Mimi Tanner

I also have a private Facebook group for women and you can learn a LOT there about relationships.

https://www.facebook.com/groups/fascinatehim

And another private Facebook group for men and women:

https://www.facebook.com/groups/conversationsbetween

I hope to see you there!


Declutter Fast is the original online program on how to declutter. Declutter Fast has helped and inspired tens of thousands of people to declutter their homes since 2006.

This message may not be shared, copied, or published anywhere without written permission from the copyright holder. Be sure you adhere to all copyright law.

Copyright Mimi Tanner. All Rights Reserved. This is intellectual property protected by copyright, trademark, and other laws of the United States, as well as international conventions and the laws of other countries.

Please note: use the email-address you check daily when reading these messages, because if my message reaches "mailbox full" or if your service is temporarily blocking certain messages, your address will be removed from this group. This is the only way this important advice can arrive at its destination and reach the people who most want to receive it.

Thank you for reading. I appreciate you.
This message has been sent to -

These messages are sent only to VIP readers & friends who signed up to receive them.

Unsubscribe

Mimi Tanner
450 Lexington Ave. Floor 2
POB 4668 #34690
New York, NY 10163-4668