☕💙 Mysteries of the linen closet
Sorting, folding, deciding.
This email was sent

Hello and welcome back to Declutter Fast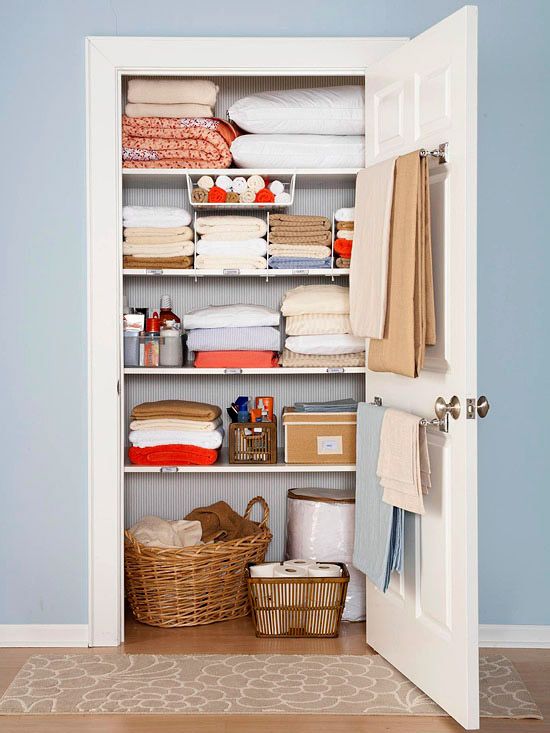 Hey there.... how are things in your linen closet these days?

Laundry is not hard to do. Not really.

But somehow, you notice that the Laundry Burden gets a little bigger over time.

Then one day, you decide to investigate deeper.

The mysteries of your linen closet may come to light!

You ask yourself, "Why in the world do I have so many pillowcases, and how did this happen?"

You pick up a new pillowcase set maybe once a year.

Maybe someone in your family needs a new pillowcase.

Next thing you know - there seems to be no end to them. Like socks.

Pillowcases and socks multiply like rabbits!

This week I decided (once again) to take all of the bedding and survey what I have. I laid everything out and made a count of everything and wrote it down.

Not too bad for sheets... in my previous decluttering, I got rid of the excess sheets - including the sheets that I didn't really like when I looked at them or touched them, because they were just cheaply made. Out they went!

But when I counted the pillowcases, there were at least 25 of them.

It was hard to match up the pairs, too - since 23 of these were white.

Some had no match. Some have been with me since my kids went to summer camp (they're grown up now)... those pillows still have our last name on them!

I started having those bad thoughts: "Maybe my daughter will need one of these..."

No, no, no.... don't go down that road. You just end up hanging on to more things no one will ever use.

When I looked at the pillowcases - all 25 - I had this feeling of being overwhelmed.

This is the feeling to pay attention to. This feeling tells you - you've got clutter and you really want it GONE, because the excess stuff is dragging you down!

So... I washed all these pillowcases (with bleach) to really see them at their best. Most had been in the linen closet for way too long.

Then I went back over each one - matching them up if they had a brother - and noticing which ones I like, and which ones I don't.

Some were too stiff. Some were soft and more like flannel. The stiff ones or any others I didn't really like - were put aside to be given away.

To keep the pairs together (whether keeping them or not) I got some yarn and tied each pair into little bundles.

Job done! Now the closet only stores a handful of linens. There are always some ON the beds, right? A few more are okay to keep. But not too many - or you know what happens... they just take up space in your closet and you end up going through this whole process again later on.

That overwhelmed feeling is your cue to pare down your stuff!

This is your decluttering instinct at work.

Decluttering takes away that burdened feeling.

When I think of the fact that I spent a couple of hours just dealing with pillowcases, thinking about what to do with them, washing them, sorting them, and tying them into little bundles...

Good grief, that's a lot of time.

This is a great reminder not to get too many belongings in the first place - because oh dear, it takes far too much time to make all those decisions!

Life is too short to endure the attack of the pillowcases.

The truth is, pillowcases are easy compared to the other stuff that gets a real grip on your emotions!

But you can handle it all when you're ready to take control of clutter.

Get the Declutter Fast methods

Here's to the joy of order in your life!

With love,


Mimi Tanner


Author of Declutter Fast: How To Get Your Home In Order Almost Immediately

Emails from readers:

Wow, best letter ever! This is doable and kept me going, until I got sidetracked!! But I have 2 horizontal clean tables

Love your emails, Thanks.

- J H.

Love your newsletter. I shocked some of my children this weekend. I was having Easter dinner and they wanted to know where would we sit. I told them in our living dining room.

My brother came and helped and encouraged me. It happened and we had a great time.

Thanks for the encouragement you give through your newsletter. I have more to do but got a good start.

Have a great day I am.
- C.M.

Dear Ms Tanner,

I really find the newsletter very helpful but still find it hard to get things done! I am a procrastinator!

The newsletter yesterday really hit home! It is strange I can go to other houses and tidy up but not at my home!

I will continue to win in this area - I think the minute clear-up seems to work for me in spurts. I intend to keep trying and will succeed one day!

Thanks again for all that you do to help those who are stuck!!

Regards,
- Ann


Declutter Fast is the original ebook on how to declutter. Declutter Fast has helped and inspired tens of thousands of people to declutter their homes since 2006.

This message may not be shared, copied, or published anywhere without written permission from the copyright holder. Be sure you adhere to all copyright law.

Copyright Mimi Tanner. All Rights Reserved. This is intellectual property protected by copyright, trademark, and other laws of the United States, as well as international conventions and the laws of other countries.

Please note: use the email-address you check daily when reading these messages, because if my message reaches "mailbox full" or if your service is temporarily blocking certain messages, your address will be removed from this group. This is the only way this important advice can arrive at its destination and reach the people who most want to receive it.

Thank you for reading. I appreciate you.
This message has been sent to -

These messages are sent only to VIP readers & friends who signed up to receive them.

Unsubscribe

Mimi Tanner
450 Lexington Ave. Floor 2
POB 4668 #34690
New York, NY 10163-4668