💙☕ Readers Share Their Weekend Plans
It's Labor Day weekend
This email was sent

Hello and welcome back to your Declutter Fast Newsletter

I asked what your weekend plans are, and many people sent me notes on what they're up to this Labor Day weekend.

So - are you a little curious about what other readers are up to?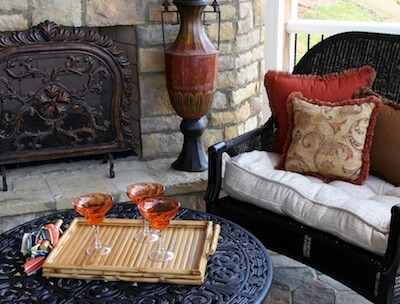 Here are some of the replies I have received (completely anonymous of course).

Although my advice is to relax, a lot of readers are going to do a little decluttering. Good! Even a little decluttering is a LOT rewarding.

So here goes - no names, no cities. Responses from both men and women.

1. "After doing the usual laundry and cleaning bathrooms, I plan to take a box or two from the back patio (from a previous declutter project) and go through it to see what I can toss, donate, or find a place to enjoy in my home. I also will go shopping for cards for September birthdays and anniversaries."

2. "Mimi, I have a "junk" room = piled HIGH (1/5 of my duplex)

"Saturday, Sunday & Monday I am going to spend 30 min. each day forging a path into it."

3. "Going to a horse show!"

4. "I am going to finish a lap quilt for a mentally challenged child. The quilt has pizza and cupcakes on it. Then I might do some gardening."

5. "My plan for the weekend is:

"Friday: Having tea with a dear friend and visiting her new retirement home. RESTING
"Saturday: Celebrating a friend's 70th birthday. RESTING
"Sunday: Church and going to a family get-together to celebrate my brother-in-law's 60th birthday. RESTING
"Monday: Decluttering my basement for an hour (after all, it is "Labor" Day… and I've been resting all weekend) and working in my flower garden.
"I'm busy all week with my elderly mom and being a 'school bus' for my granddaughter, so I use my weekends to have fun and rest.

"Love your inspirational thoughts!"

6. "My quick note and plans for the weekend, nothing. I have surgery today and will be recuperating for the rest of the next month or so. Hope everyone else has fun and better answers!"

7. "My husband and I will go to his brother's house along with his other brother and his wife. The 6 of us will have a wonderful dinner. 1 or 2 pounds more the next morning, but a little work will make them go away."

8. "Mine will be a working weekend. Summer holidays are just another day to me. I have 5 acres of steep mountainside to mow. Takes about 12 hours to finish. I was out of town for my monthly 5-day visit with my dad 350 miles away from Friday thru Tuesday. These trips always leave me exhausted for several days, but they have to be done. Today, I will start on the mowing. May work on some weeds too. Depends on the heat.

"Still working on the inside of the house too. In the process of getting the house ready for dad to move in. Just in case. Better to be prepared.

"I sorted for an hour yesterday in my sewing room while my internet provider was working in there, putting in a new, supposedly faster modem. Got a full garbage bag of stuff cleared out."

9. "I personally do not have any plans. Just going to relax and see the days' progress.

"Love the work you do to inspire all of us to be better at what we do."

10. "I will be babysitting my 4-year old grandson Saturday morning. Then some laundry and cleaning 2 bathrooms. The rest of the weekend I plan on working on the quilt I'm making for one of my daughters."

11. "Picking up 12 and 15 yr old grandsons for 4-day weekend. Their parents are celebrating their wedding anniversary with a trip, so we have boys and a busy dog! Looking for ways to keep them busy. 😀

"Thanks for keeping us encouraged!!"

12. "Dear Mimi, I have been receiving your wonderful tips for quite a long time, and really appreciate the ways you get me inspired. I won't get into all the details, but I found the 3-box method works well for me. I 'keep' some things, (until I can let them go), give a lot, throw some away, (but I always think my junk might be loved by others). I'm 74 now, and my most recent move may be the last time I move. Over the years I've moved several times and each time I've lightened my load of 'stuff'. This made my recent move a breeze......lol.

"Even now, in a smaller place, I get my IHSS worker to help me 'get rid' of the clutter. Now, still working on it, I've become so much more relaxed and life is simpler in many ways.

"I just want you to know how much I appreciate your dedication to helping 'us' in this endeavor to become a healthier (less cluttered) person."

13. "Going to a dog show."

14. "It's the last weekend for the pool. I'm planning to spend my weekend there relaxing."

15. "Hi Mimi, this weekend I will continue to work on paring down the number of casserole dishes, mixing bowls and platters that I have in my kitchen..... I have too many because I moved my mother's things to my house when preparing for her to downsize. (It seemed like a good idea at the time!)

"My husband and I will also go out to dinner with friends one evening."

16. "Hi Mimi, it is Labor Day long weekend here in Canada too. I'm making a trip to the bottle depot to recycle my containers. I don't have a car, so a friend will be helping.

"Then I will do some decluttering. It's long overdue for me. I'm finally ready to tackle it.

"Enjoy your long weekend!"

17. "My weekend plans are simple for this Long Labor Day weekend.

"Saturday has a much needed haircut (pampering) and a wedding for a very dear friend!

"Sunday and Monday are going to be spent doing things with my older sister (she has dementia and can't drive) who will get to tag along with me to my best friend's house to do whatever the weather will allow us!

"Indoors will be scrapbooking, outdoors will be setting up a Fairy Garden for her Grandchildren to play with when they come to visit!

"Simply the perfect way to enjoy a long weekend!

"Enjoy your weekend too!"

18. "Working, as a nurse."

19. "Hi Mimi,

"Nothing major - some clean-up and decluttering. Just cleaning and errands along with some relaxation.

"As Phillies fans in Miami, my wife and I are going to a baseball game on Monday."

20. "Hi Mimi! I have been on vacation this week, and have tried to relax, read, take photographs and complete a knitting project I started two years ago. I think I was overly ambitious; however, I have taken some photos, read a part of a book and knit a couple of inches. And also had some nice dinners out with family, gone to a County Fair and the Saratoga Rack Track.

"The most decluttering I've done has been in my head - LOL - but hopefully I will get to some of it before heading back to work on Tuesday. Or at least make a plan!

"Enjoy your weekend!"

21. "Hi Mimi, Well not decluttering, but as part of making a start, I hired a decorator to strip off wallpaper in the stairs landing. After many years the plaster came away so has been redone. Tomorrow Saturday they return to paint the walls and woodwork. I think this has been a declutter effort all round.

"Thank you for all your inspiring tips."

22. "Hi Mimi. Tomorrow I do not plan on going anywhere. I need at least one day to do a little work and spend the rest of the day pampering myself. If we don't take care of ourselves, who will?

"Sunday is church. After that home till Monday."



* * * * * * * * * *



Thank you all for sending in your plans!!

The replies are from England, Canada, and all over the US, and there are probably some from Australia and elsewhere in there too. A few people mentioned their city, state, or country.

Nice and impressive plans all around!



* * * * * * * * * *





NOW... About our weekends!



From the time we start school, we experience our weeks as "work days" and "weekend" - I believe this is deeply ingrained in us.

That's one reason I believe in taking time each weekend for a real rest. A block of time, a whole day, or the entire weekend - if that's what is needed. I realize sometimes it's not possible to rest as much as you want or need on every weekend, especially if you're working.

For me, it is essential to have a break from work in order to get perspective on what I'm working on.

Also, when we don't get some special time for ourselves, we can feel cheated, overworked, and resentful about the constant grind of duty.

Sometimes the weekend may be your only time to declutter, though. But it's healthy to carve out your "R&R" time every week, and every day, too.

Thank you all again! Greatly appreciated!

Have a great weekend and I will talk to you tomorrow.

And remember...

The good news is that every little thing you do toward decluttering really does add up!

Find out about the Declutter Fast Methods Here

With love,


Mimi Tanner


Declutter Fast: How To Get Your Home In Order Almost Immediately

"I absolutely love your Declutter Fast! I stayed up half the night reading it and getting a real sense of hope for my situation."

Get started AND motivated to Declutter your world!


Declutter Fast is the original online system on how to declutter. Declutter Fast has helped and inspired tens of thousands of people to declutter their homes since 2006.

This message may not be shared, copied, or published anywhere without written permission from the copyright holder. Be sure you adhere to all copyright law.

Copyright Mimi Tanner. All Rights Reserved. This is intellectual property protected by copyright, trademark, and other laws of the United States, as well as international conventions and the laws of other countries.

Please note: use the email-address you check daily when reading these messages, because if my message reaches "mailbox full" or if your service is temporarily blocking certain messages, your address will be removed from this group. This is the only way this important advice can arrive at its destination and reach the people who most want to receive it.

Thank you for reading. I appreciate you.
This message has been sent to -

These messages are sent only to VIP readers & friends who signed up to receive them.

Unsubscribe

Mimi Tanner
450 Lexington Ave. Floor 2
POB 4668 #34690
New York, NY 10163-4668