☕🌷 Spiff up your front door
You'll feel great about it.
This email was sent

Hello and welcome back to your Declutter Fast Newsletter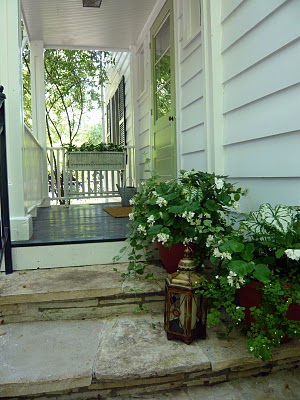 Today, go outside your front door and take a look at the entryway.

The first order of business is to remove (if needed) anything that clutters up the entryway.

Generally speaking, the only things that should be in the entryway are:

• Potted plants

• A welcome mat

• And perhaps one other decorative item.

Less is more.

Chances are, the entryway needs to be cleaned.

The first order of business is to sweep the area with a broom.

Take the broom and look at the ceiling area and sweep the corners, too, to prevent or remove cobwebs.

Sweep down the exterior to minimize dirt or dust on the exterior.

Sweep down the doorway, including the topmost upper edge where dust can accumulate.

After you have removed excess dirt, get a wet rag and wring it out somewhat, and then spray Windex or some other cleaner on the rag.

Use that rag to clean the door and the door frame.

Don't forget to clean the doorknob well, too, to cut down on germs from many hands!

While you're at it, clean your mailbox too.

Do you like the way your front area looks?

Plants make any area improved.... what I do lately is to combine real plants with fake plants.

I get the fake plants at places like Hobby Lobby. They are NOT cheap, but they do last a long time.

Then I try to remember to water the real plant regularly - every week, or twice a week, as appropriate.

If you really want to cheer things up, plant some flowers. It's cheap, quick, and inspiring!

Join in my program on How To Get Everything Done

Here's to the joy of order in your life!

With love,


Mimi Tanner


Author of Declutter Fast: How To Get Your Home In Order Almost Immediately

BY THE WAY: Did you know that I write a legendary email column for women? It's called "With Love" and it's all about your love life.

You can sign up for that column at With Love Mimi Tanner. I hope to see you there.

P.S. From readers:

"Mimi, I love your 'grab n go' idea. My DH and I used to do it, and it always was great. Always ready to run out the door!"

Carol

"Thank you! This did a great service to my husband, who hates to see all my papers and books lying around!

"You're the best!"

- Cecelia


Declutter Fast is the original ebook on how to declutter. Declutter Fast has helped and inspired tens of thousands of people to declutter their homes since 2006.

This message may not be shared, copied, or published anywhere without written permission from the copyright holder. Be sure you adhere to all copyright law.

Copyright Mimi Tanner. All Rights Reserved. This is intellectual property protected by copyright, trademark, and other laws of the United States, as well as international conventions and the laws of other countries.

Please note: use the email-address you check daily when reading these messages, because if my message reaches "mailbox full" or if your service is temporarily blocking certain messages, your address will be removed from this gro

Thank you for reading. I appreciate you.
This message has been sent to -

These messages are sent only to VIP readers & friends who signed up to receive them.

Unsubscribe

Mimi Tanner
450 Lexington Ave. Floor 2
POB 4668 #34690
New York, NY 10163-4668